Liliana Torres – Sanctuary Cap Cana
Helping resorts weather natural and financial storms
Contrary to appearances, a resort hotel isn't one business but a carefully constructed puzzle of several smaller ones, like restaurants, bars, nightclubs and stores.
One such tourist enclave is the gated community of Cap Cana, located in Punta Cana, on the easternmost tip of the Dominican Republic where hotels, golf courses, pools and other tourist attractions give access to the views, breezes and waters of the Caribbean Sea on one side and the Atlantic Ocean on the other. Established in 2006, the luxury resort is part of the brand Corporación Hotelera del Mar RD.
Owner of CHM, Francisco Martínez, and Marriott International announced a partnership in May 2022 and that summer, the two opened a renovated and expanded Sanctuary Cap Cana as part of the Marriott Brand's first adult all-inclusive luxury resort. But it wasn't always sunshine and crystalline blue waves lapping at the shores for this resort, as CHM's legal director Liliana Torres recalls.
In 2009, the company was hit hard by the financial crisis and was still recovering when Torres was hired in March 2013 to help owners, developers, shareholders and others with several resort projects. These included renovations at the Sanctuary Cap Cana and Fishing Lodge resorts. One of the most difficult aspects, she says, was balancing outstanding invoices and ensuring everyone received payment owed to them.  
"Everything was hectic—but amazing—between 2013 and 2014," Torres says. "We closed a lot of important transactions and started looking hopefully towards the future."
Home is where the sand and sunshine are
Of course, as Torres has learned in her decade of work at CHM, the only expected thing in the hospitality business is its unexpectedness, which next struck in the form of the COVID-19 pandemic. The resorts shut down and the company's nearly 600 administrative employees began working from home. The situation became even more complicated for CHM and Torres because of the Fishing Lodge.
The condo hotel and resort has around 300 apartments; one of CHM's companies owns a block of 20. These remained open, and people continued flying into the Dominican Republic to stay in them. Torres had to manage all legal issues related to these visits, including the posting of signs for mask mandates and providing sanitation stations.
However, some things she couldn't fix. The restaurants at the Fishing Lodge and other commercial spaces closed for limited time during the quarantine phase of the COVID-19 pandemic. When restrictions were lifted, Torres and her team had to renegotiate several long-term contracts, including those with the lessees of the restaurant spaces.
"It was a fast-learning curve for us—same as everyone across the globe," she recalls. "We also had to review everything for years to come and fix contracts based on what we had learned, so we don't get into such a position again."
When speaking with Vanguard in April, she and her team were working on a tight deadline to wrap up negotiations with buyers on apartments on the Sanctuary Cap Cana gated community property. They aim to complete all sales by 2025; at that point, the tourism tax exemptions the government afforded to companies—like those within the hospitality industry—come to an end. In 2010, the government afforded 15-year tax exemptions like Confotur to encourage companies like CHM to invest in tourism.
"Timing is crucial, and we're hoping to complete these transactions as soon as possible," says Torres, who adds that she and her team have completed most of them and hope to close out the remainder by the end of 2023.
Silver linings and Punta Cana rainbows  
It hasn't all been cloudy skies at CHM though. Fishing Lodge never closed, and Sanctuary Cap Cana, which closed in September 2022 during Hurricane Fiona, reopened after renovations and upgrades in January 2023 under the Marriott banner.
She explains that they had ordered furniture from around the world for over 150 rooms and several restaurants at the two resorts. Although COVID-19 vaccines are now readily available and restrictions have eased, the timelines remain as hectic as ever. That's because operations, marketing and other teams have deadlines set, such as when to roll out advertisements or discount deals.
"You're always working against the clock, but that's part of what makes this job such a fun challenge—even if I'm dealing with Murphy's Law all the time," she tells Vanguard with a laugh.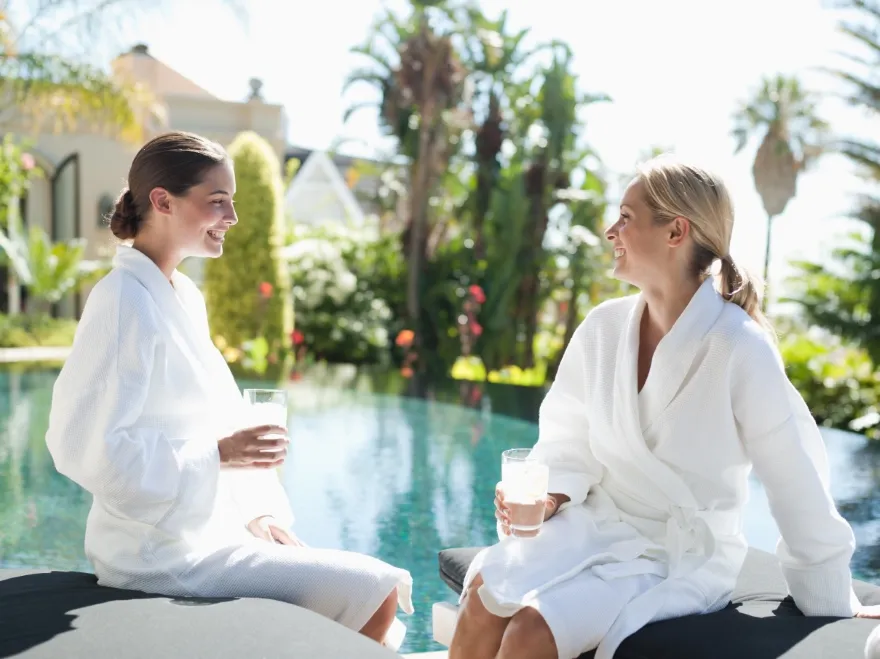 Torres also handles compliance for labor laws and, in the past 10 years, has only dealt with 10 labor litigation cases at with the Sanctuary Cap Cana hotel; there were none during the pandemic shutdowns. Meanwhile, some companies in the Dominican Republic, including those at CHM, can see that many cases in a month—or even a week, she says.
"Sometimes collateral damage and litigation isn't completely avoidable, but I do my best and have a pretty good track record throughout my 17-year legal career," she says.
In those nearly two decades, she's also seen the country In 2005, when she graduated from Pontificia Universidad Católica Madre y Maestra in Santo Domingo with her bachelor's in law, she joined one of the largest law firms in Punta Cana, Guzman Ariza. Always interested in international law, she went to Spain and, by 2010, she'd graduated with her master's degree in corporate from the University of Valencia.
Yet, she missed home and, in 2011, returned to the Dominican Republic town of Cap Cana. She didn't, however, jump into work. Her daughter was born with some medical concerns, so Torres spent two years caring for her. By 2013, her daughter had conquered all health issues, so Torres began thinking about returning to work. That's when the opportunity at CHM arose and she became its legal director.
"When you're handling real estate, in the end, you feel that properties are like your babies," Torres says. "I enjoyed watching CHM develop, and I'm excited to watch the Sanctuary Cap Cana resort continue being a major player in that growth."
View this feature in the Vanguard Spring III 2023 Edition here.
Showcase your feature on your website with a custom "As Featured in Vanguard" badge that links directly to your article!
Copy and paste this script into your page coding (ideally right before the closing