Liz Bartlett – Independent Care Health Plan
Through iCare, we all care
If you are a Wisconsin resident who's fallen on hard times due to health issues, your whole world might fall apart. If you're late with the rent, you could even face eviction—which could hurt your health even further.
But through Milwaukee-based Independent Care Health Plan "iCare"—now a wholly owned subsidiary of Humana Inc.—innovative programs are helping members achieve their best possible health. The program operates Medicaid, Medicare and long-term managed care programs under contracts with the state and federal government—helping people stay connected to their communities and in their homes, says General Counsel Liz Bartlett.
As Bartlett explains, Wisconsin residents enrolled in iCare receive vital services. One example is when iCare's community health worker staff act as a liaison between landlords and tenants, mitigating issues that might otherwise lead to an eviction—a move making a huge difference. To date, more than 80 iCare members have been kept in a stable housing situation, he says.
This is one of many community-based assistance programs. Since 2013, iCare has developed various initiatives from helping residents gain access to clean drinking water to providing in-home services that help prevent members with a recent inpatient hospital stay avoid readmission.
"Our mission is to connect underserved populations to appropriate health care and community resources," she says. "It is immensely fulfilling work that can make a world of difference."
Rolling up the shirtsleeves
Bartlett had no shortage of beneficial projects to share with Vanguard during an interview in January.
iCare, she explains, takes a holistic view of health care, providing enrollees access to not only covered medical services, but also to broadened care options. Eligibility for its programs is based on disability and/or income levels.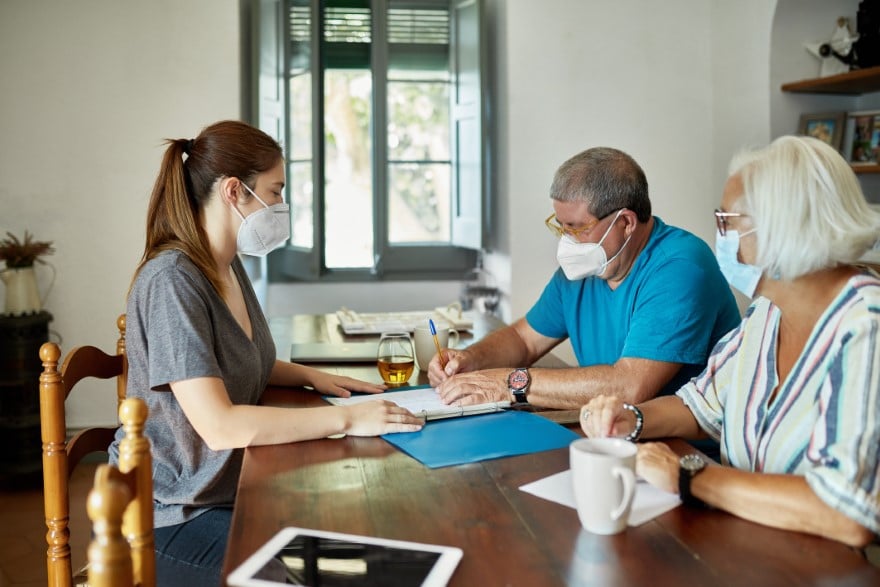 "The challenge in the managed care model is how to be creative in funding services that may not be included in traditional covered benefits," says Bartlett.
To make it all happen the team works with government officials on addressing social determinants of health established partnerships with social service organizations and community partners to address issues. That effort got a boost in January when iCare became a wholly owned subsidiary of Humana.
"With Humana's resources behind us, we are excited to make an even bigger positive impact on the communities we serve," says Bartlett, who adds that over time the organization has seen how social factors impact health and program costs.
"Awareness is a key part of the equation," she says. "It helps when everyone understands the benefits of innovative healthcare programming and how well-designed and targeted initiatives can benefit our members greatly through efficient use of program dollars."
Getting down to brass tacks
iCare began in 1994 as a research and demonstration project under a federal grant, to provide managed care for SSI Medicaid eligible individuals.
As Bartlett notes, it began as a joint venture between a local insurer (later acquired by Humana) and Centers for Independence, a Milwaukee-based social service agency serving persons with disabilities. Since that time, iCare became a licensed insurance entity and operates multiple Medicare- and Medicaid-based programs.
"That origin rooted iCare firmly in the social service aspect of what we do," she says.
Bartlett explains that Family Care Partnership is a Wisconsin long-term care program geared toward keeping people in their own homes who might otherwise require nursing home care. Meeting with members, the iCare staff assesses each member's functional needs to determine whether they suffer from food insecurity or other challenges. From there, items such as ramps for wheelchair access or grab bars in bathrooms can be installed. Other assistance includes supportive home care or grocery shopping assistance.
While some services aren't covered by traditional funding sources, iCare can tap into partnerships with businesses, advocacy agencies or other community organizations to fill the gaps.
Through another program, Badger Care, iCare is providing clean drinking water to Milwaukee residents until it replaces the lead in its water lines. That effort is helping pregnant women and children under age six stay healthy. As of early 2021, 90 iCare members from 40 families had benefited.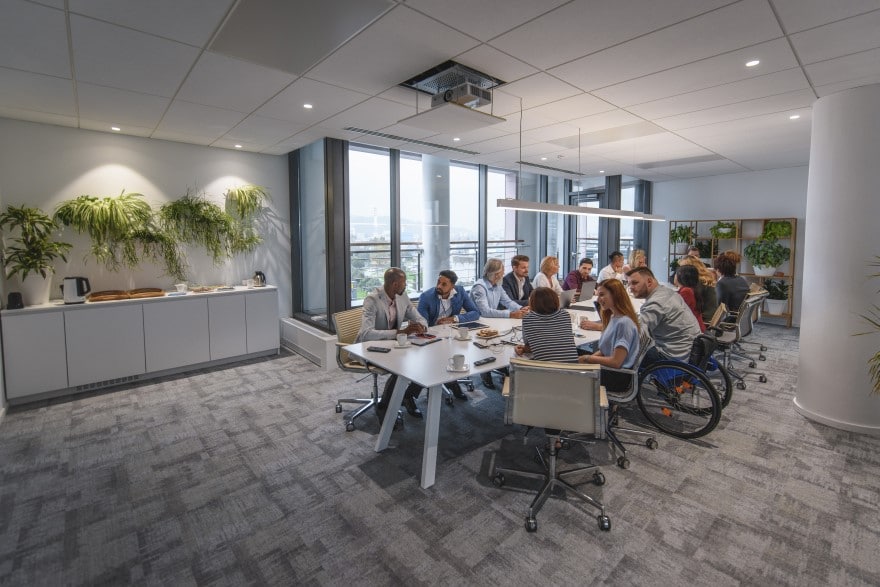 The Follow to Home program helps members at high risk of hospital readmission. Partnering with home health care agencies, the iCare team stays on top of discharge instructions to make sure the healing process continues.
"By staying in communication, we reduce the readmission rate which benefits the member, but also avoids costly health care to address a relapse that could have been avoided," she says.
Engagement
During these particularly stressful times of the pandemic, Bartlett, a 1987 graduate of the University of Wisconsin Law School, remembers the advice of her first boss, Mary Traver, at Blue Cross Blue Shield of Wisconsin.
"She said the first thing I had to do was get out of my office and become knowledgeable about every aspect of the business," Bartlett recalls. "She taught me that I was not just a lawyer dispensing legal advice, but a full partner to the business leaders I was advising and equally as responsible."
That advice—plus 22 years in the healthcare industry—prepared her for her post at iCare, which she joined in 2009. Bartlett drew heavily from her experiences as vice president of legal affairs at Cobalt Corporation; general counsel for United Government Services; and vice president and general counsel for Wheaton Franciscan Healthcare.
"I knew insurance, managed care and healthcare delivery from a variety of perspectives. When the opportunity presented itself at iCare it was a great fit," she says.
It's an organization that goes that extra mile, like sending birthday cards to its members, Bartlett adds. For some, it's the first time they've received such a kindness, sometimes moving them to tears.
"I've learned the smallest gestures can make a difference to someone's well-being," says Bartlett. "The opportunity to serve this population is rewarding for me personally, making me proud to serve them every day."
Showcase your feature on your website with a custom "As Featured in Vanguard" badge that links directly to your article!
Copy and paste this script into your page coding (ideally right before the closing