Vanessa Walton – InnovAge
A senior services company that's keeping PACE
The van pulls into the driveway at 8:00 a.m.—right on time. The driver then shuttles you to a clinic in your community. After a routine checkup, it's time for lunch, followed by a few hours of bridge—all in the same facility.
By 4:00 p.m., you're back home getting ready for tonight's family dinner. It's a special occasion: Your first great grandchild is coming over to meet you.
For millions of seniors, maintaining this level of independence is far from guaranteed. All the more reason why InnovAge—a senior health care provider based in Denver and committed to helping seniors stay independent and in their communities—is seen as a leader in the field.
"There are other organizations that provide managed care in a home setting, but it's the range of services we have that really sets us apart," says Vanessa Walton, InnovAge's chief legal officer and general counsel. "We really try and understand a person's needs on a holistic level, to make life easier for them and their caregivers. That's our mission."
Moving pieces
At the heart of InnovAge's model is the Program of All-Inclusive Care for the Elderly (PACE, for short), which provides coordinated care for those 55 and older—who, without PACE, would very likely be in a nursing home. While the program is federally and state-funded through Medicare and Medicaid, its administration is left up to the 31 states that have adopted PACE so far. There are now 126 such programs and 260 designated PACE centers throughout the U.S.
At InnovAge, the services run a lengthy gamut: in-home support, medical and dental care, meals, social programs, transportation, access to myriad medical specialists in one location—the list goes on.
"A one-stop shop for all your loved one's health care needs," Walton calls it.
That, in turn, requires Walton and her team to manage all matter of legal, compliance and regulatory demands, from contracting with myriad geriatric providers to filing a variety of business licenses to ensure every InnovAge PACE Center—there are currently 16 across five U.S. states—adhere to federal and state laws, rules and regulations.
"It's a lot to keep track of, that's for sure," Walton says with a laugh. "The regulatory landscape is always shifting. Luckily I have an amazing team that helps make sure we're on top of it."
At the table
As the leader of InnovAge's government relations efforts, Walton often meets with state legislators and their staff, helping them draft bills to expand the scope of PACE—particularly in states with strong dual-eligibility populations (meaning those that qualify for both Medicare and Medicaid).
Lawmakers aren't the only ones Walton aims to work with, however. For example, while non-PACE states might be receptive to the program, the decision whether to adopt it might ultimately rest with the state's Medicaid director.
Regardless of who's across the table, Walton says the goal is to lay the groundwork in places where InnovAge's model has the best chance of taking hold.
"We're actively trying to grow and bring our services to more states, so having those relationships and conversations is very important," Walton says. "We want to make sure InnovAge provides care where it can be the most successful—and where there's a real need for programs like PACE."
Timely pivot
Until recently, such an ambitious growth strategy was by no means set in stone. For most of its history, InnovAge was a nonprofit company.
As the organization grew, however, securing capital became increasingly difficult. So when the chance came to partner with a private equity firm in 2016, InnovAge's management team—led by CEO Maureen Hewitt—knew the timing was right.
"For some people, the conventional wisdom was that health care services like this should remain nonprofit," Walton recalls. "However, with only about 3 percent of total eligible seniors being served through a PACE program across the U.S., InnovAge understands there are many more seniors that could benefit from the program and have access to quality senior health care."
To complete the 2 ½-year journey converting from a nonprofit to a for-profit, the organization had to secure approval from the attorney general in the three states where InnovAge operated (California, Colorado and New Mexico). In addition, Walton and her team filed for approval from each state's Medicaid department.
Complicating matters further, the InnovAge foundation had to be restructured in order to receive the proceeds from the sale of the company.
"Because of the complexity of the transaction, I had a chance to put together a dream team of lawyers," Walton recalls. "I was the regulatory expert, but we also had transactional counsel, management counsel, bond counsel, real estate counsel, foundation counsel and a lobbyist law firm, all who had to work together and stay in their respective lanes to get the deal done. We had every base covered."
Building the culture
Since becoming a for-profit company in May of 2016, InnovAge has acquired nine additional facilities. And while the organization's continued growth remains front and center on Walton's radar, InnovAge has placed equal emphasis on further strengthening its culture—particularly in the areas of diversity and inclusion (D&I).
The goal, she says, is to cultivate a staff and environment that reflects PACE participants, a significant percentage of whom are minorities. Since joining the company as a key leadership member in 2011, Walton—who is African American—has been instrumental in spearheading a number of efforts on this front: including more D&I material in new employee orientation, making the issue central in company-wide meetings and so on.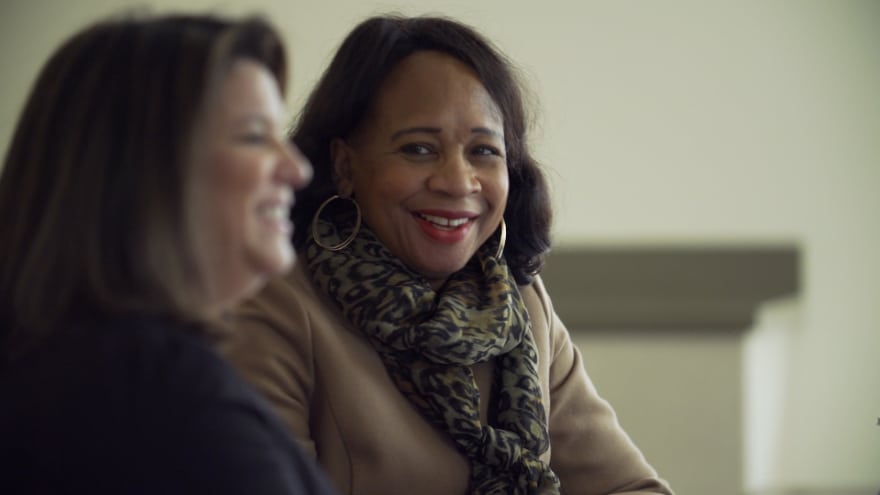 Today, InnovAge's management team is made up entirely of women. The organization's board is similarly diverse: Two of its members have been active, long-standing advocates of the disability community.
"We want everyone to know, whether they're participants or employees, that this is our standard," Walton says.
Born for this
It's this sense of duty—this calling to a greater cause—that has guided Walton from the very beginning. At the height of the Vietnam War, she and her mother would volunteer at Colorado's Fitzsimons Army Medical Center.
"I was overwhelmed by how many young men were coming back from the war as former shells of themselves," she recalls. "People who had lost their minds. People with awful injuries and burns. There was something about that experience that made me realize this was the field I wanted to be in."
A graduate of The Ohio State University, Walton earned her J.D. from the University of San Francisco School of Law. She built her experience within the health care field as a medical malpractice defense litigator in California for Kaiser Permanente.
In 1995, she moved in-house, and into a corporate counsel position for Mercy Health Services (now Trinity Health System). Walton has also held a corporate counsel position with Colorado's largest health care system, Centura Health.
Now, after nearly three decades in the health care space—where she's held titles ranging from senior corporate counsel to president of the Colorado Women's Bar Association—Walton says her latest role has been her most rewarding.
Even if the work is far from done.
"I'm so proud of how far this company has come," Walton says. "We've expanded a model of care that works, and it's a model all of us believe in. Equally as important from a personal perspective, a lot of organizations talk about the importance of diversity and inclusion, but we embrace it every day. When you can check all those boxes, it makes it easy to come to work every day. I am living my dream job."
Showcase your feature on your website with a custom "As Featured in Vanguard" badge that links directly to your article!
Copy and paste this script into your page coding (ideally right before the closing