Matthew D. Vandermyde – Ten-X Commercial
Blazing a new trail in online real estate
Facilitating online real estate sales is a far cry from Vandermyde's early days of working on national land reform in Honduras. There, he says, property transactions were disorganized and often involved extortion, lawsuits—and even murder.
The stakes are not as grim these days, but he says the importance of transparency and certainty in real estate transactions is still significant, motivating Vandermyde to get involved in the real estate revolution-of-sorts happening in the U.S. right now.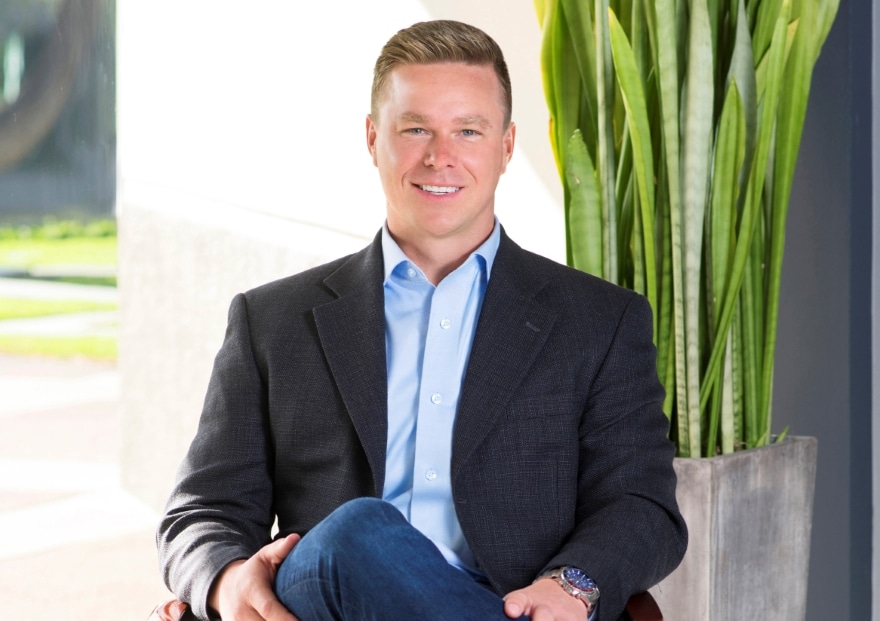 Vandermyde serves as general counsel at California-based Ten-X, a leader in the online real estate transaction space. The company earned a Guinness World Record distinction for the largest e-commerce transaction—the $96 million sale of a pair of office towers in Manhattan Beach, California. Fueled by advancements in technology, Ten-X offers buyers, sellers and brokers an end-to-end platform for online commercial real estate transactions.
"This is a terrific opportunity. We currently own 90 percent of that market, and as more transactions move online we're nicely positioned to capture that growth," Vandermyde says.
Diving In
Vandermyde joined the company in 2013 when it was known as Auction.com. Previously, he practiced law at white-shoe firm Skadden, Arps, Slate, Meagher & Flom, LLP, where he represented financial institutions and corporations worldwide in real estate and corporate transactions.
"My years at Skadden were some of the best years of my life. As far as BigLaw goes, I couldn't have asked for a better experience both personally and professionally," Vandermyde says. "But I decided to go in-house at Auction.com, craving a closer nexus between my work product and its long-term impacts."
With his knack for organization and efficiency, he quickly moved up the company ladder at Auction.com and became associate general counsel in 2014, overseeing all the attorneys, paralegals and legal staff that supported the company's revenue-generating business divisions under both the Ten-X and Auction.com brands.
Vandermyde also helped complete several corporate acquisitions, and in late 2017 helped sell the company to Thomas H. Lee Partners. CapitalG (formerly Google Capital) and Stone Point Capital retained minority stakes.
In 2018, he was promoted to senior vice president legal and business affairs, helping to separate the company into two independent entities: Ten-X, which specializes in commercial real estate and Auction.com, which specializes in residential real estate. Following the separation Vandermyde became general counsel and corporate secretary of Ten-X.
Breaking new ground
Ten-X's vision, Vandermyde says, is to lead the digital transformation and change the way commercial real estate is bought and sold, with a focus on simplifying transactions.
To that end, Ten-X is developing market innovations to streamline transactions such as real-time dashboards that give sellers and brokers total transparency into buyer interest and activity on all of their listings. On the buyer side, Ten-X users have all the information they need to inform their investment decisions at their fingertips.
"We aim to empower our buyers with all relevant information, and the broker on the ground is and will continue to be a critical part of that process. But we want to streamline every component of the transaction that can be streamlined," he explains.
Creating simplicity often begins with complexity. Vandermyde took hundreds of disparate, lengthy transaction agreements and developed a simple, concise, modular document library that allows Ten-X to instantly generate user-friendly contracts tailored for any scenario. The best part is that you don't need a law degree to understand them.
In addition, by leveraging advancements in data science and artificial intelligence to help scale up, Ten-X built a new asset qualifier tool that can predict each property's probability of sale on the platform; it even becomes more intelligent as it analyzes every deal, allowing Ten-X to conduct "what if" scenarios to identify levers to improve trade probability.
"Developing a good operational framework is always the first step to building good technology; that is one area where my team can add tremendous value. If we can collectively come up with a good process, our engineering team can then build it digitally," Vandermyde says.
Setting the standard
For him, there's no doubt real estate transactions will continue to move online over time.
"The winners will be those who are best able to simplify transactions and leverage data to provide strategic insights," Vandermyde says. "Plus, you've got to nail the customer experience."
Vandermyde explained the 'gold standard' in any service industry is to give the customer exactly what they want, exactly when they want it. The 'platinum standard' is to give the customer what they need before they even realize they need it.
"That's a bit trickier because it requires some out-of-the-box thinking and sometimes a leap of faith to try something new," he says.
"Stick-to-itiveness"
Vandermyde's path toward a legal career in real estate tech wasn't the most direct. He first studied mechanical engineering, then switched to communications to expedite his undergraduate career. Then, on a whim, he took the LSAT and decided to go to Pepperdine Law School after they sent him a postcard with an aerial photo of its stunning Malibu, California, beachside campus and a caption that read "Wish you were here."
"I didn't know any lawyers, so I didn't really know what I was in for. It wasn't until my first week of law school that I learned there was a three-day bar exam at the end with a 50 percent pass rate," Vandermyde says.
Offered a full scholarship after his first year, he went on to serve as editor of the Law Review and graduated with highest honors in the top two percent of his class. Before graduating in 2007, however, he spent four months in Honduras to help resolve land conflicts that were devastating communities throughout the country.
"It was a bit dicey—people didn't know who actually owned the land that was now covered by entire populations, although plenty of people claimed to. They would each come around every month threatening people with death if they didn't pay rent. We helped implement and improve legislation to get it straightened out," Vandermyde says.
That type of breaking new ground and blazing new trails is something Vandermyde is not afraid of—on, or off—his dirt bike. Outside of work Vandermyde is passionate about driving (and inevitably fixing) motorized vehicles for land, water and even the skies. An avid boater and a lifelong Jeep and motorcycle enthusiast, he has been a private pilot since 2007.
"I've learned that most destinations have more than one route, and even lesser-capable vehicles can make it if the driver has enough momentum, determination and grit. Some parts may break along the way, but they can usually be fixed," Vandermyde says. "Life is the same way. If we have enough 'stick-to-itiveness'—that's a word we use a lot in our home with our four boys—we can reach our objectives even if the process takes us along a path we hadn't charted before we began. There aren't a lot of problems that stick-to-itiveness can't fix."
Showcase your feature on your website with a custom "As Featured in Vanguard" badge that links directly to your article!
Copy and paste this script into your page coding (ideally right before the closing