Mallory Garner – PennyMac Financial Services
From law school to a mortgage crisis, Mallory Garner thrives in the unexpected
Growing up, Mallory Garner remembers her parents encouraging her to become an attorney.
Her father was a small business owner and wanted her and her brother to pursue professions that would always be in demand.
"I was a strong writer and had a flair for the dramatic, so I chose law school," says Garner, who attended George Washington University in Washington D.C. for both her undergraduate and law degrees.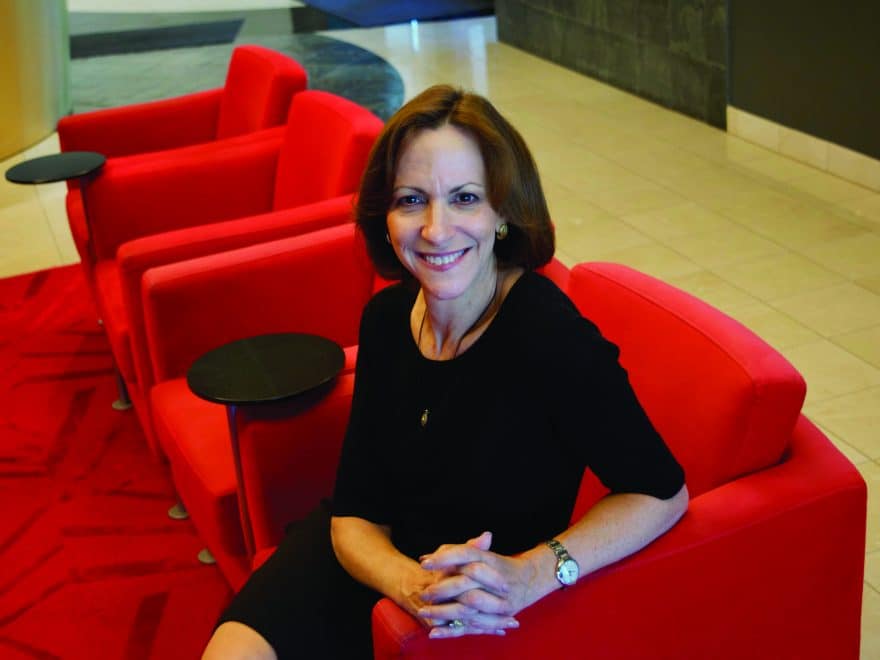 Though Garner's general path into law was determined early on, she says it has taken unexpected turns along the way that led to her becoming managing director and general counsel of mortgage operations for residential mortgage company, PennyMac Financial Services Inc.
From the courtroom to Countrywide
Garner first felt the thrill of the courtroom in law school while participating in a program called "Law Students in Court," through which law students represent low-income tenants living in substandard housing conditions and paying unreasonable rent.
"We'd argue before a judge over the remediation of unimaginable living conditions and then go into the hallway to negotiate with landlords over repairs and reduction in rent right there at the courthouse," she says.
This experience convinced Garner she needed to be in the courtroom and she followed this passion for the first 10 years of her career, working as a trial lawyer and litigator who focused on business.
In 1999, after the birth of her second child, she was presented an in-house litigation position with the mortgage company Countrywide Financial Corporation.
Garner took the position because it let her apply her litigation skills while spending less time on Southern California freeways and more time with her young children.
Doing the right thing
The shift from law firm lawyer to in-house counsel at Countrywide was quick and unexpected, but provided new opportunities for Garner.
After a few years of defending the company in lawsuits involving foreclosures, bankruptcies, lender liability issues, and employment issues, Garner transitioned from Countrywide's litigation department to supporting its default servicing division. In this position, she counseled the company on federal and state laws impacting the foreclosure process, bankruptcy and foreclosure prevention programs, among other issues.
In fact, by the time the subprime mortgage crisis was in full swing, in 2008, Garner had developed expertise in the issues affecting distressed homeowners. She describes this period as challenging, saying it was stressful to work at a company that was among those blamed for the housing crisis.
"It was hard on morale," she said. "My clients and colleagues consistently worked hard to do the right thing for our customers."
Though many of Garner's colleagues left the company when Bank of America acquired Countrywide, she stayed on and, among other tasks, applied her expertise to helping the company implement the federal government's new "Making Home Affordable" program. She and her remaining colleagues worked until midnight each night for months, helping families in need with loan modifications and other options to avoid foreclosure.
Impressed by Garner's work, a mentor at Bank of America asked Garner to speak on the Making Home Affordable program to an audience of 1,000 mortgage professionals at a major mortgage banking conference. This led to presentations at many other industry conferences.
By late 2010, Garner was ready for a change and spoke to a former colleague who had transitioned to PennyMac. Soon after, she interviewed with the company and accepted a position as in-house counsel.
The growth of a company
In 2011, PennyMac was a small but growing mortgage company. It was a contrast for Garner who was used to the millions of loans passing through Bank of America.
She says her new employer was founded by industry veterans who believed they could create a mortgage company able to help customers retain their homes during the crisis. When Garner joined the company in early 2011, it relied on her expertise in the laws and programs involving foreclosure prevention as it expanded its mortgage services.
Garner says she was inspired by early meetings with the company's senior executives because they spent "significant time and attention on issues affecting a mere handful of distressed customers."
She immediately felt at home and said it was easy to "speak the same language" as her clients, many of whom had also worked at Bank of America.
"PennyMac has a management team that has lived through the financial crisis and knows the right way to do business."
"PennyMac has a management team that has lived through the financial crisis and knows the right way to do business," she says. Executives at PennyMac have grown the company's origination and servicing branches—those that originate and purchase new mortgages and manage existing ones—by learning from the mistakes made by banks in the years leading up to the crisis, Garner says.
Garner believes that doing business the right way involves educating company personnel on rapidly changing regulations. She says this is challenging because federal and state regulators, government sponsored entities like Freddie Mac and Fannie Mae, internal auditors, investors and rating agencies, among others, all have their own rules.
Still, she says the company has created a "best-in-class compliance management program." Garner's legal team partners with the company's corporate and divisional compliance teams to ensure all rules are followed—even when those regulations are not necessarily consistent.
While navigating this heavily regulated environment, Garner says PennyMac has thrived, becoming the fourth largest mortgage loan originator and eleventh largest servicer in the country.
Finding balance
With foreclosures finally at their lowest levels since the start of the crisis, Garner describes her current workload as "normal busy rather than crazy busy," and says it's easier now that her children are older and thinking about law school themselves.
For all of the lessons she's learned and her role in mortgage industry history , Garner says one of her proudest accomplishments has been ensuring she was an involved mother.
"You struggle as a working mom and wonder if you're there enough for your kids," she says. With her daughter already in college, Garner is now helping her son navigate the college application process.
Garner says that even though she didn't grow up around many families with working mothers, her own mom first encouraged her to go into law so that she could always be independent.
"You can do both and you're kids won't necessarily hate you," Garner says, laughing. "That's the greatest accomplishment in the world to me."
Showcase your feature on your website with a custom "As Featured in Vanguard" badge that links directly to your article!
Copy and paste this script into your page coding (ideally right before the closing