Mike Benza – Ellison Surface Technologies
Breaking the surface of the complex
He's no engineer by training, but Mike Benza has to be able to converse with them, given his role as the young one-man legal department at Ellison Surface Technologies in Mason, Ohio, a 20-mile drive northeast of Cincinnati. Equally important may be his knack for conversing with folks not so technologically inclined.
For Ellison is a global heavyweight in engineered surface-coating solutions and special processes with clients in aerospace and defense, transportation, power generation and all kinds of industries with equipment that must be protected from abrasion, corrosion, friction, thermal fatigue and other wear and tear.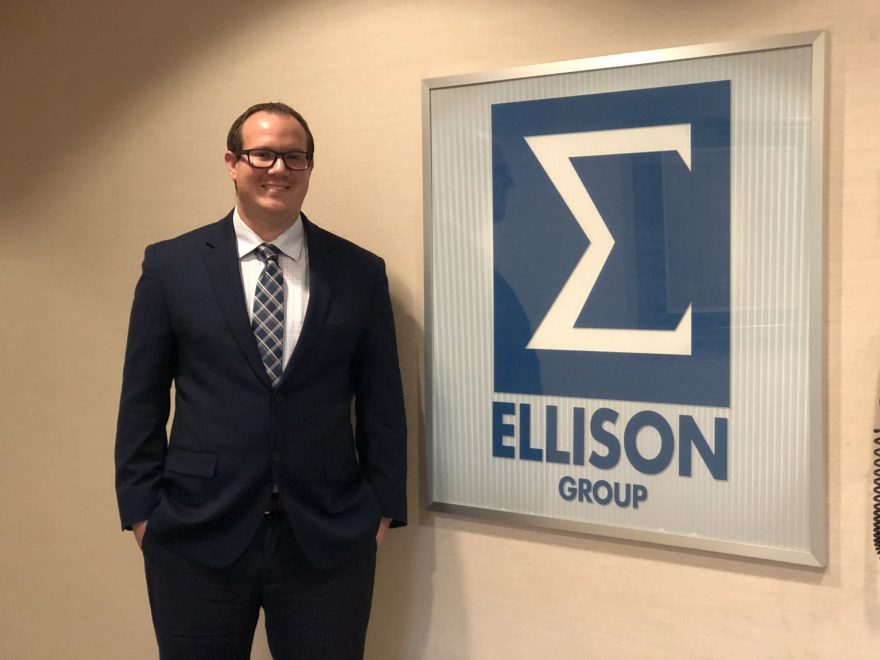 That's a lot of high-stakes compliance and risk-management issues for any general counsel to have to stay on top of, here, as well as in Canada and Mexico, where Ellison also has extensive operations.
"I'm never going to be an engineering expert, but I still have to have enough of an understanding where I can discuss in detail what may be at stake," says Benza, who became Ellison's general counsel and human resources generalist last September, after distinguishing himself in the previous year as counsel for another very technological operation, American Electric Power, in Columbus, Ohio. "It was similar when I'd handle something—maybe a fire case—at AEP. It would be up to me to quickly grasp a technological matter."
And his litmus test as to whether he's succeeding?
"I've found that if you can explain a complex topic in a simple way, you've probably got it—so long as you are capturing all the material parts and explaining the potential consequences," he says. "If so, I've grasped the matter at hand."
Also walks the walk
Suffice it to say, Benza does more than just talk a good game. At 28, Benza's among the youngest general counsels Vanguard has ever profiled. At an age when many of his contemporaries are just cutting their legal teeth as junior associates at the firms, he's a player in the in-house game.
But, as the talkative young man will tell you, he's paid his dues. He just hasn't let them accrue, taking on an 11-month legal fellowship at AEP a few months after graduating Ohio State University Moritz College of Law in 2015. That eventually turned into a full-time counsel gig while allowing Benza the chance for a year-and-a-half secondment with the Porter Wright Morris & Arthur affiliate in Columbus, where such esteemed lawyers as Craig Carlson and Ryan Sherman helped fast-track his progress as a business-savvy attorney.
"While I feel blessed with everybody I've ever worked with, Porter Wright really stands out as a major vehicle in my professional life," Benza tells Vanguard in late May. "It's a firm with such a perfect mix of professionals, all of whom are very accommodating and eager to show you the ropes."
If you're just as eager to learn, Benza adds.
He sure was, and how it paid off last year when the Ellison brass decided it would be well worth the expense of bringing back the legal department that some years earlier had been spurned in favor of outside counsel. A progressive outfit as well, Ellison wasn't limiting its search to midcareer lawyers. Someone younger could fit the bill. Provided, of course, he or she had the credentials and work ethic.
Overture from Ellison
A friend at Ellison contacted Benza last year, gauging his interest for the revitalized role of general counsel. Though in a rather enviable position at AEP—a major investor-owned utility delivering power to more than 5 million customers in 11 states—Benza consented to meeting the Ellison bosses and liked what he observed.
"From the start, it was clear they were looking for someone who could not just provide legal advice and explain how it would affect the business," he says. "They were looking for a general counsel who would be a partner in making business decisions."
Since last fall, he's addressed issues like risk-management and general compliance as well as how to optimize corporate performance. It's a big difference from working at a firm where one moves on to new cases, oftentimes not seeing the full results of his or her input.
And it would be an opportunity to put his fingerprints on the corporate culture.
"A general counsel is well-positioned to mold culture," he says. "Although culture does not change overnight, educating employees about the law and its power to help or damage a company, begins to change the way people think about everyday work."
"It is this awareness that turns everyone into an issue spotter, and the greater the relationship the business has with the legal, the more likely issues are raised and addressed properly."
Similarly, he says, legal needs to be a problem solver for the business units. It's that factor that figured in attracting Benza to the legal profession.
Only maybe not initially. For Benza, too, admits that as a kid, he was wowed by the more romantic aspects of the legal life—TV and big-screen lawyers using emotion and intellect in making a difference for an innocent client or bereaved party. Justice prevailing despite long odds.
"As I got older, I better understood the nuances of the law," he says. "Now I see my role as doing the best I can to reach my full potential for the benefit of my employer. My most important role in life, however, is being a good husband."
And, soon to be, a father. For when he spoke with Vanguard, Mrs. Benza was five months pregnant.
So, it's been a most eventful past few years for Benza, who seems to be briskly climbing the ladder of professional success. But for all the complexities of the job, he finds much of it can be reduced to basics.
"A big part of that is my ability to understand the company's needs and being able to meet them through a business and legal perspective," he says. "And being able to speak in a language that gets through and resonates to everybody."
Showcase your feature on your website with a custom "As Featured in Vanguard" badge that links directly to your article!
Copy and paste this script into your page coding (ideally right before the closing