Thomas Ting – Starkey Hearing Technologies
Global perspective, football shaped the attorney's path to Starkey Hearing
In 1983, Ronald Regan became the first president to wear a hearing aid on TV.
Less historic perhaps than authorizing a moon landing or ending a war, his decision nevertheless removed much of the stigma around hearing aids as being unsightly and a sign of frailty.
Shortly after, hearing aid sales shot up, and Starkey Hearing Technologies was one of the companies to take off as they became more accepted. Though it started in a small shop in St. Louis Park, Minnesota, today Starkey Hearing Technologies has 21 offices in 18 countries and is now a parent company for five different brands.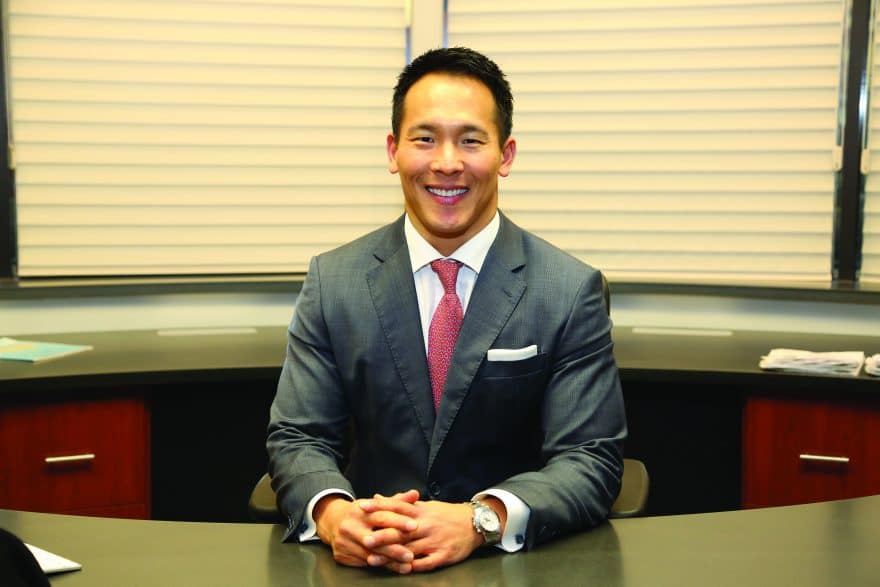 For the attorneys, that global footprint poses a challenge no less daunting than getting hearing aids accepted decades go. It requires taking into account language and cultural differences, organization, and much more that affects everything from internal policy to client contracts.
"You have to be willing to collaborate and also be a humble servant to your colleagues," says Thomas Ting, who became general counsel for Starkey in summer 2016.
Using collaboration to dot every I and cross every T
The challenges of Ting's role, which often boil down to forming partnerships at the beginning of every project, before miscommunication can occur, is apparent in all matters, simple to complex.
When creating the corporation's minute books—on the surface, a simple matter of recording meetings that, in turn, act as a record of important decisions—Ting says he can't just write in a new legal policy and expect it to manifest in every Starkey Hearing Technologies' department across the country and world.
Instead, he must take into account how laws, rules and regulations in other places would allow or prevent other branches of the company from complying with the new policy.
Any policy he comes up with must be reviewed not just by the executives, but key stakeholders throughout the organization.
"[The legal department] has to make sure that every decision made at corporate headquarters goes out and touches regional leaders in other countries," he says.
Kris Storvick, an intellectual property attorney on Ting's team, says he remembers that collaboration was the very first thing on Ting's list when he took charge. Storvick recalls Ting spending his first three weeks at Starkey with the heads of sales, marketing, research and development and other departments to ask them how the legal team could be more useful.
"Tom sat down with them and said, 'my door's always open to you because the legal team is here to be your partner,'" Storvick recalls.
Storvick says it can be even more difficult to rally the leadership of suppliers and vendors, but he's been impressed by Ting's willingness to spend days negotiating to make Starkey's suppliers feel heard.
In one case, Ting spent more than 20 hours on the phone over a weekend to negotiate with an attorney at one of Starkey's equipment and technology suppliers, Storvick says.
Learning diversity and teamwork from an early age
Perhaps due to his background even before being an attorney, Ting is well-suited to the general counsel role.
Born in Taipei, Taiwan, Ting arrived in the U.S. with his parents when he was still a kindergartner. While his new classmates were just learning to read their first language, Ting was learning his second.
The move also meant adapting to a very different way of life—growing up, Ting had to work in his parents' restaurants, an environment where he says he learned the value of quick, clear communication.
Later, he played football at Davidson College for four years and says that standing under bright lights and in front of crowds taught him how to be accountable for his good decisions as well as his mistakes.
"You don't have the opportunity to be anonymous in football," he says. "You have to be visible and that's good training for business."
Ting decided to be an attorney because of the versatility the degree offered. "The only thing you can't do with a law degree is practice medicine or fix a refrigerator," he says.
Maintaining innovation
Now far beyond its early days of operating out of a small shop, Starkey Hearing Technologies set up a research center in 2004 to study new technologies for the hearing impaired.
One of the fruits of its labor is the first custom-fit "invisible in the canal" (IIC) hearing aid. Unlike in 1983, when the company made headlines for showcasing its product on the ear of the president, the goal for 2016 is to make devices that no one will ever notice.
Ting is thrilled by these innovations and says one of his goals as he gets used to his new job is finding his own way to promote innovation without "slowing down" his colleagues.
"[The legal team's] job as shepherds of the company is to uphold the values of its founder, to be better today than yesterday, better tomorrow than today," he says.
Showcase your feature on your website with a custom "As Featured in Vanguard" badge that links directly to your article!
Copy and paste this script into your page coding (ideally right before the closing