Natalie Swanson – Riot Games
A lawyer doesn't play games when it comes to supporting Rioters
Natalie Swanson is a huge fan of Rioters—the title held by all employees of Riot Games.
Headquartered in Los Angeles, California, the video game developer and publisher made a name in the gaming world with its debut title League of Legends. Today, Riot's titles set in the League of Legends universe reach over 180 million monthly active players across the globe.
As Swanson says, Riot's mission is to be the most player-focused company in the world. In 2010, six years after the company's founding and a year after the launch of the industry's first free-to-play game, League of Legends, Swanson became Riot's associate counsel.
For the past 12 years, she's been growing alongside Riot, which has been increasing its number of employees, portfolio of products and footprint on a global scale. After receiving three promotions, the latest in January 2022, she's now senior director and associate general counsel. She manages the global labor and employment practice group—not quite what she had imagined when she joined Riot after graduating from Pepperdine Law. Knowing it was a startup at the time, she had questions about long-term, permanent needs.
"I was only 27 and became a Rioter on a temporary basis thanks to a friend who worked there; I was still interviewing for permanent positions," she recalls. "Two days in, my mom said this is going to be it, and I just shook my head in amusement—but she clearly got the last laugh, because I can't imagine working anywhere else."
Helping Rioters succeed
On her first day at Riot, Swanson jumped into the fray common to a startup—answering phones, helping with recruiting and even managing facilities work. Within a few days, she began providing support to the company's legal team, which consisted of her and one other attorney.
"I was a junior lawyer, but my partner attorney and the leadership there put their faith in me," she says. "To say that I hit the ground running is certainly an understatement, but it allowed me to grow as rapidly as the company."
Within the first couple of weeks, she rewrote the company's nondisclosure agreement for vendors and visitors, which helped better safeguard the company's valuable, confidential data. She also continued tackling whatever legal matters landed on her desk, from drafting and proofing contracts to filing trademarks—even completing IT work from time to time. Because the human resources team, like the legal one, consisted of only two people—one an office manager—she also ended up managing an employment issue.
"It landed on my desk because I was free for a brief moment while HR was swamped," she says. "I discovered my knack for employment law, a perfect fit for a people person like me."
Shortly thereafter, Swanson became the de facto in-house employment attorney and she and the leadership then began growing the legal team. In 2012, Riot hired a head of legal and added subject matter experts to support complex areas like corporate, entertainment and intellectual property litigation as well as someone to cover privacy and compliance matters.
"I'd think about what legal hat I wanted to take off next, and who could most benefit Riot," she says.
For instance, she loved supporting the music team. Yet, while working with the bands Imagine Dragons and The Crystal Method on esports music was a dream, she knew that ultimately Riot needed someone full time for that work—and she was enjoying employment work too much to relinquish it, she says.
Leveling up on an international scale
When Riot started expanding, Swanson played a critical role in establishing its global footprint. She helped set up the offices in Brazil and Korea and began collaborating with local counsel.
For example, when opening offices and launching the esports league in Latin America, she ensured all local legal regulations were met. She handled real estate matters, including building a studio or renting a place to host esports tournaments, as well as drafting templates to localize agreements with players. She also supported Rioters on the ground with employment agreements, local policies and benefits matters. With Riot no longer a startup, employment work became more complex and increased exponentially as the number of employees grew across multiple offices.
"I started handling everything, including handbooks and policies, leaves and accommodations and compliance training, while also becoming an in-house investigator for policy violations," Swanson says. "It made us realize we needed a more robust HR team."
She helped build out functions and departments, such as HR business partners, contingent workforce management and employee relations. By 2017, Riot had a robust people team—known commonly as human resources—and Swanson moved into a more traditional legal-advisory role.
"When I started, we had only 125 employees, and we're now well over 3,000," she says. "I've watched and helped the company grow, and I love providing support to the Rioters that work so hard every day to make players' gaming dreams a reality."
Playing for legal keeps    
Of course, not every part of Swanson's role and time at Riot has been smooth sailing. Four years ago, an article scrutinized Riot's workplace culture, which led to leadership taking an introspective look and committing to ensuring an inclusive workplace that reflected its values.
In the article's aftermath, Swanson became a fully dedicated employment attorney overnight, a term she uses in a very literal sense. She led a team of three, which grew to five in under three years. The human resource team increased its efforts, especially on ways to attract and retain talent.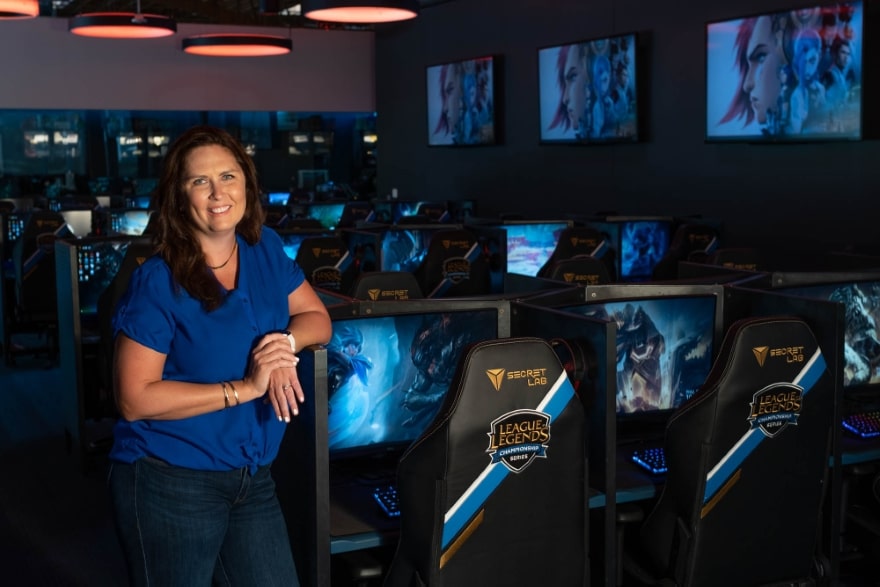 In 2018, Swanson and her team also helped revamp the hiring process on a global scale and continued ramping up diversity, equity and inclusion efforts. This included developing and setting aside an official budget for the company's employee resource groups, known internally as Rioter Inclusion Groups. These RIGs include the LGBTQIA+ focused Rainbow Rioters, which was involved in the L.A. Pride Parade. In partnerships with other RIGs, the Rainbow Rioters have also worked with The Trevor Project, It Gets Better and Girls Who Code.
RIGs are just one way that Riot Games continues evolving, Swanson says. Currently, she and her team are revisiting flexible and hybrid work situations and managing global culture as the COVID-19 pandemic continues. She's also staying atop local and international regulations. As the company's longest tenured female employee and an unwavering advocate for Rioters, she's up to the challenge.
"I'm delighted that I grew with Riot. I know the company in and out, having worked closely with Rioters and leadership for over a decade," Swanson says. "My deep roots here help me add something special to the role, and I'm excited to keep supporting Riot Games and Rioters far into the future as we strive to achieve our goal of being the world's most player-focused game company."
View this feature in the Vanguard Winter I 2023 Edition here.
Showcase your feature on your website with a custom "As Featured in Vanguard" badge that links directly to your article!
Copy and paste this script into your page coding (ideally right before the closing