His game is always on
Andrew Koehler – San Jose Sharks
To dust off hockey parlance oft-used when an open player taps in an easy goal, you could say Andrew Koehler was in the right place at the right time in 2014, when he found a position as a law clerk that would put him on the fast track to being counsel for the San Jose Sharks.
He won't disagree, but upon further review it's clear that the now 35-year-old legal captain—like a player toiling in the minors—had prepared himself well for the big break. Some might call it luck, but what's luck if not the result of years of preparation meeting opportunity?
It may have taken foresight for young Koehler to see opportunity just a few years earlier. The economic crisis that had given such a brutal two-hander to so many industries had something of a delayed effect on the legal business, with one of the cuts being Koehler from a large law firm in 2013. The UCLA law grad spent the better part of a year reassessing his goals and contracting his legal services to cover living costs when, while browsing the internet, he learned of a sport management program at the University of San Francisco, whose graduates included lawyers who had gone on to work for professional teams.
"Sports have always been a big part of my life, and this was a subject I was very interested in," the personable Koehler tells Vanguard in early October, hours before the Sharks opened their season. "So I gave it a shot and relocated to the Bay Area at the age of 32. I wasn't even sure if I wanted to continue practicing law when I started the USF program."
He shoots, he scores
However a team in any sport performs whether on the ice, court or turf, it'll still be on shaky footing without people who can take care of business behind the scenes. Ticket sales alone won't sustain any team in any league; there are cable packages, corporate sponsorships, merchandising deals, big-ticket naming rights for the arena or stadium, and lining up events at that venue when no games are scheduled.
Koehler, who didn't particularly enjoy the litigation aspect of his career, seemed a natural in the legal and business ends of the sports world. While working toward his master's in sport management, he said yes to a 12-week internship with the Sharks—perhaps a situation he couldn't have envisioned a couple of decades earlier, when he was a tried and true follower of one of their blood rivals, the Los Angeles Kings.
Maggy Carlyle, now counsel of business and legal affairs for the NCAA's PAC-12 Conference, was the Sharks' in-house lawyer at the time and needed some help, putting the intern to work drafting and reviewing corporate sponsorships with the team and its top minor league affiliate in Massachusetts, then the Worcester Sharks (now the San Jose Barracuda), as well as weighing in on employment and constitutional law, antitrust and other legal affairs.
Pleased with Koehler's performance, she extended his internship to a year. That passed quickly and Koehler anticipated leaving while Carlyle looked to bring in fresh interns. But having proved his worth, Koehler was moved into the corporate partnerships department, continuing to handle legal issues related to sponsorship deals and anything else that wound up on his plate. As he was finishing up his master's degree in 2015, Carlyle left for the PAC-12 and the Sharks asked Koehler to fill her role as counsel for the team and its related business and entertainment entities. That's where he remains.
"I was so grateful to stay on as full-time counsel," says Koehler. "The firm I had worked for before (Winston & Strawn of Los Angeles), provided a great education in practicing law, as did the other work I had done before coming to the Sharks. Now it's a dream job; to be back home in California and to be working in sports with such a great franchise."
He knows his place
Stanley Cup finalists in 2016, only once have the Sharks missed the playoffs since the 2003-2004 season, and many teams would relish such consistency even if the last game isn't accompanied by a champagne shower. It makes the off-ice role enjoyable, as well.
"I take great pride in working for this organization and seeing the product we put out on the ice as well as on the other side—the concerts and other festivities that make SAP Center at San Jose (aka Shark Tank) one of the 10 busiest arenas in the U.S.," Koehler says. "Although I'm focused on the business end, I do feel a sense of accomplishment when the team succeeds. The whole office is part of the team."
Away from the arena, Koehler is helping shape future front offices in the sports world, moonlighting as an adjunct professor of a graduate course on the "Legal and Ethical Aspects of Sport" at San Jose State University.
"It's awesome to have the opportunity to help teach students who will eventually be working in this industry," he says. "It adds something, for the students to have an instructor who is working daily in the field they hope to find careers in. Hopefully my students enjoy the course as much as I do."
No overnight sensation
Koehler may have taken a few years to realize what career path he wanted to pursue, but he's ultimately turned into a success story and landed in a position he loves.
As an undergrad at Amherst College in Massachusetts, Koehler majored in economics and enjoyed history and English courses. He didn't give any thought to law school until a couple of years after his graduation, and laughs today when recalling how his mother should be credited with an assist.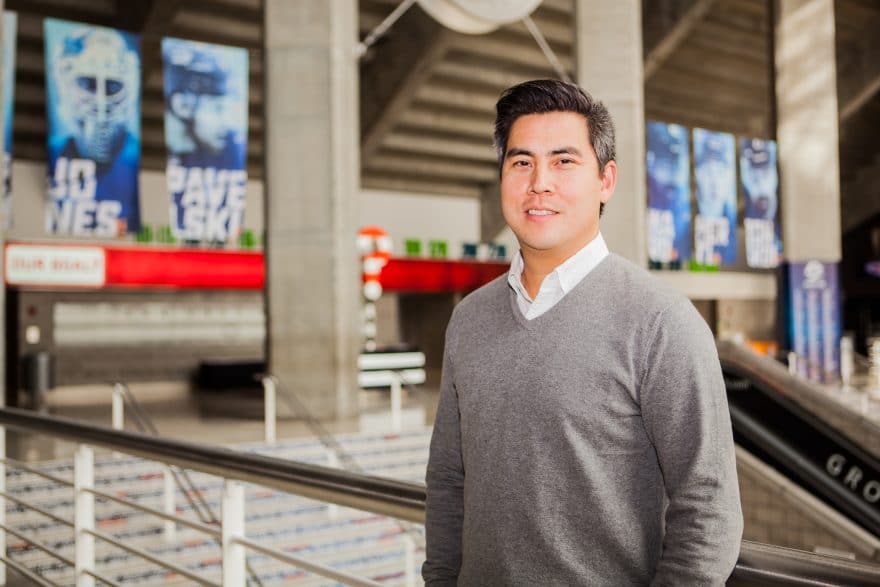 "I wasn't sure what direction I wanted to go in after college," Koehler says. "I was in a state of limbo trying to see what my options were,  when my mom basically gave me three options: medical school, law school or the military. Well it wasn't going to be medical school—I once fainted after getting a flu shot—and it wasn't going to be the military."
His Amherst background having finely tuned him to critical thinking, Koehler did well on the LSAT and spent his first year at Emory University School of Law. But California being where he wanted to be, and with no Los Angeles or San Francisco firms recruiting in Atlanta, Koehler opted to complete his last two years at UCLA School of Law, garnering that juris doctorate in 2009.
That might have been another lucky break. In 2011, Atlanta's struggling hockey team, the Thrashers, would leave their Peach Tree nest for Winnipeg, Manitoba, just as the previous Atlanta team, the Flames, moved to Calgary, Alberta, in 1980.
The Sharks, who entered the NHL in 1991, aren't going anywhere. Neither are the Kings or the Anaheim Ducks. As Sports Illustrated paraphrased a Mamas and the Papas song of yore, it's California dreamin' on such a winter's game. Koehler can share in that dream; after all he prepared for it even if he wasn't always aware of where he was headed.
Showcase your feature on your website with a custom "As Featured in Vanguard" badge that links directly to your article!
Copy and paste this script into your page coding (ideally right before the closing