Patrick Doran – FHLBank Topeka
Shedding light on a 'hidden gem' of financial services
This is rural America at its best. Spread across four states from Denver to Kansas City, the green, rolling fields of farmland stretch to the foothills of the Rockies.
Farm families have worked the land for generations, but they, along with their communities, have not been without funding and other support. As Patrick Doran explains, his employer, FHLBank Topeka, operates in communities throughout Kansas, Oklahoma, Colorado and Nebraska. In addition to lending support, the bank also provides low-cost funding and affordable housing.
"I am proud to work for an organization whose purpose is to help communities stay strong and viable," says Doran, the general counsel, executive vice president and chief compliance and ethics officer. However, the financial model takes some explaining.
Most people assume FHLBank issues mortgages, Doran says. It doesn't. Instead, it offers low-interest loans—called advances—to 700 credit unions, banks, community development financial institutions and insurance companies. They, in turn, make mortgage and economic development loans, or invest in mortgage-backed securities through their own channels.
According to Doran, FHLBank Topeka's operations hinge heavily on what is known as "preferred low-cost liquidity." The Kansas-based institution holds roughly $48 billion in assets, which ebb and flow in response to member needs.
Liquidity for members
"The FHLBank business model is unique in the way in which we are structured," Doran says. "It allows us to be there for our members in good times and bad. In fact, for nearly 90 years we have never incurred a loss on an advance."
Although created by an act of Congress in 1932, the FHLBank system does not rely on federal money. Instead, each of the 11 FHLBanks are privately capitalized and owned as cooperatives by members who select board directors and management.
"We are an integral part of financial services plumbing in the U.S. and a source of the funding most people don't know about. We're not a household name like the Federal Reserve," Doran says. "But this operation is a hidden gem—an important part of the financial services world. We help small and medium-sized communities stay vibrant."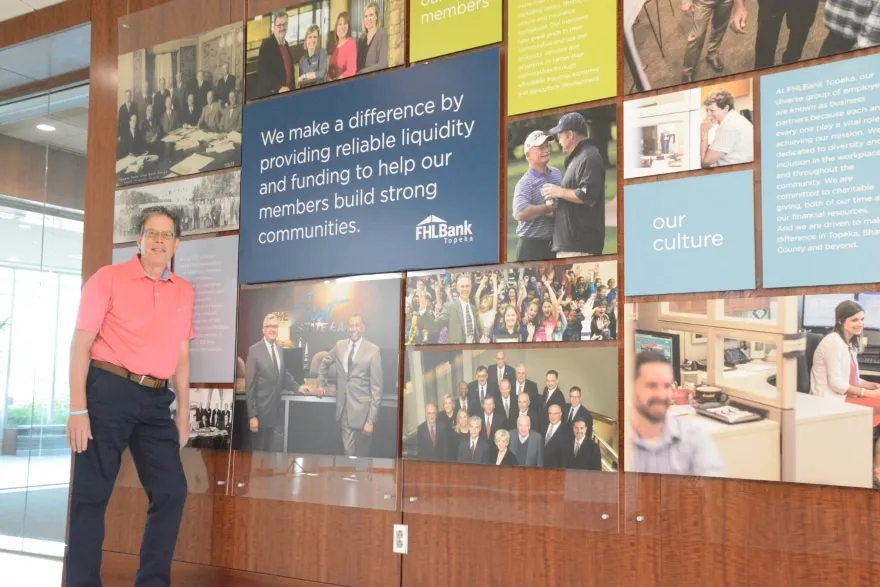 Admittedly, even as a student of finance, Doran had to learn how the Federal Home Loan Bank System operates when he came to FHLBank Topeka in 2004.
He had earned both an undergraduate degree and a J.D. at the University of Notre Dame between 1979 and 1986. His job before joining FHLBank Topeka was also in banking—he was the senior counsel and vice president of corporate and community affairs at 1st Source Bank in South Bend, Indiana, holding the position for almost 15 years.
A career in high-profile banking could have taken Doran anywhere. But growing up in the Midwest, he wanted to help his neighbors. When the opportunity at FHLBank Topeka presented, he pursued it for two reasons: He was "impressed by the intellectual caliber of its employees"; and was attracted to the altruistic nature of the bank, particularly its support of affordable housing.
"When I found out this was an organization that was designed to do good—by setting aside 10 percent of net income for affordable housing needs in the district—that resonated with me," Doran says. "I wanted to contribute at that level on multiple fronts."
Role models
Aside from his role in business and legal operations, Doran has immersed himself in FHLBank's philanthropic initiatives, which include Habitat for Humanity efforts, a homeless shelter in Denver and an independent care facility in Lincoln.
The desire of community service runs deep in Doran. He is inspired by his parents, Doris and Edward, who served on the local school boards; his Aunt Dorothy, a nun who traveled the world doing missionary work; and above all his Catholic faith.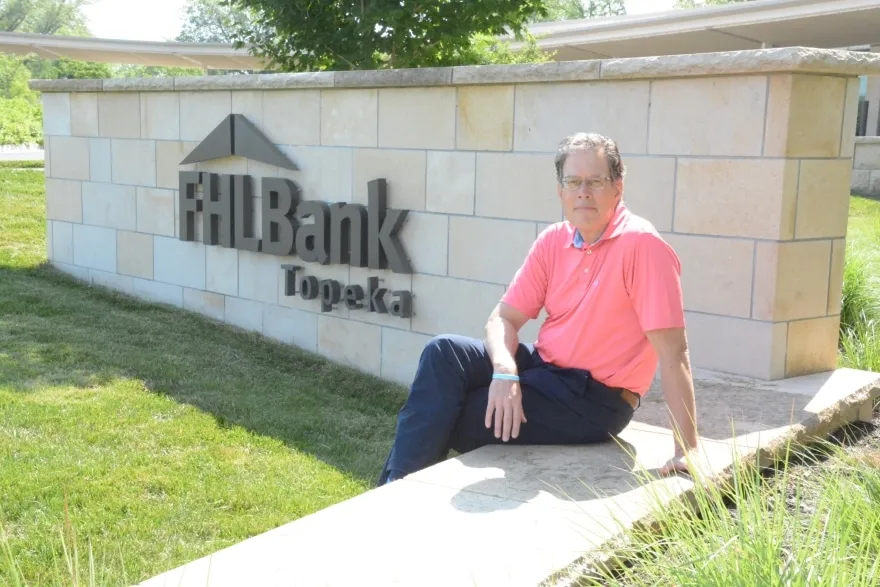 "Together they all set the standard and the example to go out into the world and make a difference," he says. "I am who I am in my work and in my life because of my faith and its teachings on social justice."
His Aunt Dorothy in particular was a powerful mentor. He was inspired by her missionary work in the Solomon Islands, Colombia and Peru, where she worked on community projects related to education, feeding the hungry and housing.
"She is the coolest lady," he says. "She taught me the value of respectfully listening to both sides, which is certainly helpful to me as an attorney."
Now, with 17 years of work under his belt, he also has a mission.
"I never thought when I became an attorney that my greatest obligation would be to lead and mentor the younger generation. But it gives me the most fulfillment," Doran says. "I spend time with people to show them what it means to be a leader, which involves a certain level of vulnerability. Vulnerability inevitably leads to deeper, more meaningful relationships and powerful trust. And that is the heart of any great business."
View this feature in the Vanguard Summer IV 2021 Edition here.
Showcase your feature on your website with a custom "As Featured in Vanguard" badge that links directly to your article!
Copy and paste this script into your page coding (ideally right before the closing