Rob Peters – Check-6 International Inc.
Making a world of difference at consulting firm
He, too, has had to earn his stripes, though Rob Peters concedes he's never been literally under fire. That sets him apart from most of his colleagues on the Check-6 International Inc. executive team.
A global management consulting firm based in Tulsa, Oklahoma, its executives are largely elite military veterans, all of whom have tales about being in harm's way. Founder and CEO Brian "Bru" Brurud sets a high standard as a retired U.S. Navy strike fighter pilot and survivor of 99 combat missions, 17 surface-to-air missile attacks and an ejection.
But he might not have survived any if he hadn't had a wingman "check six," which is aviation lingo; a clock code for a military pilot counting on his partner to check his most vulnerable position—his 6 o'clock where he cannot see. Brurud's carefully selected team includes five former carrier fighter pilots and special operations operatives—a veritable band of brothers who have also "checked six."
Joining them are a few other men and women with less dramatic, though still impressive resumes, among them Peters, who this past November celebrated his fifth anniversary as general counsel and corporate secretary.
"Did I find it intimidating? No, not really," he tells Vanguard about being answerable to combat-hardened bosses. "I'd like to think they bring out the best in me as a seasoned business lawyer with international experience. That's who they needed when they hired me."
Thriving by diversifying
Their judgment must have been vindicated early, Peters helping Check-6 diversify its services at an important time just after being hired. Marked by struggles for the energy industry—the firm's primary clientele at the time—Peters assisted as Check-6 attracted new customers in such fields as construction, mining, manufacturing, transportation and health care.
But no matter the industry, Peters notes a common denominator that Check-6 must overcome.
"Management consulting is viewed as a luxury item by some companies, and as essential to continued success by others," he explains. "But at the same time, the return on investment is substantial. We've been told by one Fortune 50 company that Check-6 was essential in order to make their numbers. Still, when you have a prolonged economic downturn, consultants are sometimes the first to go."
Because of the ongoing pandemic and a depressed energy sector, Check-6 has watched as some of its clients initiated bankruptcy proceedings. While the firm experienced those negative effects, it necessitated some internal shakeups and difficult decisions that have since proven prudent, with Check-6 establishing new footholds worldwide and Peters immersed in the details.
Negotiations, master service agreements, licensing and compliance with myriad regulatory codes—all that and more falls on Peters' plate. If there's a basis to build progress upon, he says it's his ability to effectively communicate through all linguistic and cultural barriers.
Much as he enjoys personal interaction and traveling—"London's fantastic, Moscow's fascinating, Malaysia has the most incredible mixture of people"—Peters has been fulfilling his duties remotely since COVID-19's onset. Thus, he's had to rely more on foreign expertise at a time when issues everywhere seem to grow more complex.
Even the European Union's General Data Protection Regulation can be double-edged, he says. It simplifies some procedures by setting a single set of rules for member states, yet often has Check-6 clients adding to the list of contractual demands.
While Peters is a stickler about keeping his employer and its foreign subsidiaries compliant with the U.S. Foreign Corrupt Practices Act, other countries have their own laws as well as stiff penalties for violators. Hence the need for him to be particular about whom to entrust with sealing a deal overseas.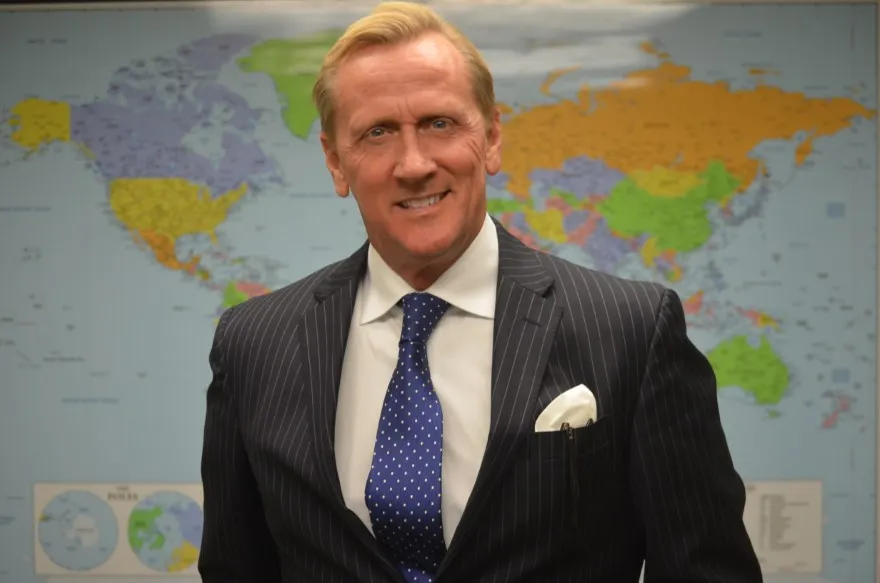 "Any general counsel will tell you that you're only as good as the lawyers you work with and your local counsel in foreign jurisdictions," Peters says. "I've tended to use a global firm [Eversheds Sutherland] in Europe and the Middle East, and a combination of large and boutique firms in the U.S."
Structuring a foreign transaction presents other challenges, he notes, as economics precludes the establishment of subsidiaries on all shores. Regional hubs have proved efficient, though they too are complex and time-consuming to assemble. And while a software component has aided the firm in implementing its services, Peters reiterates there's no substitute for being on premises.
Teammates to trust
Such challenges notwithstanding, Peters is still comfortable in the Check-6 environment, drawing inspiration from bosses who lead by example.
"Their number one attribute is their ability to adapt," he says. "You can take these guys anywhere and into any business in any industry and within a day or two, they'll have the lay of the land. A customer will ask their assessment and get it quickly and comprehensively. They're incredible problem-solvers. The business world could learn a lot from them."
But they've likely learned much from Peters, whose mix of in-house business and legal savvy was the missing ingredient. Twenty years handling complex transactions in private practice—the bulk of it with Tulsa-based Jones, Gotcher & Bogan—prepped the University of Tulsa College of Law grad for the Check-6 role.
As has Peters' commitment to lifelong learning and, for him, there's no better means of doing so than through the traveling that he wants to resume. With so many foreign lawyers being fluent in English, he strives to be fluent in their native tongues.
"No matter how many times you visit these places, you're always learning something," he says. "I'll rely on local counsel. I'm not shy about asking them what's acceptable and what isn't."
Peters chuckles while recounting how in one foreign locale, he thought he was commending a restaurant's fare with the thumb-to-index-finger circle that in the Western world is taken to mean A-OK. As it turns out, it being akin to a derogatory gesture in parts of that region, Peters was quick to make amends with any offended party.
His globe-trotting on hold, home life can be satisfying enough for the married and very proud father of one son and three daughters. Though it can be stressful, he notes, with son Robbie a 6-foot-6 redshirt sophomore relief pitcher on the Fresno State baseball team. The younger Peters was boasting a sparkling 2.84 ERA when the 2020 season was pre-empted, and whether the Bulldogs will play in 2021 remains to be seen.
"Such a different game when you watch as father," says the senior Peters, himself a pretty fair right fielder as a University of Kansas undergrad during the 1980s. "It can be nerve-wracking."
Showcase your feature on your website with a custom "As Featured in Vanguard" badge that links directly to your article!
Copy and paste this script into your page coding (ideally right before the closing