Steve Earnest – Herschend Family Entertainment Corporation
The legal side of the 'fun' business
You're in the air—loop-de-looping, twisting, up and down. The adrenaline's pumping, the wind's whipping your face, your stomach is in knots, you're screaming yourself hoarse. It's the rollercoaster rush.
But after a minute or so of heart-pounding chaos, it's over, and you're dizzily on your way (or maybe jumping back in line for another go-around). What probably never occurs to you while you're having the time of your life is the massive amount of planning, designing and due diligence that goes into those 60 some-odd seconds.
That's for Steve Earnest to worry about. The longtime commercial and regulatory lawyer is the first general counsel for Herschend Family Entertainment Corporation which operates several theme parks with numerous rollercoasters—not to mention a number of other family entertainment venues and experiences.
"When you put a coaster in, a lot of people think you just build it," says Earnest. "But there's a huge process and infrastructure that goes in around it."
The logistics of creating 'memories worth repeating'
Herschend is the country's largest family-owned themed attractions corporation. Since starting out 50 years ago as a cave tour company, it has expanded to three theme parks—including partnership and management of Dolly Parton's iconic Dollywood—two water parks and two aquariums, as well as a recreation park, a resort, lodging and campgrounds.
Since Earnest joined a decade ago, the company has doubled in size, most recently due to its acquisition of the Harlem Globetrotters, Pink Jeep Tours and the British children's television series "Chuggington"—significantly expanding its presence across the family entertainment space. This summer, it also launched Halo Outpost Discovery, an event that allows people to step into a science fiction universe.
Earnest describes the industry as "very active in growth in general," with Herschend expanding organically and following a structured acquisition and growth plan developed by CEO Andrew Wexler. The goal is to expand into territories, properties and experiences that are both a financial and a cultural fit, Earnest explains.
As for the roller coasters? Last year, Herschend introduced Time Traveler® at its Silver Dollar City property in Branson, Missouri—the first spinning roller coaster in the U.S.
As Earnest explains, a typical roller coaster will have fixed forward-facing seats. Time Traveler takes the excitement to a new level by allowing the seat to spin while moving through the ups, downs and loops of a normal coaster.
"The technology allows the spin of the seats to be controlled; that way you get different variations of the ride depending on how fast the spin of the seat is set on that day," Earnest says.
Before introducing a new ride like Time Traveler, Herschend's team visits amusement parks around the world to see what's new in the industry; then, when landing on a concept the team focuses on creative planning and site planning with Earnest getting involved in the negotiation of construction, engineering and ride manufacturing contracts.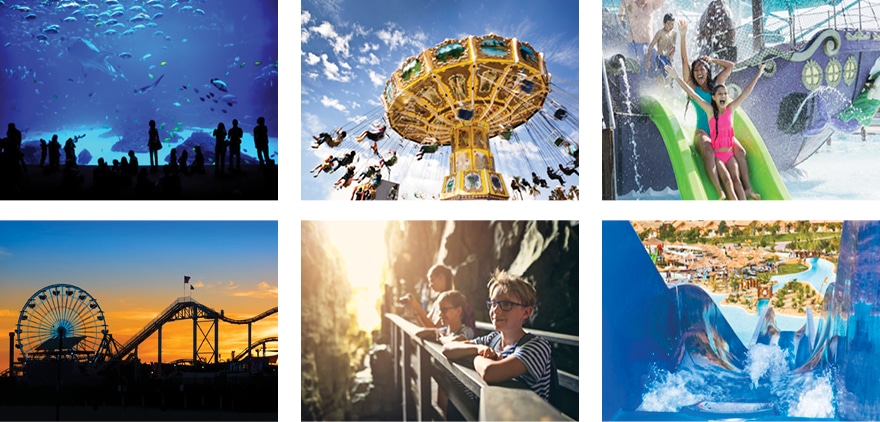 He notes that a coaster isn't just plunked down wherever there's an open area in a park—the team looks at the surrounding rides, the relation between the typography and the track's footings and course, the boarding and de-training areas. They also examine how the line will be queued, as well as factors such as integrating a retail shop adjacent to the line or at the exit, he says.
And then there's mother nature and her whims to contend with. "We always have to hedge against weather conditions," he says. "Weather is probably one of the biggest risks that we face."
As the company continues to expand, Earnest focuses on every facet of the acquisition processes, while dealing with day-to-day responsibilities around commercial matters, compliance, intellectual property, real estate, employment, enterprise risk management and litigation management. And with its ongoing live and touring event platforms such as the Globetrotters, there are numerous logistics to consider—the constant moving of players, coaches, announcers and half-time entertainment.
Earnest also recently served as chairman of the North American Government Relations Subcommittee for the International Association of Amusement Parks and Attractions, a trade association that includes everyone from small enterprises all the way up to world-renowned Disney.
"Legal work in some ways is always going to be legal work—there will always be contracts," Earnest says. "But it's a lot more fun working on a rollercoaster contract than other kinds of contracts."
The ride of his career
Earnest has been with Herschend for 10 years, joining after tenures as a CPA with KPMG, a law firm, and in-house counsel with Bell South and AT&T.
"I reached a stage in life where I was ready to do something else," he says, adding with a laugh, "It was a big switch from telecom to theme parks. I had a lot to learn, no doubt. But a lot of both practices is commercial-related."
He was attracted to Herschend's culture and family-run aspect. As he explains, the company began and remains family owned, expanding to the fourth and fifth generation family members.
"The owners have established an amazing culture and they expect returns on that as much as they do on the financial side of things," Earnest says. "There's a huge emphasis on making sure guests are well cared for, love our parks and want to return. There's also a huge emphasis on having motivated employees who enjoy working here."
And what's his take on rollercoasters?
"Oh I'm a huge fan," he says.
His favorite: Time Traveler, of course.
"You're in your seat and your whole seat spins and your cart spins as well," he says. "They're a lot of fun. I enjoy them."
Showcase your feature on your website with a custom "As Featured in Vanguard" badge that links directly to your article!
Copy and paste this script into your page coding (ideally right before the closing