Abby Sacunas – GMH Associates, Inc.
Innovating communities—and a decades long legal career
In 2020, as the entire world changed, Abby Sacunas decided to make a personal change.
After 15 years at Cozen O'Connor—an international law firm where she served as a partner—she decided to join GMH Associates as a senior vice president, general counsel and compliance officer. She's the first woman to hold the role at the real estate and venture capital investment firm.
Within a year of being hired, Sacunas helped build out the company's first diversity, equity and inclusion program, which has been one of her favorite parts of the job. As part of the program, she and a committee of executives engaged a DE&I specialist, who focuses on recruiting a diverse group of candidates from various backgrounds for positions throughout the company.
Sacunas adds that, over the past two years, GMH has also implemented diversity training for all employees; an expert consultant facilitated the training. Currently, the DE&I committee is developing new training opportunities alongside workforce engagement initiatives to attract and retain individuals from historically underrepresented groups.
This year, the company celebrated Black History Month, creating volunteer opportunities for staff to support and work with local Black-owned businesses. From September to October, the focus was on Hispanic Heritage Month and related volunteer work.
"I love working here because we truly function as a team and treat each and every person involved within GMH with kindness and respect," Sacunas says. "We cherish our diversity and various perspectives; we have no closed doors."
Opening doors to life science housing
Sacunas wasn't just attracted to GMH because of its DE&I initiatives; she says she was also drawn in because of its success in creating new market opportunities, which cater to previously untapped markets and residents—think student and military housing. Since it was established, GMH has invested in over 300 properties, which represent more than $8.5 billion in asset value.
"GMH has successfully separated itself from competitors because it invests in niche industries and builds them out, creating a new space in the market," she says. "Our latest venture is housing within life science hubs, called Innovative Living."
This year, GMH opened ANOVA uCity, which became the first completed project in the Innovative Living plan. The 330,000-square-foot residential complex, which has 462 apartments, is located in Philadelphia's uCity Square, a university neighborhood with one of the nation's fastest growing life science cultures.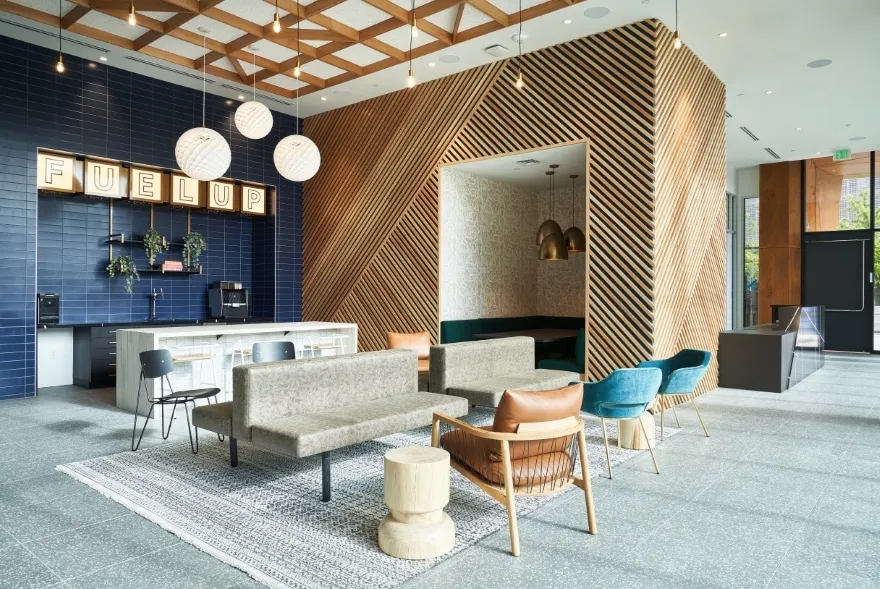 ANOVA will cater to those who work third shifts or nighttime hours—graduate students, researchers, nurses and others—and will provide 24-hour services like dry cleaning, dog walking and programs for residents to meet and network. The community is also home to 14,000 square feet of retail shops and grocery stores on the ground floor as well as 12,500 square feet of resident amenities, like pools, soundproof office pods, a podcast studio, fitness centers and co-working space.
"We want to provide a comprehensive, effortless lifestyle so that third shift workers can still rent cars or get dry-cleaning services at three in the morning," Sacunas says. "Even networking events will be held at 8 am instead of 6 pm to accommodate alternative schedules."
She says GMH plans to open several new locations by the end of 2024. These include Aggie Square in Sacramento, California, and Central Station in Phoenix, Arizona.
"The brand's rapid expansion signifies the unmet demand for residential offerings in life science clusters and knowledge communities, custom designed for the busy, odd schedules of those in the industry," she says.
Building on experience to construct a strong future
When working on a project like ANOVA, Sacunas draws upon her diverse background and skillset, which gives her the chance to be creative in negotiations. It's the same with any of GMH's ventures, like recent ones into healthcare, substance abuse treatment centers and media technology.
She says she can identify unique businesses solutions, like various warrant insurance. Her efforts are focused on ensuring that the buyer, seller and bank are all comfortable enough to proceed—and that she's helped each party meet their objectives.
She's also responsible for all operating companies' mergers and acquisitions, contracts, joint ventures, intellectual property, trade secrets, labor and employment—and even litigation when it arises.
Her experience working for several years in private practice, where she acted as outside litigation and general counsel, has also come in handy. She says it allows her to warn GMH about potential risks, liabilities and future potential disputes—so they can be avoided.
"This may mean more work upfront, but it generally guarantees smoother sailing for the rest of our projects, from construction to opening and ongoing business operations," Sacunas says.
A surprising turn of events
Sacunas's career is also something that was an ongoing project. While she's proud of her achievements, she's also navigated some unexpected turns.
She planned on taking over the family business, but the furniture store was sold while she was in college. Undeterred, she took elective classes and fell in love with constitutional law and political philosophy. She graduated cum laude in 2002 from Syracuse University's Maxwell School of Citizenship with a bachelor's in political philosophy.
"I loved the historical aspect of everything I was learning and felt that law made perfect sense as a natural progression," says Sacunas, who went on to graduate magna cum laude from Syracuse University College of Law in 2005.
She adds that she truly enjoyed her time in law school where she was a legal writing teaching assistant, worked for the New York State Attorney General, was a member of the Order of the Coif and snagged the coveted, competitive position of notes and comments editor for the Syracuse Law Review.
Upon graduation, she joined Cozen O'Connor, helping the firm grow from roughly 150 associates to over 800 by the time she left. To help retain and draw in new talent, she developed a network of coaches and mentors to train and develop associates. She felt that her work and dedication to the development of young attorneys was a natural fit because of how she was raised.
"Volunteer work and helping others is part of my fabric," Sacunas says. "I bring that to work at GMH every day and love its similar focus on family, community and giving back."
View this feature in the Vanguard Winter I 2023 Edition here.
Showcase your feature on your website with a custom "As Featured in Vanguard" badge that links directly to your article!
Copy and paste this script into your page coding (ideally right before the closing