Angela Olsen – AquaBounty Technologies Inc.
Scientist turned lawyer sets table for future foods
Angela Olsen isn't a chef or a food critic, but thanks in part to her Scandinavian heritage, she knows good salmon when she tastes it.
General counsel and corporate secretary at AquaBounty Technologies, she is in the middle of an effort to provide a new protein source to a global population projected by the United Nations to number 9.7 billion people by 2050: AquaBounty's genetically engineered Atlantic salmon.
The company is doing so through a mixture of genetic engineering, improvements in land-based recirculating aquaculture systems, as well as enhanced nutrition and disease safeguards. AquaBounty currently sells conventional salmon; its GE salmon will be hitting U.S. markets before long.
"It's delicious and tastes like any good, premium Atlantic salmon. The flavor is really nice and rich, the texture light and buttery," Olsen says.
The rapidly growing, 71-person company is headquartered in Maynard, Massachusetts, with operations in Albany, Indiana and Canada's Prince Edward Island. A much larger state-of-the-art facility is also in the works. Olsen negotiates global commercial contracts, works on equity and securities transactions, and oversees all domestic and international legal regulatory and litigation matters. She also serves as compliance officer and corporate secretary for AquaBounty's board of directors.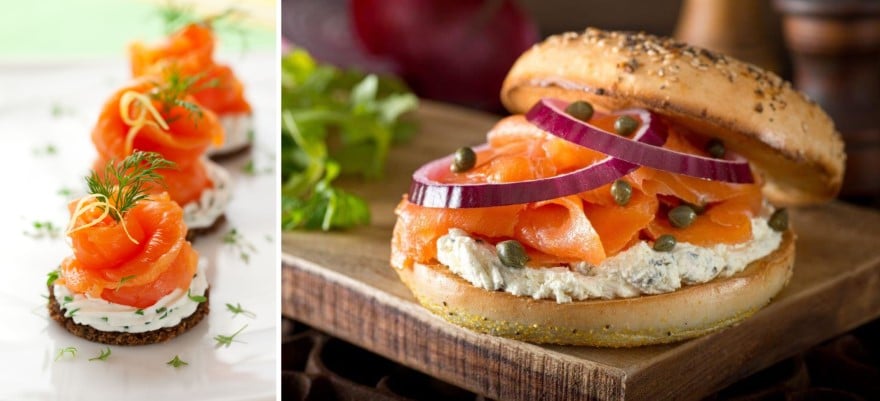 Consumer acceptance of GE foods has grown as governments, companies and scientists look for solutions to feed an ever-growing population, while placing less stress on the environment, she notes.
"We see governments and individuals open to GE and other innovative techniques like gene editing, in large part due to an increased understanding of biotechnology and the safe, effective solutions it can offer," she says. "For me, personally, I believe we all can do our part to help feed the world in a way that is sustainable and good for the environment."
Right time, right fish
AquaBounty's GE Atlantic salmon has been a long time coming. The first genetic line was created in 1989, the regulatory approval process launched in 1995, and approval received for human consumption from the U.S. Food and Drug Administration in 2015—a long wait to commercialize a product, Olsen notes, and an indicator of the company's commitment.
Final result: the first GE animal approved for human consumption. "We have been pioneers and innovators working to solve an important gap in the global food system using science and biotechnology," she explains. "Our salmon were genetically engineered one time, 30 years ago, when a gene from a Chinook salmon was injected into fertilized Atlantic salmon eggs, allowing them to thrive in colder water and grow faster with approximately 25 percent less feed intake."
The GE salmon grow to harvest weight in approximately 18 months (most Atlantic salmon intended for consumption are grown to harvest size in ocean net pen farms in 30-36 months). AquaBounty harvested its first conventional salmon in the U.S. in summer 2020. The initial batch of GE eggs were delivered to the Indiana hatchery in 2019 and those salmon are now growing to harvest size and will be shipping out to customers and distributors soon. In addition to technology, the fish are cared for by knowledgeable teams at both facilities.
"I've gotten to know the wonderful people raising our fish through every life stage. They are highly trained and care passionately about our fish and the environment," she says.
According to Olsen, AquaBounty raises its fish safely and sustainably in carefully monitored, indoor, land-based RAS tanks, allowing fish to swim and school naturally. Free of the contaminants that come with ocean aquafarming, the RAS rest quietly in large indoor buildings with over 95 percent of the water used in the process recycled through biofilters.
The fish receive no antibiotics or medications due to the purity of their environment. AquaBounty's rigorous biosecurity protects against exposure to disease and parasites that are often seen in sea-cage farming, she notes. Light is limited to inhibit the growth of algae or pathogens. Over ninety percent of the world's fisheries are fully or overfished according to the United Nation's Food and Agriculture Organization. We cannot put more pressure on wild fisheries, Olsen says.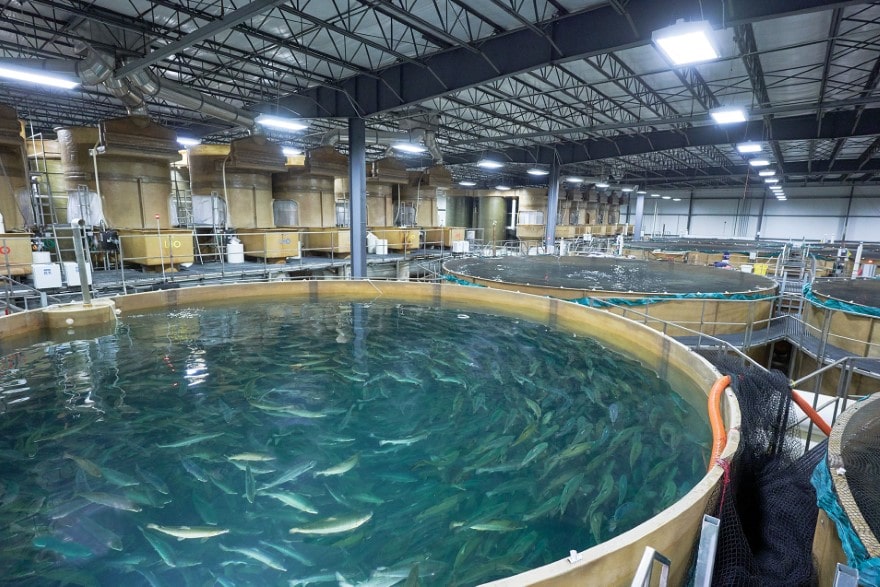 "We're proving that this critical part of the food supply can be produced in a sustainable, environmentally friendly way," she says, noting she's an enthusiastic scuba diver in her off time.
According to Olsen, the model pioneered by AquaBounty fills gaps in an inefficient global supply system by allowing product to be reared locally in the U.S. near consumers. Currently, nearly all Atlantic salmon consumed in the U.S. travel thousands of miles by airfreight and truck—primarily from Chile or Norway. This leads to high freight costs, a large carbon footprint and reduced product shelf life. "AquaBounty salmon is a great choice for consumers and families who want to enjoy fresh Atlantic salmon that's good for them and also for the planet," she adds.
Toward that end, the company is discussing potential international operations in Brazil, Argentina, Israel and China.
Science happens
For Olsen, AquaBounty's mission has created a role where business, science and law converge. She earned bachelor's degrees in biology and English from Hamilton College and a master's degree in cellular and molecular biology at the Catholic University of America. She also worked as a scientific researcher at the National Institutes of Health and at two universities, conducting genetic research to identify specific targets for the development of therapeutics.
She pivoted to earn her JD at the American University Washington College of Law. Olsen's career stops in the past 20 years (all based in Washington, D.C.) have included the private firms of Jones Day and Latham & Watkins LLP; a trial attorney for the U.S. Department of Justice, civil division; then, nine years as senior advisor and associate general counsel at DuPont de Nemours Inc. and Corteva Agriscience.
"I'm a science geek and proud of it. Science enters into almost everything I do here," she explains. "I also pride myself on being a trusted business partner. I'm excited and energized to grow and expand our operations in the U.S. and globally."
Perhaps Olsen's take on bridging science, the law and business evolved from her personal experience adapting to a wide range of cultures. She was born in the U.S. but raised mostly overseas as the daughter of U.S. diplomats—moving every couple of years to Greece, England, Costa Rica, Turkey, Algeria, the Philippines, Hong Kong and South Africa. This was her life from the time she was three months old until the age of 17, when she returned to the U.S. for college. It impacted her in many ways, including her palate.
"My family and I love to travel and experience authentic food that's true to a street in Greece or Italy," she says. "We go where the locals eat, take private tasting and culinary tours with local chefs, explore fresh food markets, take local cooking classes and search out genuine and original experiences."
Olsen's foodie passion plays into her work at AquaBounty too, adding to her belief in the difference the company's GE Atlantic salmon can make in feeding people across the globe—and that everyone deserves to eat fresh, healthy, flavorful food.
Showcase your feature on your website with a custom "As Featured in Vanguard" badge that links directly to your article!
Copy and paste this script into your page coding (ideally right before the closing