Anne Meyer – Frontier Communications
Legal leader helps telecom company find new 'Frontier'
This has been a welcoming year for Anne Meyer, who along with others at Frontier Communications has onboarded new executive leaders and a new board of directors, making her a veteran of sorts.
Meyer, the senior vice president, associate general counsel and corporate secretary, has enjoyed the positive changes in the company's philosophy, hiring and operations.
"It's a pivot point in the company's history," she says. "Our strategic priority is to accelerate our fiber build and increase our fiber-optic footprint to provide high-speed, high-quality fiber products while delivering the best experience for our customers."
What's now Frontier Communications dates to 1935 when Citizens Utilities Co. was founded in Minneapolis. While the company initially provided utility services to rural areas, it began a nationwide telecommunications expansion in 1993. Frontier now offers fiber optic internet, broadband, advanced phone solutions, TV, security and cloud services. It offers these to consumers, businesses, wholesale and enterprise customers in 25 states.
Growing business
According to the Frontier website, it's the fourth-largest provider in the U.S. Meyer says that with new senior leadership and a diverse, experienced board, the company is expanding its fiber network within its footprint. She points to the company's recent $1 billion debt raise which will help fund fiber expansion.
Meyer says her role as corporate secretary allows her to see first-hand how invigorated the management team is to effect real change. As an example, she points to the company's prioritization of environmental, social, and governance matters.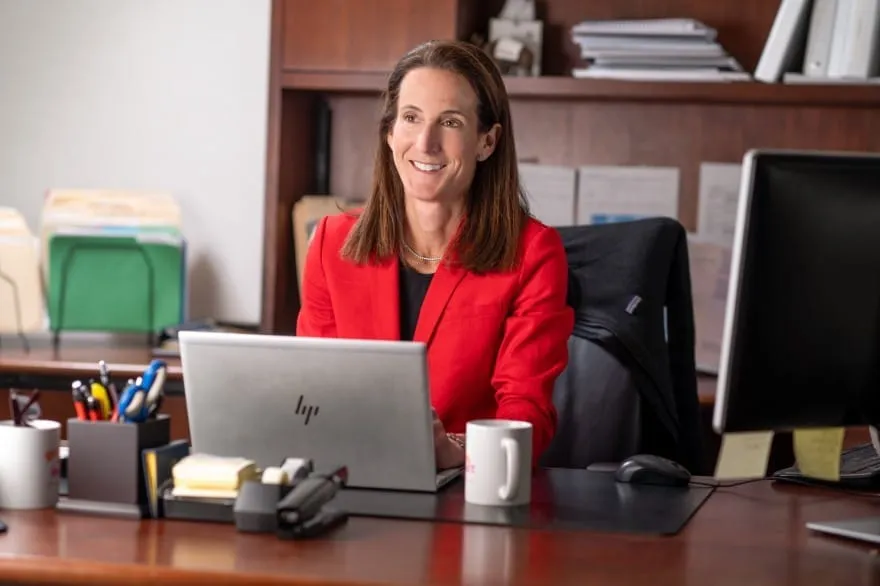 "There's an intense interest in what's important to stakeholders, including capital management, operational efficiency, and environmental impact," she says.
The company is also revamping parts of its business, including customer experience, and entering into relationships such as a multi-year agreement that allows AT&T to use Frontier's expanding fiber network to provide connections for large enterprise customers.
There's also an agreement with eero, an Amazon company, to make it available to new Frontier fiber optic customers. The company is reducing its carbon footprint through its new fleet replacement program and new technology that will also improve driver safety, satisfaction, and efficiency.
Setting the pace
A New Jersey native, Meyer's interest in art history was as strong as her interest in a legal career, and she says she was determined to study at a small New England liberal arts college. She earned her bachelor's in art history from Williams College in Massachusetts in 1993 while also playing field hockey and lacrosse.
After college, she lived and worked in New York City as a paralegal, an experience she says attuned her to the challenges and joys of living in the Big Apple. While enrolled in Columbia Law School, Meyer also had internships at the Metropolitan Museum of Modern Art and the International Foundation for Art Research.
After earning her J.D. in 1998, Meyer joined the firm of Debevoise & Plimpton, serving as counsel for its capital markets group. In October 2016, she became senior managing director for corporate governance for financial services provider Georgeson LLC.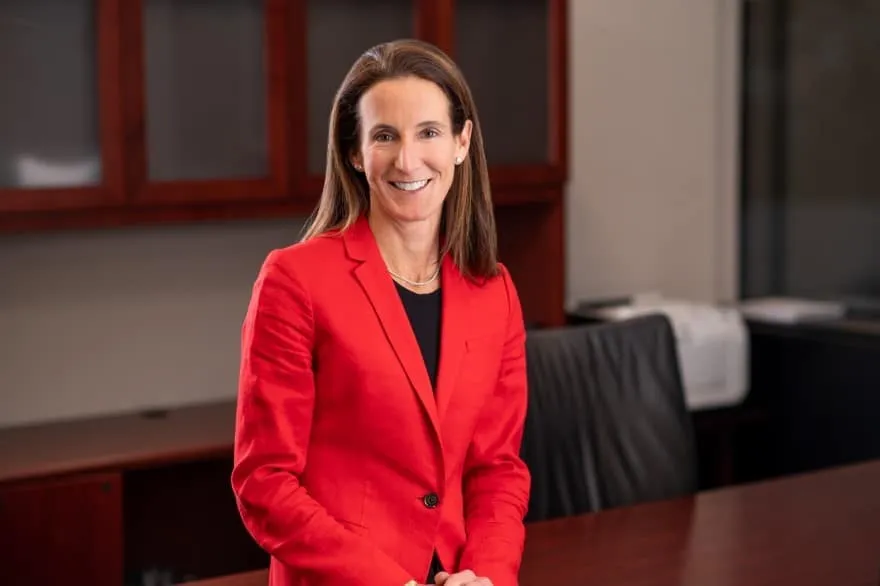 Married and with three daughters, two dogs and a cat, Meyer also has a passion for distance running. She's finished five marathons, the most recent being the 2021 Boston Marathon.
"It sounds trite, but I tell my daughters, 15-year-old twins and an 11-year-old, that life is a marathon, not a sprint. You have to celebrate the small incremental victories but keep the long-term perspective in sight—although that's something I had to tell myself when I hit 'Heartbreak Hill' during the Boston Marathon."
The finish line is not in sight for Frontier, but Meyer says the goals are clear and the course is well-mapped.
"Telecommunications is a hypercompetitive business and we have a lot of work to do. But we have clear leadership and the drive to get things done, no matter the amount of work that's needed," she says. "I see firsthand that the management team and directors are very focused and very engaged. You come out of the meetings and everyone is excited."
View this feature in the Vanguard Fall IV 2021 Edition here.
Showcase your feature on your website with a custom "As Featured in Vanguard" badge that links directly to your article!
Copy and paste this script into your page coding (ideally right before the closing