Brad Cain – NaphCare, Inc.
Using the law to ensure healthcare company's health
As the top lawyer for a niche healthcare provider, Brad Cain says he's relying on years of experience to help the company navigate—and thrive—in challenging times.
A member of the NaphCare legal department for nearly 15 years and executive vice president and chief legal officer since 2017, Cain says his team has assisted with sealing numerous deals to provide healthcare services within jails and prisons nationwide.
Alabama-based NaphCare offers health services, technology solutions and administrative services for government agencies, including jails and prisons. Treatment for mental health and substance use disorders are among the primary needs of NaphCare's patient population, Cain says, and he adds that he's proud to support NaphCare's efforts.
The COVID-19 pandemic has affected jails and prisons, as well as healthcare providers, Cain says, and he and his team were at the forefront of the company's preparation and response to the global pandemic.
"We see all challenges as an opportunity to improve lives and local communities," says Cain, who oversees contracting, corporate governance, litigation, compliance, risk management and many other matters. "The most important role I play is removing any obstacles that interfere with the delivery of healthcare services to the patient population we serve."
Serving the underserved
The past few years, NaphCare has grown into one of the largest correctional health companies, Cain says, which means it's essential that he and his team are accessible to advice on patient care needs, personnel matters, complex contractual matters, compliance and regulatory requirements, as well as daily matters.
To meet these challenges, and barring an emergency, Cain says the legal team has implemented a 48-hour response goal.
That means scheduling response deadlines for those involved with a specific project and requiring "a multi-level review of certain matters," he says. He adds there are several, ongoing projects within his department, including one related to treating mental health conditions and another to implement detailed policies for clinicians providing necessary care to patients.
One such policy includes a step-by-step process for clinical staff assisting patients with a mental disorder that creates "a likelihood of serious harm to the patient or others." The policy also applies if the patient is gravely disabled, and if the treatment is in the patient's medical interest.
Pandemic-related challenges
From juggling newly implemented regulations and dealing with patient testing and quarantine matters to issues surrounding the use of personal protective equipment and vaccine mandates, Cain is seeing first-hand the impact the COVID-19 pandemic has had on NaphCare.
"I suspect that one of the major long-term effects of COVID-19 will include dealing with healthcare worker burnout and an ongoing nationwide staffing shortage," he says.
When the pandemic hit in March 2020, Cain says he and his team were taken back to their research roots immediately. They quickly became accustomed to tracking executive orders and researching and interpreting how each order or regulation impacted the business. These efforts, he says, helped NaphCare's clinical leadership team and frontline staffers and limited and control outbreaks.
Studies indicated incarcerated individuals were five times more likely to be infected than the general public, so throughout the pandemic, NaphCare made efforts to encourage facilities to reduce their overall jail population. The company made testing recommendations, too, and implemented contact tracing protocols. When necessary, it isolated and quarantined patients.
"The main focus of the legal team was to provide any assistance necessary and remove any hurdles affecting the delivery of patient care," Cain says.
A legal life
Cain says he always wanted a career that expanded his mind and offered him the opportunity for growth. Initially, he was focused on attending medical school, but he switched gears after a legal internship during his senior year of college.
After he graduated law school, Cain clerked for a judge in Alabama for one year and then spent the first five years of his legal practice as a litigator.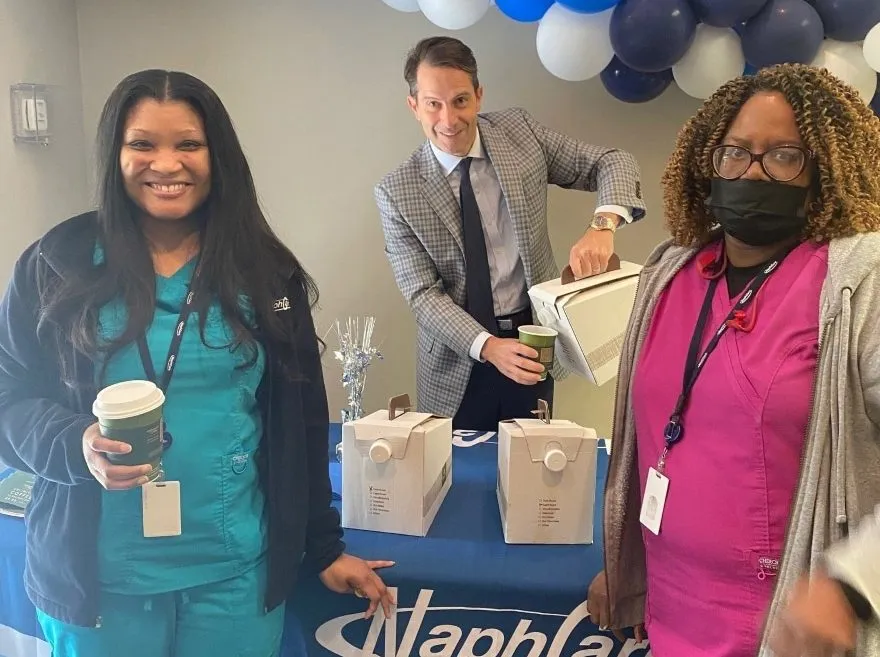 "I had the opportunity to defend and represent some of the largest corporations in the U.S.," Cain said. "I became intrigued with the inner workings of those companies, and my interest shifted from the role of litigator to moving in-house and learning how a company operates."
Cain says he wanted to work for a healthcare company because of his fascination with medicine and health care in general. He joined NaphCare as its general counsel in August 2007 and assumed his current role in June 2017.
"I've come full circle with my interests in medicine and the law," Cain says. "I'm continuing to work in an environment where I'm making significant contributions and reaching and expanding my goals. It's hard to ask for more."
View this feature in the Vanguard Summer III 2022 Edition here.
Showcase your feature on your website with a custom "As Featured in Vanguard" badge that links directly to your article!
Copy and paste this script into your page coding (ideally right before the closing