Brady Long – Transocean
Using legal strategy to keep offshore drilling business afloat
According to the National Oceanic and Atmospheric Administration, about 80 percent of the world's oceans have yet to be explored. But Transocean is more familiar with the other 20 percent than most other companies around the world.
So says Brady Long, the company's executive vice president and general counsel. After all, it's his job to ensure Transocean is legally able to continue to drill in and explore the deepest parts of Earth's final frontier.
"The legal team is absolutely critical to Transocean's success," Long says. "What we do goes a long way toward protecting the company, our people and the environment."
Transocean, headquartered in Switzerland but with offices in 20 countries on five continents, is the world's largest offshore drilling contractor based on revenue. It owns, or has partial ownership in, 37 mobile offshore drilling units consisting of 27 ultra-deepwater floaters and 10 harsh environment floaters. It also operates the units.
Long joined the company in 2015 after several years of instability in the Transocean legal department. Transocean owned the rig Deepwater Horizon, which exploded and sank off Louisiana in 2010. The fallout and challenges of the oil spill led to high turnover throughout Transocean, especially in the general counsel position. Until Long arrived.
When Long joined Transocean, there was a new management team, and he immediately focused on organizing his legal team and the 80 law firms working for the company. One of the first priorities was to help the company develop a plan to reduce its carbon footprint through energy expansion and environment, social and governance initiatives. His team helped develop Transocean's sustainability report and works directly with shareholders, the board of directors and management to provide necessary ESG resources.
"Realizing that legal issues abound in ESG, we created a new position in the legal department to support Transocean's ESG implementation," Long says.
A wave of legal challenges
Long's team of 15 lawyers and 10 other professionals tackle the legal challenges that come from doing business as a publicly traded international offshore drilling company.
To make things easier and more efficient for the department, Long says he oversaw the deployment of an online matter management system. It provides the department with data and analytics from all over the world.
The software takes data points, like how many people are doing the same thing and the time it takes to do certain tasks—like drafting a motion—and compares them to data from other firms and companies. As outside legal fees are rising, Long says it's crucial to mine this data and learn how efficiently legal matters are being handled.
"It's important that we understand what our outside lawyers are doing, to make sure their interests remain aligned with ours," Long says. "We're always looking for ways to do things more efficiently."
Transocean's lawyers focus on the day-to-day legal needs of the company, and Long is charged with helping them understand the data from a wider angle. He's also ensuring all the information gathered is tied to good judgement.
"Our finance personnel help us crunch the numbers and see the trends that we often don't see," Long says.
Plumbing the depths
In addition to leading his team, Long spends most of his time on strategic matters for the company. He's also still a practicing attorney and handles several matters on his own, which he says helps him stay sharp and demonstrates to the team the importance of rolling up their sleeves and doing the work.
He also ensures that everyone in the legal, ethics and government relations functions is involved in decision making for the group, regardless of title or position. Long has been the general counsel for three public companies and says his approach at Transocean is the most efficient way to run an in-house legal department.
"I respect the chain of command, but there's a cultural benefit to getting to know everyone in the department," Long says. "There's great value in the general counsel being visible and working with as many department personnel as possible."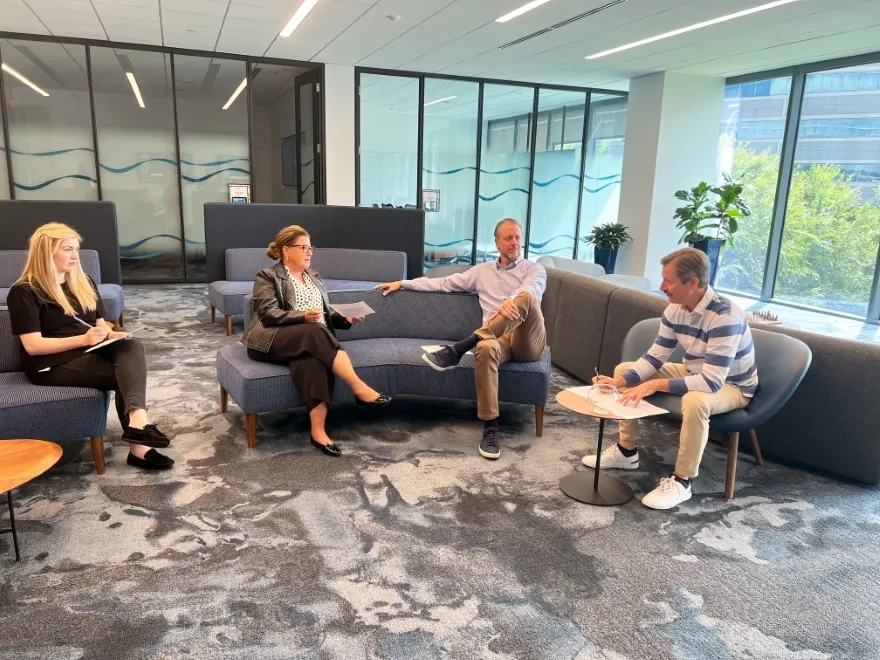 As an in-house lawyer for a company in the oil and gas industry, Long deals with emissions data, carbon footprint targets and metrics. He says general counsel in energy are part lawyer, part chemist and part environmental scientist. People in the industry are aware of the social and environmental responsibilities they bear and must protect their company's business interests while also protecting the planet, Long says.
"Our services will still be needed for many decades," Long says. "But there is a push for more ways we can protect the environment, and we are fully onboard with that."
Exploring the legal field
Long was raised in Midland, Michigan, the world headquarters of Dow Inc., one of the largest chemical producers in the world. He was friends with the children of several lawyers from Dow and says that's how he became interested in law from an early age.
Long earned a degree in political science from Brigham Young University—the same school where his parents met. He was always interested in politics and became more interested in law while studying government.
After graduating from the University of Texas School of Law—and later, Long earned an executive master's degree in tax law from New York University—he was an associate attorney for Bracewell LLP for five years.
"I took some wonderful classes on transactional law and securities regulations and headed in that direction after law school," he says. "I also took an oil and gas law course and was fascinated with that stuff. It all seemed so practical—oil and gas make the modern world possible."
For six years, Long was an attorney for Pride International and became vice president and general counsel 18 months before the company was acquired by Ensco. Ensco retained him in the same position for the combined company, where he served for four years before being recruited to join Transocean as senior vice president and general counsel in November 2015. Long was promoted to his current position in February 2018.
"Throughout my career, I wasn't allergic to any area of the law," he says. "I enjoyed everything from admiralty to criminal law to civil procedure, but I always found myself thinking about industry—how to build a business and keep a business running."
With two other general counsel roles under his belt, Long says he would be happy if his role for Transocean was his last general counsel job. He has a strong sense of pride working for the executive management team, the CEO and the board of directors.
"I have a very personal connection with my department and our leadership team, and a lot of job satisfaction comes from working with these great people," Long says.
View this feature in the Vanguard Winter II 2023 Edition here.
Showcase your feature on your website with a custom "As Featured in Vanguard" badge that links directly to your article!
Copy and paste this script into your page coding (ideally right before the closing