Brookfield Property Partners
Making a case for morale
The cliché perpetuated throughout popular culture—think of the handful of "Law and Order" iterations or many a John Grisham book—is that lawyers are lone wolves who keep the lights burning in their offices deep into the night, pursuing their cases no matter the expense to their personal lives, health or relationships.
While the law profession is, after all, very often high-pressure, competitive and requires a great deal of work, Claire Bibby's goal is to foster a nurturing, team-oriented environment that allows lawyers to excel professionally and personally.
Doing so, she points out, is not only beneficial for the well-being of the lawyers themselves—it's also a great benefit to the companies and firms that employ them.
"The prevalence of mental health issues in the legal profession is widely known and extremely concerning," says Bibby, general counsel and senior vice president of legal at Brookfield Property Partners in Sydney, Australia. "It is imperative that we work together to promote psychologically healthy ways to practice law."
Lessons learned through tragedy
Having been in the legal profession for 25 years, Bibby knows how stressful, aggressive and highly-charged the environment can get. Starting right from the law school years, there is constant pressure to achieve excellence, which can often create a culture of workaholism and infighting.
She shudders, she says, thinking of her early days in law, when it was a  rite of passage of sorts, even an "office sport," to methodically take and dish out barbs that today would be considered "downright bullying."
"Very few people can perform at their best in that sort of toxic environment," she says.
It comes as no surprise to many, then, that the legal profession has significant rates of depression, suicide, stress and burnout—a fact that is finally being openly and frankly discussed, and one that Bibby stresses simply can't be ignored any longer.
The death of Australian Tristan Jepson began to shed much overdue light on the subject in 2004: The 26-year-old, who was just a year out of law school, took his own life. According to his parents, he had long suffered from clinical depression.
As a means to help others, his family and friends established the Tristan Jepson Memorial Foundation. The charitable volunteer organization stresses 13 "workplace factors" to help create healthier legal environments. Those include fostering respect, civility and balance; providing psychological, social and physical support and protection; managing workloads and setting clear expectations; allowing for growth and development; and offering due recognition and rewards.
A 'force' to be reckoned with
Bibby, who has been with Brookfield for 12 years, wholeheartedly embraces these practices and has put them into practice in her team's day-to-day culture.
She oversees a group of 10 lawyers versed in various aspects of the law. They meet regularly to discuss the 13 factors, rating themselves on each one, discussing priorities, work capacities, targets, goals, challenges and successes, and then brainstorm various ways they can improve their morale and performance. Similarly, they are encouraged to respectfully call out negative behaviors they observe in others.
"I have worked very hard to establish a culture where every person can feel safe to speak up when they need help or guidance," says Bibby, who also writes and gives talks on fostering overall well-being in the legal profession. "I've been enlightened, surprised and rewarded in working with my team on this exercise."
As a result, she says, her multidisciplinary group has developed a unique cohesiveness that makes them "open, accessible and approachable" to their range of clients.
"Team building and bonding are very important to us," she says. "We spend a large proportion of our waking hours together and we've been known to borrow from Yoda [of "Star Wars" fame] when referring to the importance of there not being a 'disturbance in (our) force.'"
Colorful and ever-changing
Headquartered in Toronto, Brookfield Asset Management Inc.—parent company of Brookfield Property Partners—is one of the world's largest global property companies, operating in more than 30 countries and managing roughly $250 billion in assets. Its 70,000 employees focus on investing in long-term assets spanning real estate, infrastructure, renewable power and private equity.
Down Under, Bibby's team focuses on the real estate market, which spans "the whole spectrum of the business ecosystem," she says.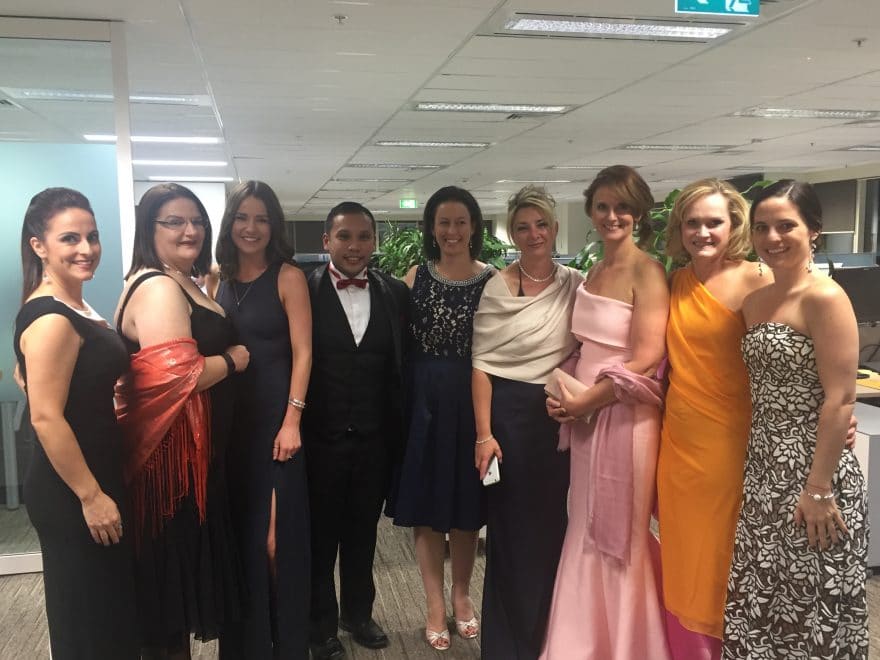 "That sees us working on a broad range of legal issues in an environment that lives and breathes and never stands still," she says. "No one day is ever the same."
She highlights the $1.6 billion Wynyard Place project in Sydney, which will incorporate a multitude of retail, cultural and dining options, as well as flexible workspace. Now underway and slated to be completed by 2020, it has likewise been designed to integrate with a $2.1 billion light rail project in the works by the city of more than 4 million.
"We are working to redefine Sydney's skyline as we transform the site into a world class urban precinct," Bibby says.
Ultimately, she likens her role at Brookfield to a kaleidoscope—in that it's "colorful and ever-changing." Similarly, she adds, the transactions her team handles on a daily basis are innovative, creative and "never beige." In other words, a world away from Law and Order.
Showcase your feature on your website with a custom "As Featured in Vanguard" badge that links directly to your article!
Copy and paste this script into your page coding (ideally right before the closing