Camille Penniman – Nothing Bundt Cakes
She takes the cake to a new level
Piece of cake? Well, it won't be quite that easy to grow this franchisor of specialty retail bakeries, but the right ingredients and people are in place. 
So assures Camille Penniman, who's soon to celebrate her first anniversary as general counsel and the only in-house lawyer at Nothing Bundt Cakes. The Dallas, Texas-based company, which has high growth goals, was acquired by Roark Capital in May 2021. 
"I really missed the hospitality industry after my time away," Penniman says in regard to her previous, yearlong stretch with a trucking parts distributor. "This company and its cakes are very special, and we pride ourselves on how we challenge the franchising industry's norms. The way we support our franchisees—the bakery owners—and our private-equity owners is unparalleled." 
And many details go into that process.  
Cake of a different make
Founded by Dena Tripp and Debbie Shwetz in Las Vegas in 1997, NbC—the lowercase "b" to avoid confusion with the TV network—has differentiated itself by baking and frosting its bundt cakes on site. Though the chain has grown steadily and has almost 450 locations, it's still underrepresented in some locales—New England and Canada among them—but intent on catching up. 
Penniman brings experience in rapid-growth franchising from a prior stretch with Raising Cane's Chicken Fingers. She emphasizes that personal as well as professional relationships matter with NbC's growing lineup of bakery owners. 
"One of the things we do with prospective franchisees is ask them to tell us the first time they enjoyed our cake—their 'first bite' of Nothing Bundt Cakes story," Penniman says. "We even do that when hiring people for our support center. Part of my role is ensuring we have the high-quality talent to support the bakery owners."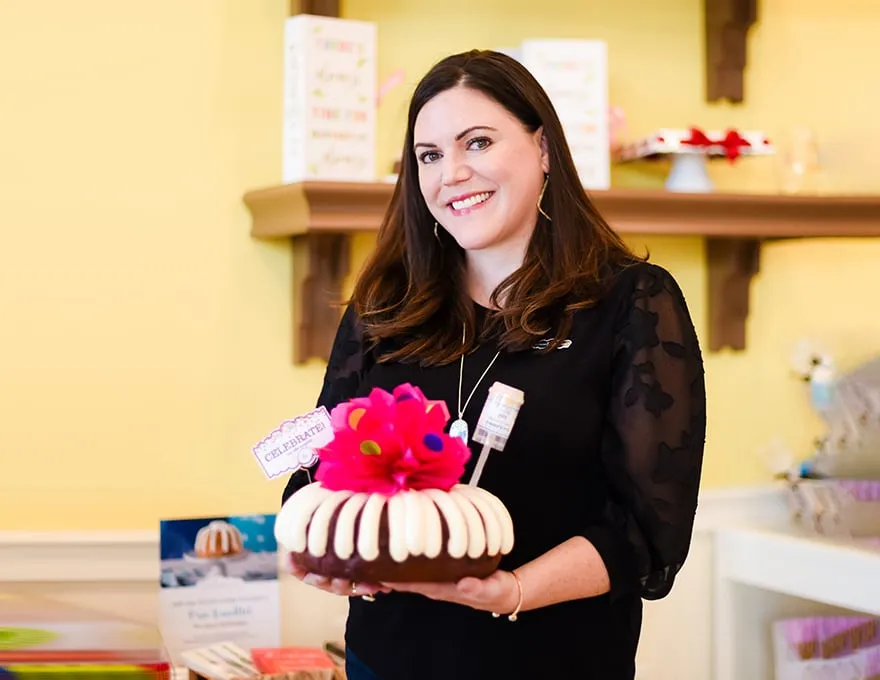 Of course, ensuring that the prospective franchisees know the product is just part of the onboarding. The past couple years, more prospects have wanted to own multiple bakeries, which has had Penniman streamlining the contracting process and advising the company on matters it might encounter with multi-unit ownership. 
In-house, she has a better grip on personnel issues as the human resources department is now under her authority. She is looking at ways to upgrade the company's benefits program and make it a more appealing employer. 
NbC is also piloting third-party delivery service with DoorDash and Uber Eats. While she wasn't part of the company during the worst of the COVID-19 pandemic, Penniman notes that demand for NbC's specialty cakes boomed and hasn't abated. That's had her negotiating contracts with would-be deliverers and ensuring bakeries would only be targeting consumers in their territories. 
"It'll be a challenge to scale this process as we continue to grow," she says. "But it's exciting to come to a company at this stage and build functions that are scalable." 
A sweet deal
Though the dessert industry is competitive and some of Roark Capital's other holdings—among them, Cinnabon and Dunkin'—might seem like rivals, Penniman says NbC fills a largely unmet niche. 
While there hasn't been that much competition in the bundt cake business, she explains that a successful operation will likely have its model pirated. NbC having trademarked its frosting pattern and logos, those are a couple areas she polices. It's all part of overseeing the legal needs of a growing hospitality entity, which she learned to do at Raising Cane's. 
A 2003 Vanderbilt University law graduate, Penniman earned her bachelor's degree in journalism from the University of North Carolina at Chapel Hill. She says the communication skills it instilled have suited her well though her interests transitioned to business and legal. 
She honed those skills for three years as an associate at Baker Botts and Gardere Wynne Sewell in Dallas. She left private practice in 2006 to be associate general counsel for Sabre Holdings, a global technology company in Southlake, Texas, where she managed commercial, intellectual property and antitrust litigation.  
In 2014 she joined Raising Cane's in nearby Plano, becoming the chain's first lawyer and getting her hands greasy in the process. With a hyper focus on supporting operators, during her six years there she listed "fry cook and cashier" along with senior vice president of legal on her LinkedIn profile. There was much to be gained, she says, from learning the business from the fryer up as she built a legal department that could take due credit for Raising Cane's becoming the fastest growing restaurant chain of the mid-2010s. 
Wanting a new challenge, Penniman left Raising Cane's to become vice president of legal for FleetPride in Dallas in December 2020. However, she left the following October when offered the NbC position. It's a place she reckons she'll stay for a long stretch. 
"I really like to have my arms around all legal issues that a company faces as opposed to being at a firm and working on specific matters for different companies," says the mother of three school-aged girls. "I realized quickly that in-house law was for me." 
View this feature in the Vanguard Fall I 2022 Edition here.
Showcase your feature on your website with a custom "As Featured in Vanguard" badge that links directly to your article!
Copy and paste this script into your page coding (ideally right before the closing