Tasha Stringer Grinnell – Neiman Marcus
Standing up for who you are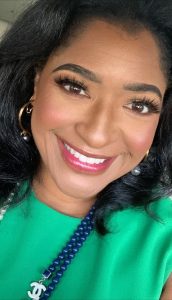 It was a prophetic moment when, on January 15, 1986, an 11-year-old Tasha Stringer Grinnell stood on the steps of the Hawaiian State Capitol in Honolulu and delivered a heartfelt speech during the first celebration of Martin Luther King Jr. Day.
She remembers practicing it for hours, lining up her stuffed animals on the bed to mimic an audience. After the event, the sixth grader was approached by Coretta Scott King, the late wife of the America Civil Rights leader, who told Grinnell she would make a fine attorney someday.
Grinnell took that advice to heart. In 2000, she earned her J.D. from the University of South Carolina School of Law. Now, after more than 20 years as a litigator—representing companies such as Chubb Insurance, Dean Foods and Huawei Technologies—Grinnell last year joined luxury retailer Neiman Marcus Group as vice president and assistant general counsel of litigation, risk management and labor and employment.
To say the first two months were difficult would be an understatement. In addition to assuming all legal responsibilities for the company during COVID-19, Grinnell helped shepherd it through a major restructuring. But much like surviving her heart-pounding experience as a child, delivering a speech to a sea of adults, Grinnell emerged stronger.
"I gained strength and learned leadership as a child, being the daughter of an Army officer," Grinnell says. "I soon learned as an African American woman, I could achieve anything—because Coretta King told me so."

Girl power
Grinnell was recruited by Neiman Marcus while working at McAfee, a global computer security software company.
As the global legal head of McAfee's labor and employment division, she was responsible for all employment related matters in the U.S. Europe, the Middle East, Africa, Japan, Asia Pacific and Latin America. When the opportunity came to join her now-mentor, Tracy Preston, a leader in the legal community, Grinnell was eager to join the company.
Although Preston eventually moved to a different company, Grinnell stayed at Neiman Marcus, drawn to the company's reputation for supporting women in leadership.
"That was certainly a big deal to me," Grinnell says, noting that women now comprise 62 percent of the company's leadership.
Still, she's the company's only African American female executive, and that fuels her desire to be a role model. She's on Neiman Marcus' first environmental, social and corporate governance team. She's a member of its COVID-19 Emergency Pandemic Task Force, and she's a public speaker on issues such as leadership, compliance, risk, crisis management and diversity.
"My aim is to solve problems and inspire others to go far in their field, by having a strong voice at the highest level," she says.
COVID-19 challenges
During her first two weeks on the job, Grinnell became involved in a series of pandemic efforts. She was the point person on the company's COVID-19 task force which oversaw vaccinations and established remote work policies and travel mandates. The task force also developed store and employment policies and helped restructure Neiman's workforce.
In March 2020, Grinnell was asked to serve on the Corporate Store Reopening Team, for which she was ultimately awarded the "coveted" internal NMG Best Award. It was a complicated endeavor with federal health regulations varying drastically between cities and states, meaning many stores were unable to open at the same time.
At the height of the pandemic, while physical stores were temporarily closed, she says Neiman Marcus scaled-up its luxury shopping experience remotely. Sales associates used FaceTime, Neiman Marcus and Bergdorf Goodman apps, as well as store websites to showcase items from the warehouse. They also used curbside delivery.
Now, as the company prepares for life after COVID-19, Grinnell says she's shouldering everything from litigation and risk management to labor and employment issues.
"It is extremely rewarding to leverage institutional knowledge to help achieve key business objectives" Grinnell says. "We emerged stronger."
Enter: ESG
One of Grinnell's favorite responsibilities is working on ESG initiatives. Launched last April, the company's ESG committee was tasked with developing policies to promote diversity and address sustainability issues for its associates, customers and investors.
According to her, Neiman Marcus has been one of the first major retailers to pledge to eliminate products containing animal fur by 2023. It also rolled out an animal welfare plan, and is working on transgender and domestic partner policies to ensure all people can attain medical benefits.
"We're headed in the right direction, but have plenty of work to do," Grinnell says. "I like to tell people that, in addition to being fashion-forward, we are also people-forward—which is evident by the work we're doing."
While Grinnell was born in Germany to a Hawaiian mother and a Black father who was stationed in the Army there, she later returned to her mother's home island of Oahu when she was in elementary school. There, she attended a boarding school on the island for children whose Hawaiian ancestry is verified. The family later left for California when her father was redeployed.
Frequently, her father was stationed throughout the world—including in Korea, Germany and the U.S. Grinnell and her siblings grew accustomed to having to constantly move, attend different schools and make new friends.
During her teenage years, she jokes this meant trying out for multiple cheerleading squads in the course of four years. Her positive spin on the matter? It gave her an opportunity to re-invent herself and navigate new circumstances.
Later, Grinnell earned a degree in English from Virginia's Hampton University in 1997, before moving to South Carolina for law school. After graduation, in 2000, she became the first person of color to be a judicial law clerk to the Late Honorable Marc H. Westbrook for the Circuit Court of South Carolina. From that time, she remembers a Black man facing trial.
"Every white male in the courtroom had a Confederate flag pin on the lapel of their jacket," Grinnell says. "I remember thinking, 'how can this man feel that he is being judged in a fair and equitable manner?' When I told the judge, those pins were gone—and never reappeared in his courtroom."
Following that experience, she represented companies in industries including dairy, technology, insurance, cybersecurity and retail—her strong suit being labor issues and litigation. Now the mother of two teenage girls—Elle and Chloe—she's imparting to them what she's learned.
Her advice to them and other female attorneys? Be proud of your heritage no matter what it is, and strive for a healthy work-life balance. Also, and don't be afraid to challenge norms, she says. Each person can make a difference.
"I've  never been afraid to use my voice, or share my thoughts," Grinnell says. "Most of the time the outcome is positive and an opportunity to make an impact great."
View this feature in the Vanguard Winter I 2022 Edition here.
Showcase your feature on your website with a custom "As Featured in Vanguard" badge that links directly to your article!
Copy and paste this script into your page coding (ideally right before the closing