La Dell R. Diaz – ACI Worldwide
Overseeing a smart move to service colleges
Though best known as a company that provides real-time payment software for clientele such as banks, merchants and billers, ACI Worldwide has long nurtured a foothold in higher education. There being a need to simplify campus payments, the company late last year rolled out a technology platform that could make it the industry heavyweight in this niche.
Overseeing that process was a step away from the legal operation's core activity of negotiating commercial transactions and protecting intellectual properties. But, as La Dell R. Diaz tells Vanguard in December, it wasn't such a difficult adjustment.
"We are looking to grow rapidly, and we are tasked with adapting and being agile to respond to the business needs in a way we haven't ever before been asked," she says from her office in Elkhorn, Nebraska.
A member of the ACI Worldwide team for 22 years and senior vice president of legal operations since 2016, Diaz and her international team of 27 lawyers and contract administrators had an indispensable role in making it happen. They collaborated with the infotech and business stakeholders to make proprietary portal for rapidly onboarding new colleges, including automation of customer contracting. They interfaced with vendors, safeguarded ACI intellectual property and helped to confirm that the new platform complies with data-privacy rules and regulations.
"I oversaw and set direction, but they did the heavy lifting," Diaz says, sharing credit for the process that began last March and was ready for a November rollout.
For each college and university that signs on, there'll be a customized portal for automating payment for the many bills that a student encounters: tuition, class dues, books, room and board. Diaz acknowledges the legal department experienced a steep learning curve with this launch, but she now beams with pride.
"It puts us in the front position toward expanding our reach into the public education space," she says. "Though we were a solid competitor in the vertical for years, it was more limited in comparison with the rest of our business. This launches us into the top tier."
And it's another reason why Diaz feels at home in her in-house legal role, in which she's served since 2000.
She means business
A University of Wyoming College of Law graduate, Diaz recalls an early idealistic vision of the law that would have her focused on individual and constitutional rights. While a lawyer can make a living that way, she found it wasn't for her in the long term. Commercial transactions being a better fit, she signed on as a contractual lawyer at US West, a Bell company that had piles of paperwork to process in the runup to the Y2K panic of late 1999.
Diaz and her colleagues diligently handled the load, but upon Y2K proving a false alarm, she and other new hires were let go, albeit with generous severance packages and the best of wishes. At least in her case, everything turned out well, ACI Worldwide taking note of Diaz's stint at Bell and welcoming her as an associate counsel. More than two decades and multiple promotions later, Diaz says she's yet to have a boring day.
"It's a very good company, but I won't pretend that I set out to spend 22 years here," she says with a light laugh. "But it's been nice to grow with the company and further develop my role. I've been fortunate to be involved in initiatives that have helped grow the company."
She's been part of the company quadrupling its workforce to nearly 4,000 and its annual revenues rising from around $400 million to nearly $1.3 billion in 2020. Her team has been in the thick of software licensing and the hosting of cloud-computing services for airlines, government, hospitality, health care, retailing and academia, among other sectors.
Her legal and business input factors when the IT team solicits third-party content for its software and assumes risk. She's helped fashion the internal controls that have enabled ACI Worldwide to standardize its technology and strengthen its competitiveness.
"Payment software and fintech is the hot space," she says. "With our broad spectrum of solutions for banks, merchants and billers, we handle the entire payment chain: In-store, online, back-office management, cross-border, real-time and fraud and risk management."
Her private life matters
Demanding as ACI's responsibilities are, the 52-year-old Diaz values the personal life she shares with a long-time partner. "I do have aspirations to retire early so I'll still have enough energy and mobility to do other things," she says. "I do love traveling and spending time with my partner."
And resuming her former pastime of glassblowing. It wasn't that long ago when Diaz fashioned primordial molten goo into interesting shapes with the aid of a blow tube. Vases, bowls and cups were among her specialties, and upon moving to the Omaha area in early 2000, Diaz found kindred souls in an artist cooperative known as the Hot Shops and its working studios for glass, iron, brass and pottery.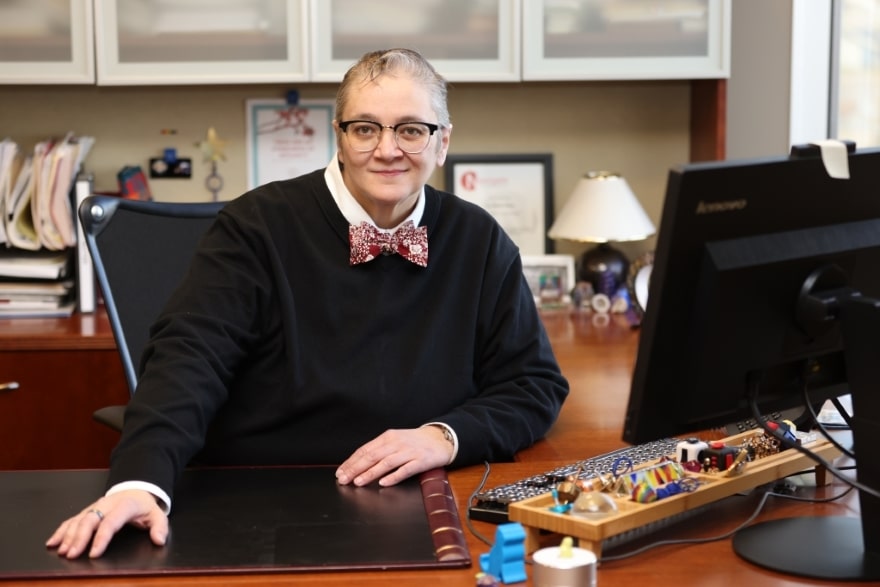 They'll welcome Diaz back, but it will be a while, as there's so much more to do at ACI Worldwide. As 2021 neared its end, the board authorized the repurchase of $250 million in common stock—another indication that the company is in growth mode. Among its many recently announced industry initiatives, it's extending real-time payments fraud capabilities for financial institutions, improving transaction visibility for merchants with real-time omni-channel payment analytics, collaborating with buy now/pay later, and cryptocurrency vendors to help both merchants and their customers. It's also expanding digital disbursement for billers.
And, of course, it's stepping up its services to higher education.
"For this deal, and for all our deals, all of us have come together," Diaz says. "Sales, business, development, legal, finance—we're all focused on customer centricity as the core value. We are driving toward the future of real-time payments with our bank, merchant and biller customers around the world."
View this feature in the Vanguard Spring I 2022 Edition here.
Showcase your feature on your website with a custom "As Featured in Vanguard" badge that links directly to your article!
Copy and paste this script into your page coding (ideally right before the closing