Rick Donovan – Lake City Bank
Sharing a common vision in Indiana
Though it's not quite post-pandemic at Lake City Bank, each day brings promise of more normalcy to one of Indiana's oldest state-chartered financial institutions and the largest that's solely invested in the Hoosier State.
It's taken teamwork, explains Rick Donovan, who joined the bank in late 2019 after years of being its outside counsel. How quickly he'd immerse in matters that couldn't have been anticipated.
So many new policies and programs for the new legal boss to interpret, among them the federal Coronavirus Aid, Relief and Economic Security Act—aka CARES—from which the Paycheck Protection Program arose. But, as Donovan says, it's all been part of having just one client—the bank—in his roles as senior vice president, general counsel and corporate secretary.
"I would describe the past year-and-a-half as being a very positive experience," Donovan says from his Fort Wayne home, where he's mostly worked remotely for over a year. "For obvious reasons, it hasn't been what I expected when I joined the bank, but we've come out of it as a stronger operation that has been very successful in keeping our employees safe and meeting the needs of customers."
Always customers first
The days of changing on the fly aren't necessarily over, Donovan explains. In May, the U.S. Small Business Administration announced the earlier than expected exhaustion of the second round of PPP funds available to lenders. The news surprised many banks, including Lake City Bank, as it still had a few borrowers applying for the funds. Now the focus turns toward assisting customers seeking forgiveness.
While Donovan advised on legal and compliance concerns, he diverts most of the credit to a bankwide effort for enabling the timely processing of loan applications and funds being made available to customers.
"I don't think you can overstate the job our IT department did in ensuring people could fulfill their daily duties from remote locations," he says. "Their flexibility, creativity and ability to provide bankwide connectivity was a significant part of our ability to continue business."
Branch lobbies now open after lengthy closures and drive-thru efficiency enhanced by technology, Donovan says Lake City Bank can accommodate clientele in person as well as through a new digital platform the bank, led by the technology group, introduced early this year.
Digital transactions only likely to become more popular, he's confident Lake City Bank will take advantage. The tech upgrades not only enhance the digital banking experience for bank customers but also help simplify his task of addressing consumer complaints, contract drafting and review, and interfacing with vendors.
Though a legal department of one, Donovan also oversees client protection services and consumer solutions and compliance. In addition, he collaborates on corporate governance and provides support in personnel matters that arise in an operation with more than 600 employees throughout northern and central Indiana.
"I'm still learning what it is that I'm doing, because there's a wide range of issues and challenges," he says. "Each day is different, but I'm with great people and a great organization that helps me take on these challenges."
Smooth transition in-house
Donovan and the Lake City Bank crew were far from strangers when he accepted his first in-house position after 26 years of practicing commercial banking, corporate and real estate law with the Fort Wayne firm of Rothberg Logan Warsco.
Lake City's former general counsel, Kristin L. Pruitt, had been promoted to executive vice president and chief administrative officer. She and other members of the brass beckoned Donovan to step into the vacancy. For the preceding decade, he had been the firm's primary contact with the Lake City Bank team. Thus, Donovan says, the midcareer change was rather seamless, though he wasn't looking to leave what had been his only professional home.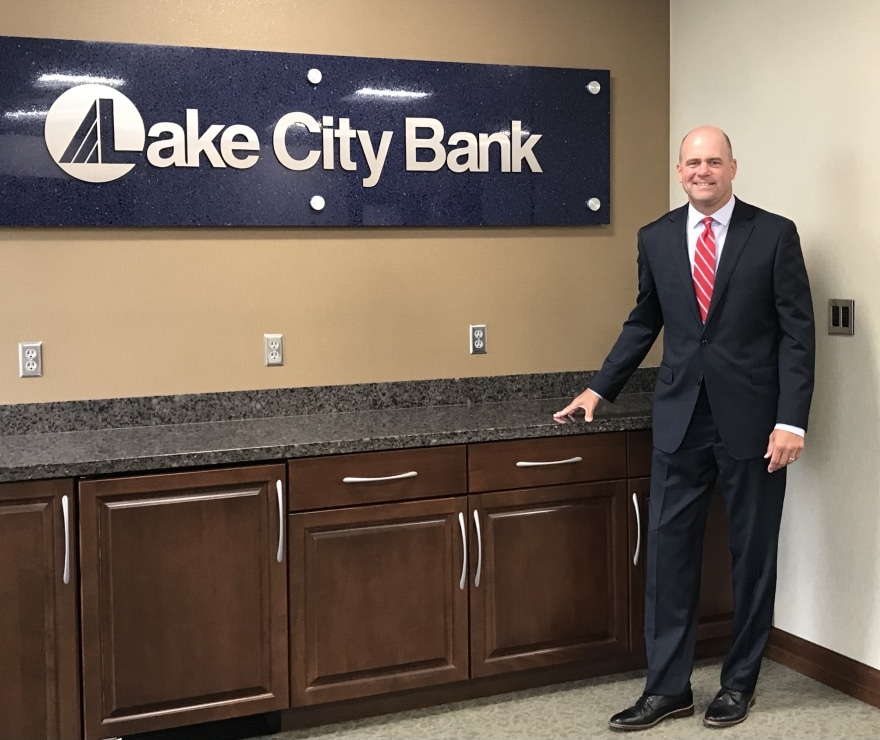 "But it turned out to be a good time for a change for my family and me, and, thanks to Kristin, I've never felt like I was on an island," Donovan says. "She's still involved in legal issues and I benefit from working closely with her."
That closeness has mostly been via remote means as everyone's become adept at Zoom. Still, Donovan misses the personal collaboration and hopes everyone can soon return to their desks. Whatever the arrangement, the mission of expanding Lake City Bank's presence and customer base continues along with enhancing the services and products provided by this community bank with assets over $5 billion.
"We must constantly evolve," Donovan says. "There's always a new and better way to serve customers and make a meaningful impact in the communities we serve."
As to what drew him into law, a longtime friend at Butler University mentioned his preparation for the LSAT. A tenacious, but unexceptional, 6-foot-4 forward on the Bulldogs basketball team, Donovan wouldn't attract NBA attention but surmised that his competitive juices could find an outlet in law. Scoring better on the legal aptitude test than he ever did on the hardwood, Donovan was accepted at Valparaiso University School of Law, graduating in 1993 and commencing with his career as an associate with the Rothberg firm.
Life's been good, Donovan says, with Sabrina, his wife of 25 years, grown daughters Alixandria and Madelyn, and son Campbell, who graduated from Butler this year, where he played on the basketball team for four years. When the northern Indiana sky gets too gray, mom and dad might slip off to their retreat in Fort Myers, Florida, though Indianapolis might be their favorite place.
"That's where our two grandbabies are," Donovan says. "They keep us young, and that's important because we believe in working hard and playing hard."
View this feature in the Vanguard Summer III 2021 Edition here.
Showcase your feature on your website with a custom "As Featured in Vanguard" badge that links directly to your article!
Copy and paste this script into your page coding (ideally right before the closing