David Murgio – Ranpak
The total package for sustainability
It's a role where David Murgio doesn't often need to consult his law books, working for an Ohio-based global manufacturing company that specializes in protective paper-based packaging.
Chief sustainability officer and corporate secretary of Ranpak since last year, Murgio was general counsel and chief operating officer of One Madison Group, the acquisitions firm that purchased Ranpak in the summer of 2019.
Having overseen details of the $950 million transaction, Murgio has transitioned to an unconventional role that often has him side by side with Ranpak's salesforce, engineers and laborers. He'll spend as much time listening to their ideas and sharing his thoughts as he will with the C-suites. He'll interact with the marketing and business departments. He'll help the sales team talk with customers who are looking to conduct their business in a more sustainable way.
"I'm thrilled with the role, I absolutely love it," the gregarious Murgio tells Vanguard this past autumn, when Ranpak was fine-tuning a new product made from mixed-paper waste. "Sustainability is at the core of our corporate DNA."
Asked how it's enabled by his skill set, Murgio doesn't miss a beat.
"In my legal career I've been involved in lots of large and exceedingly complex situations," he responds. "Major bankruptcies, corporate crises, 9/11—I've been exposed to a lot and had the chance to learn from the best. Having managed those large, multifaceted processes has prepared me for this job, which is near and dear to my heart."
It's a safe wrap
Headquartered in Concord, Ohio, Ranpak fit the One Madison portfolio, Murgio explains. Formed in 1972, it's been around for a while, but now, with the explosion of e-commerce and an increasing consumer focus on sustainability, Ranpak has the potential to disrupt the protective packaging industry through innovative engineering and a progressive mindset to which plastic bubble wrap and plastic foam pellets are anathema.
Murgio passionately makes the case for paper and cardboard protection for products as small as medical devices and as large as automotive, aeronautical and industrial parts.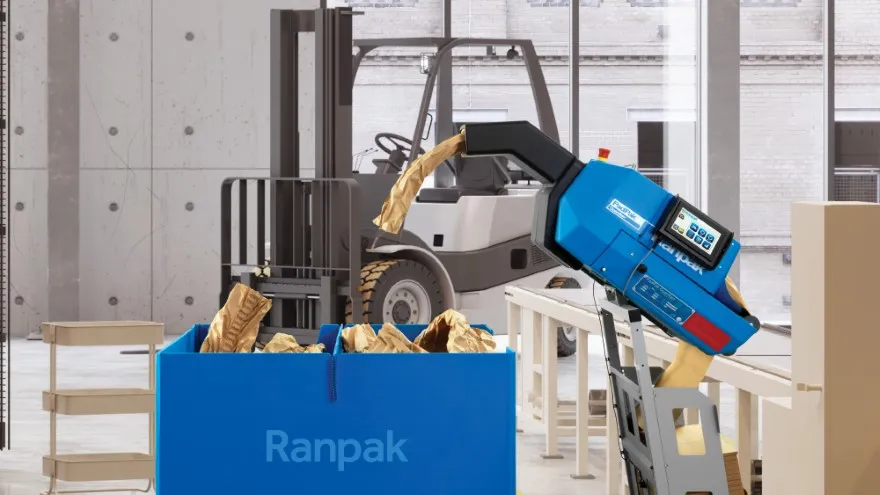 Such packaging is at least as protective as plastics, he assures, not to mention more economical, sourced using sustainable forestry practices, and, after its final use, easy to recycle and biodegradable. Ranpak has even found a way to convert paper made from the lowest grade of wastepaper into a packaging system that will protect the goods received from online retailers.
As the paper is converted into Ranpak packaging material, Murgio is likely to be walking the floor at the company's Ohio facility or one of the three other U.S. plants, asking all hands: "How can I help you use fewer resources, create less waste or better recycle whatever's left over?"
Learning from the best
As to how Murgio got into this position, it seems a mix of some fortuitous opportunities. A 1993 Dartmouth College government grad, he spent a few years teaching English in Poland where he met his wife and maintains an apartment in Krakow. Upon returning to New York, he earned a law degree and a master's in international relations from Columbia University in 1999 and began an eventful 10-year stretch as an associate, and then counsel, at the heavyweight firm of Weil, Gotshal & Manges.
Quite the mentors he had there, among them Ira M. Millstein, now 90-something and still arguably the foremost authority on corporate governance. As that distinguished jurist helped Tyco International reform its governance after top executives were accused of stealing millions during the early 2000s, the young Murgio accompanied him to board meetings, even being put on spot to answer directors' questions. "David, you take that one," Murgio remembers Millstein telling him. "Just be brief."
When the 39-story Deutsch Bank Building in Manhattan had to be deconstructed due to damage and contamination from the Sept. 11, 2001 terrorist attacks, Murgio assisted another of the law firm's prominent partners, Richard J. Davis, represent New York State's Lower Manhattan Development Corporation in the mediation among Deutsche Bank, its insurers and the LMDC. As a result of their efforts, the LMDC took ownership of the building and deconstructed it, with the property ultimately folded into the 9/11 Memorial and Museum.
Then, when Lehman Brothers declared bankruptcy in 2008, he worked beside the late Harvey R. Miller—whom The New York Times called "the most prominent bankruptcy lawyer in the nation"—representing Lehman in the sale of its broker-dealer business to Barclays, a $1.75 billion transaction that signed and closed within a single week during the climax of the subprime mortgage crisis that led to the Great Recession.
"At an early age I had a chance to learn at the knee of the greatest problem-solvers anywhere," Murgio says with obvious reverence for that august trio. "It was a very formative experience seeing how these world-class thinkers approached a seemingly intractable situation and then went about resolving it."
Paper cuts it right
Murgio's hoping to make a difference at Ranpak as well, albeit on a matter that should be less contentious than what he experienced at Weil, Gotshal & Manges and subsequent roles with Harbinger Capital Partners and Drivetrain—all preceding his role at One Madison Group.
For while a young Dustin Hoffman was advised in "The Graduate" that the future lay in plastics, Murgio argues the synthetic or semi-synthetic compound has outlived its usefulness, at least for packaging purposes.
Of the 8 billion-plus metric tons of plastic produced, around 6.3 billion metric tons has become waste, with the lion's share accumulating in landfills or—far worse—ending up in oceans and lakes. At this rate, by 2050 there'll be more plastic by weight, than fish in the oceans.
Whale carcasses that wash up on beaches have been found to have stomachs full of indigestible plastic. The same goes for other creatures, and humans are deceiving themselves if they think they are spared.
"Do you know that studies show the average person now ingests one credit card worth of plastic each week?" Murgio asks.
On a more pleasant note, he says there are now over 30,000 end users of Ranpak packaging systems, with the majority split between North America and Europe, and most of the rest in Asia-Pacific. While once the chief operating officer and general counsel of One Madison Group, Murgio's now committed to growing the company he helped acquire.
Even COVID-19 has not impacted the company as much as it's shifted its operations, he explains. There's less demand for heavy industrial parts but more for e-commerce, and every small package sent with paper padding means one fewer stuffed with bubble wrap.
"What we're doing is good for business and it's good for the environment," he says. "And I'm just delighted to contribute."
Showcase your feature on your website with a custom "As Featured in Vanguard" badge that links directly to your article!
Copy and paste this script into your page coding (ideally right before the closing