David Butow – Trane Technologies
Greening up an industry giant
It's called a Reverse Morris Trust, which occurs when a company spins off a division in order to merge it with another organization, the benefits including the tax-free transfer of a business.
If it sounds complicated, it is indeed, assures David Butow, who for the past year has led his legal team's efforts in such a transaction that recently completed between a couple industrial giants, and positioned a pure play climate technologies innovator in its space.
A gregarious and good-natured man with a multitude of legal responsibilities at Trane Technologies (formerly Ingersoll Rand), Butow has freed his employer's industrial business segment, which combined with heavy-duty pumps and compressors producer Gardner Denver Holdings Inc., to create the new Ingersoll Rand in a deal valued at $15 billion.
The former Ingersoll Rand was renamed Trane Technologies and is operating as a pure-play global climate innovations company. Through its strategic brands, Trane® and Thermo King®, and portfolio of environmental products and services, Trane Technologies brings efficient and sustainable climate solutions to buildings, homes and transportation.
But there was first a lot of work and details to be satisfied before Butow could add this to his reputation as a deal-maker.
A wheel in motion
"So many different pieces at play here," Butow tells Vanguard in February. "So many functional elements, and everything we do has an impact on them."
Though Butow was talking from the company's U.S. base in Davidson, North Carolina, Trane Technologies is domiciled in Ireland. Meanwhile the new Ingersoll Rand (formerly Gardner Denver) calls Davidson its corporate home. The two jurisdictions, as well as the many countries where the companies operate, brought about the oversight of multiple entities around the globe, including the European Commission.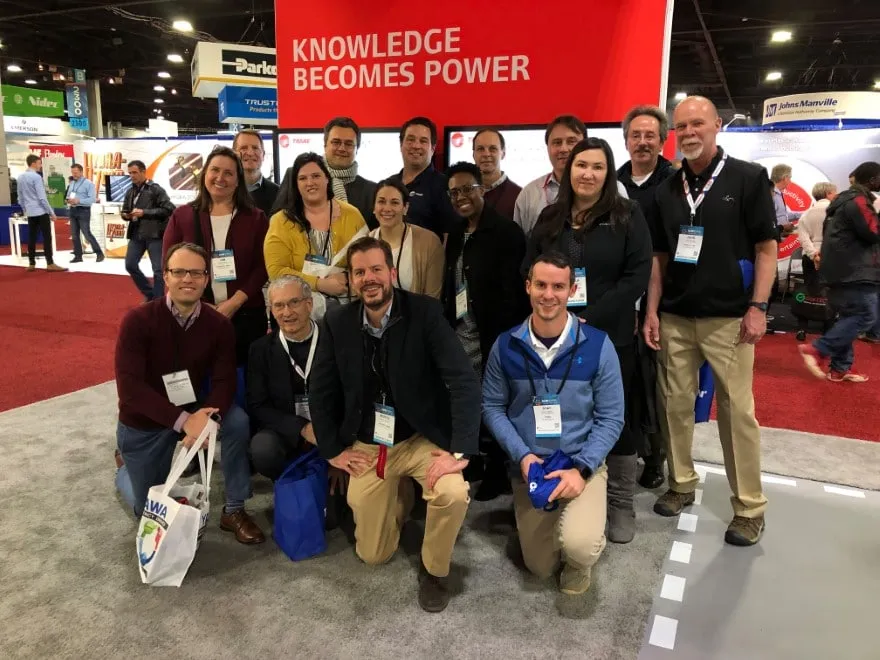 That base has been covered, the 27-member executive branch of the European Union checking all regulatory boxes in January.  In addition, the transaction was decided upon by Gardner Denver stockholders who get just under half the shares of the new $5.8 billion company, with Trane Technologies' investors sharing the rest.
He had seen the necessity for it before and as the merger drew near, Butow gave the hypothetical example of somebody in infotech having a legitimate issue that can't help but reverberate with the human resources department, and it being passed on to financial folks. Call it trickle-down or trickle-up trouble, but it better be dealt with.
"Everyone might have a valid perspective that needs to be solved," he says. "You've got to synthesize all the issues raised from those different perspectives, identify what is salient in solving your problem, decide on a solution and build alignment around it."
Given his background and leadership roles, Butow might be uniquely positioned for putting out such brushfires.
Real deal and then some
A member of the Trane Technologies legal team since coming aboard as an assistant general counsel in late 2007, Butow found his way four years later, promoted to cover M&A, financing and restructuring. A few years later, he'd manage a dream team of legal talent, including M&A lawyers in the United States and other counsel in Europe, the Middle East and India. This happened upon being given additional responsibility as general counsel for the later region and moving to Brussels for nearly three years.
Come the fall of 2016, he'd be back in North Carolina, only with the new responsibilities of vice president and general counsel of the company's burgeoning $13 billion-plus climate segment. A couple years later he'd add back responsibility for mergers and acquisitions for the Ingersoll Rand legal group. Different as those roles may be, they seem to have dovetailed.
"I had left the M&A role to be general counsel of the climate segment, then they give M&A back to me," Butow says with a laugh, as it was an additional full-time role. "But I have a lot of fun with each role. Mostly because of the people I work with."
That includes 27 lawyers and non-lawyers worldwide immersed in the nuances of manufacturing and servicing big-ticket and energy-efficient HVAC and other machinery and a variety of energy-saving services and offerings. He says his climate team continuously looks for ways to improve their cost and efficiency and scrutinizes external spending.
"We're cheap with the company's money and insist on high value returns when we do spend on outside counsel," he says. On the internal side, he continues, "My team has a strong culture of being very proud of our advocacy … we passionately negotiate for the company … and know the right places to spend that energy."
His team also loves business and seeks to partner outside of the legal swim lane. "We are so integrated into the business and the decisions being made, not just in legal affairs. but in the business itself," he says. "Even when we're not making decisions, we're heavily influencing the people who do, and seeing the fruits of our labor."
At home in-house
It's not the first in-house role for the 1997 Washington and Lee University School of Law graduate.  He initially cut his legal teeth with Arnold & Porter, where he focused on securities offerings, credit and debt transactions and eventually M&A for U.S. and international clients.
Planning to focus on M&A, he transferred to Simpson Thacher & Bartlett, where he did that type of work for financial institutions, financial sponsors and industrial and other clients.
"I love the complexity of M&A and the opportunity it affords to work in several other areas, such as IP law, employment law and financial matters," he says.
While at Simpson Thacher, he was seconded to work at JPMorgan Chase & Co.'s base in Singapore throughout 2002, and got a taste for working as in-house counsel.
Though he'd return to private practice in New York with Simpson Thacher & Bartlett, Butow would take his first full-time in-house role as senior counsel with Citigroup Inc. in New York from 2006 to 2007. Here he worked on multi-billion deals in China and Japan and strategic deals in technology and other spaces in the U.S.  He then joined Ingersoll Rand.
Originally from the Chicago suburbs, and after the several moves around the world, Butow has more recently settled comfortably in North Carolina with his wife and children.  Last year, after not doing so for two decades, he resumed marathon running and reports finishing with his best time ever in a Swiss race last October.
"I really had to push myself," he says. "We actually had to run through hills and over cobblestones in historic old towns."
His work itself can be a marathon, and he can now take his share of credit for bringing that Reverse Morris Trust across the finish line. Lots of careful steps have gone into that long run and while there weren't cobblestones, the route wasn't always smooth.
"If we're successful we'll be a smarter, faster, better version of ourselves," Butow says.
Showcase your feature on your website with a custom "As Featured in Vanguard" badge that links directly to your article!
Copy and paste this script into your page coding (ideally right before the closing