Heather Mars – TheStreet
Reimagining media
Point to a time in the last 20 years where technology and media created a paradigm shift, from streaming music to YouTube to social media feeds. There's a good chance Heather Mars was right in the thick of it.
Along the way, Mars has come to embrace a change-or-perish approach in navigating the ever-fluctuating content landscape.
Now, as general counsel and secretary for TheStreet, a financial news and services company, she's tapping into that experience to reimagine not only the company's future, but her own role, as well.
"To be honest, I wasn't the typical GC candidate," Mars recalls. "My experience was more as a business attorney working in digital media. They were looking for someone who had a deep understanding of that space, but who could also help from a strategy perspective, as well."
For Mars, that means striking a balance between TheStreet's free ad-supported offerings—real-time stock information, expert analysis and other customer-facing products—and more premium content.
One example of the latter: a membership subscription built around famed Wall Street firebrand Jim Cramer, which gives customers real-time trade alerts and in-depth market insights.
More broadly, Mars wants to develop new platforms and marketing streams designed to bring TheStreet's day-trading tools to a new generation of investors.
It's here, at the intersection of old media and new technology, where Mars has always felt most at home.
Riding the wave
In 2007, the year Mars joined Sony as senior director for global digital business, the company's music division was still mired in the selling of CDs. Thanks to the iPod, digital downloads were beginning to make market headway, but companies like Sony still needed creative ways to meet their margins.
Mars' goal: figuring out how to work with new, third-party streaming services like YouTube and Spotify in a way that was both profitable and forward-facing.
"Everything was so new, sometimes these services didn't even understand what their business models were," Mars recalls. "How do we run ads and pay the artists? How do we make sure enough people are watching the ads? This was uncharted territory and complex stuff."
Not only did Mars and her colleagues have to figure out how to monetize digital content; they had to do it in a way that wouldn't overly hinder Sony's CD sales.
And while some initiatives worked—such as marketing the company's artists directly to younger viewers via proprietary digital channels—the process was, for Mars, valuable in its own right.
"When there's no risk, there's no reward," she says. "It's not just about getting everything right; it's about learning what works and what doesn't."
In 2010, Mars was hired by CBS to provide business and legal affairs support for the company's digital music and entertainment initiatives. By then, she says, TV had begun looking to the music industry for cues, which made for a seamless fit, strategy-wise.
There, Mars once again leveraged third-party partnerships (including with Vevo and Apple) in digitizing CBS' live-digital music offerings, including band appearances on "Late Night with David Letterman."
But even the most creative content-delivery solutions have yet to address this one, pressing conundrum: if you want your content to be free—or close to it—someone has to pay for it.
Mars harbors no delusions of grandeur. What she has, honed over years at the tech-media nexus, is a knack for encouraging collaboration.
Right place, right time
During her Sony days, Mars lived for those moments when the best and brightest minds—many of them non-lawyers—were brought to bear on a single issue.
"Regardless of our backgrounds, we were like-minded, in that we understood you don't live or die on everything you try," Mars says. "It allows you to be creative in ways that lawyers traditionally aren't."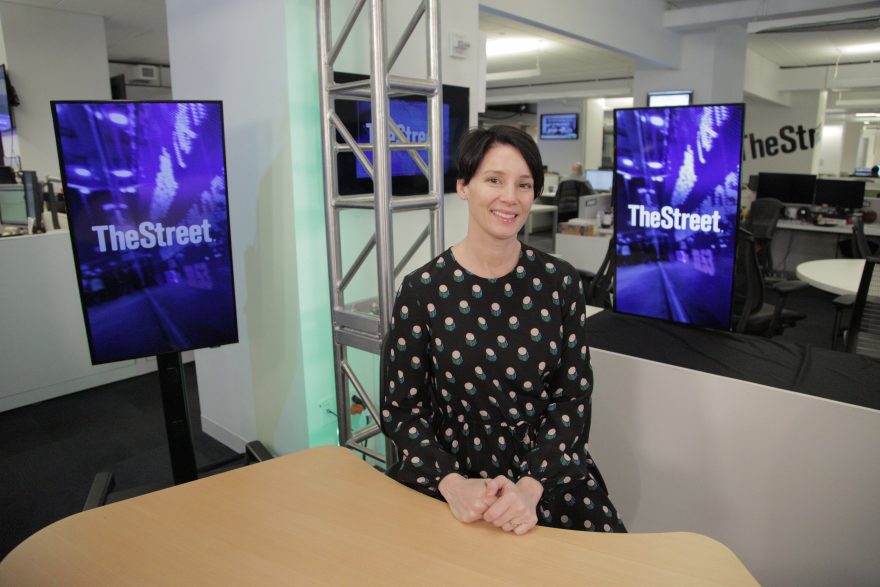 Since assuming the GC reins in June 2016, Mars has sought to foster a similar dynamic at TheStreet, working with a slew of newly-hired hands with deep backgrounds in business development.
Indeed, like the sea changes that defined her previous posts, Mars and her colleagues are having to reimagine how their content is produced, packaged and engaged. When Mars first arrived, for instance, the website's newsletters were still being sent in printable PDFs. Now, subscribers are sent a crisp, clickable dispatch, with links to all manner of content and products.
More recently, TheStreet rolled out a brand new, mobile-optimized website, a measure Mars says will reach a younger and increasingly tech-dependent demographic.
Still, despite the clear and present need for a creative pivot, being a GC is as much about tempering enthusiasm as it is embracing it.
"My philosophy is to find ways to make it work, not be a naysayer," Mars says. "But sometimes you have to be that voice of reason keeping people grounded—even though you're encouraging them to be experimental."
With the stock market higher than it's ever been, Mars once again finds herself at an industry inflection point. But while the media might be different—and a bit more difficult to package—the time and place have never felt more right.
"It's pretty serendipitous to always be in the middle of the new media evolution," Mars says. "It never gets old."
Showcase your feature on your website with a custom "As Featured in Vanguard" badge that links directly to your article!
Copy and paste this script into your page coding (ideally right before the closing