Joe Moschella – Jukin Media Inc.
Becoming the legal bridge between two merging media companies
By 2014, clicking through channels on a TV and reading a newspaper were becoming outdated, while digital media was rapidly expanding.
That same year, Joe Moschella joined Jukin Media in Los Angeles as general counsel. Since then, he's been tackling legal and business matters for the global entertainment company. Last year, he played a major role in Trusted Media Brands' acquisition of the company as one of the senior executives guiding the transaction and the diligence process.
According to Moschella, leaders at Trusted Media Brands, a New York-based media company with consumer brands like Reader's Digest, were interested in Jukin Media because of the way it commercialized user-generated video content. They also liked how Jukin produced original content for TV, streaming and social platforms like YouTube and Facebook. Jukin is the owner of channels like FailArmy, Weatherspy, People are Awesome and The Pet Collective, with an audience of more than 200 million and over two billion monthly views.
After the acquisition, Jukin became a wholly owned subsidiary of TMB and began applying its operational methods and practices to the TMB brands.
"Like Jukin, Trusted Media Brands was also based on broadly accessible and well-loved content," Moschella says. "They needed Jukin to reach audiences that were rapidly turning away from print and the web to streaming and social."
An exciting change of channels 
According to Moschella, Jukin excelled at reaching people on digital platforms because it didn't start off disseminating media via television or print. It was digital from the beginning, starting on YouTube in 2010 before moving to streaming platforms like Pluto and Samsung TV. He adds that Jukin took its place alongside traditional television networks on providers like Sling once it found the right production formats to extend short-form programming—think a few seconds or minutes—to half hour shows.
"We were extremely attractive to TMB because our know-how is content agnostic, so we could apply it to their existing brands, which covered areas of interest that were new for Jukin," he says.
In fact, Moschella says Jukin had already been looking at do-it-yourself programming as a new genre. When TMB's "Family Handyman" brand became available to Jukin, he says that creating a new "At Home with Family Handyman" streaming channel was a no-brainer. This is an example of how the acquisition was also advantageous for Jukin; it gave the company an opportunity to expand its content with the backing of a larger, more established organization. Jukin also gained access to TMB's libraries and expertise.
Once the deal was complete, Moschella focused on integration alongside his traditional role guiding the business. As this was TMB's first experience having a business in California, Moschella says he enjoyed the comparative corporate governance. He provided guidance on everything from employment law to navigating employee cultural differences at TMB's new California operations.
"I enjoyed working on the handoff," Moschella says. "I didn't just get to impart our day-to-day at Jukin but also got to learn and leverage ideas from the way TMB had run their operations for decades."
Fast on legal feet
However, Moschella's focus on managing structures and creating efficiencies at Jukin predates the TMB acquisition. While other media companies like Disney have numerous lawyers across myriad departments, Jukin operated with a very lean legal team, as it still had its startup DNA when it was acquired by TMB in 2021.
"I had to create efficiencies so that we could have one person handling legal matters at Jukin where that may have been a task for two or three people elsewhere," he says. "While many legacy companies have teams dedicated to issues and liabilities of the past, we invested in bringing in revenue as quickly as possible, and revenue, frankly, solves a lot of problems on its own."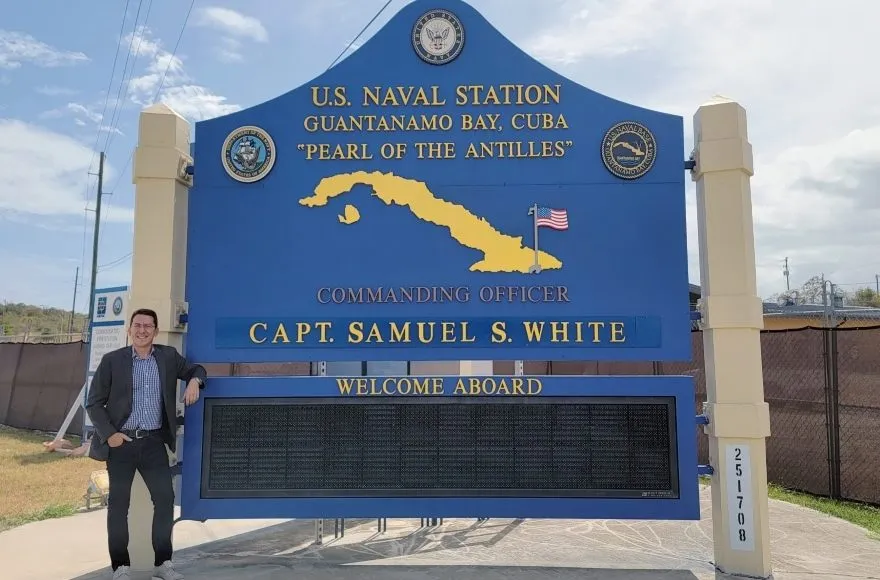 Fittingly, he and his team created guides for the sales, licensing and other revenue-generating teams on what they could agree to on their own authority. This helped those teams to better understand what was acceptable at Jukin, which enabled them to more quickly and confidently answer external client questions. He and his team created similar guides for the company's rapidly growing production team, which, when followed, have helped eliminate certain stages of tedious legal review.
"This left more time to address the new issues that seemed to pop up around every corner as Jukin grew in lockstep with the streaming space," he says.
The business of law
Moschella is no stranger to problem solving, a skill he credits to his educational and professional background. He earned his bachelor's in political science at the University of Wisconsin-Madison, but had little desire to work in government or on political campaigns.
However, he enjoyed writing and thinking through problems and felt that law school was a more natural progression. So, in 2001, he started at the University of Wisconsin's Law School, where he was on the dean's list and served as the law school's student council representative.
After graduating in 2004, Moschella worked for several years in litigation and intellectual property at one of Wisconsin's largest law firms. Receiving the Park fellowship, he then attended Cornell University, where he graduated with a master's in business administration in 2009.
"Graduating at the height of the financial crisis, I realized I had gained the perfect skill set for an in-house career: a legal background with an eye for its impact on the health of a business," Moschella says. "Jukin is my third general counsel role. I've loved working for a company where my business and legal expertise have been highly relevant."
With the still-recent acquisition and the no-longer small business, he still gets to be an integral part of the company's expansion while, as he says, "bringing joy to millions of people across the world."
He's also a member of the Pacific Council on International Policy. The Council has observer status with the Office of Military Commissions, so in August, Moschella was able to attend pre-trial hearings in one of the cases being heard in Guantanamo Bay, Cuba. He was honored to play a role, saying that hopefully the recommendations of observers like him can contribute to justice being done.
"While this latest trip was a solo journey, I'm looking forward to travelling again with my family," Moschella says. "While the needs of the business always tag along, I think we're all in need of a change of scenery from time to time."
View this feature in the Vanguard Fall II 2022 Edition here.
Showcase your feature on your website with a custom "As Featured in Vanguard" badge that links directly to your article!
Copy and paste this script into your page coding (ideally right before the closing