Ironclad Developments Inc. – Lauren Clemens
To become a top female lawyer, listen and learn
During her first week on the job at Ironclad Developments, Lauren Clemens remembers her boss handing her the file to an upcoming sale of five buildings for upwards of $70 million. The sale price had a lot of zeros after it—more than she'd seen on almost any other transaction.
Entering the field of real estate development after nine years of in-house legal counsel work in agriculture, Clemens became general counsel and director of corporate affairs at Ironclad Developments Inc. in 2019—one of the largest multi-family development companies in Canada. The young company was awarded as one of Canada's Best Managed Companies in 2020.
Originally from Vancouver Island, Clemens grew up in mill towns in British Columbia and Alberta. So, if she were supposed to feel intimidated about entering traditionally male-dominated industries—especially one she had not encountered—she didn't get the memo. Her parents told her anything was possible.
"The key to being taken seriously and embracing new industries is to listen, learn and then ask the right questions to be the advocate your clients' need," says Clemens. "That hard work and performance is important for setting a new standard for women to place us at the top of any profession."
Getting there
From her earliest years, Clemens anticipated a busy career. She was fascinated by what made businesses tick, as well as the allure of law.
Her initial studies at Vancouver Island University led to a degree in business administration with distinction in 2008, which she quickly followed with a law degree obtained at the University of Manitoba in 2010. That combination of business and law proved to be a powerful jumpstart for her career.
"That hybrid of topics is where my heart lies and propelled me forward. I could see myself as in-house general counsel," she says.
While most young lawyers gravitate toward introductory firm positions, Clemens got a rare opportunity when hired by a top general counsel at a leading agri-food business based in Winnipeg, Manitoba, to handle a variety of legal issues including contract drafting and civil litigation. The experience opened the world of agri-foods to her, where she gained an understanding of grain commodities and international markets.
"In accepting an in-house position so early in a lawyer's career some would worry about being pigeon-holed, but I knew this was the right move for me and for my career trajectory," she says. "I was thrown into matters most young lawyers don't see in their first five years of practice."
An element of her education was immersion in a heavily male dominated industry—but that didn't bother her a bit. To be accepted by men as a junior and a woman, she absorbed as much information as possible. Then she started to ask the tough questions.
"In agri-foods, most people had a farming background," she says. "I was in a minority [in not having that background], but it was unique and I gained essential experience very early in my career."
The next chapter
At Paterson Global Foods Inc., Clemens spent eight years as legal counsel, overlapped with six years as the company's manager of insurance. The choice of where to go next came easily to her from the moment she met Ironclad CEO Ryan Van Damme. With two other offers on the table, she joined his team.
"Meeting Ryan and his team was unlike any other experience I've had. I picked up on his energy, commitment to the workforce and the drive of the group," she says.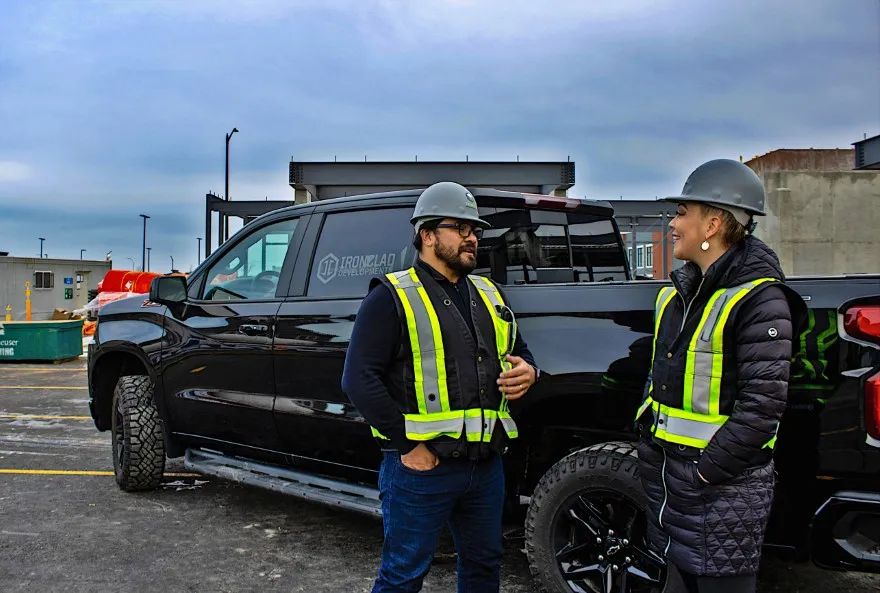 Founded in 2014, the firm has grown from fewer than 20 to more than 250 employees across Canada in six years—in addition to thousands of subcontract workers. Developing a new legal department to support operations came first.
Ironclad's growth—primarily in land development and construction of multi-family luxury residential apartment buildings—has been explosive, Clemens says. The company has more than 1,400 units under construction, making it one of the top three property development companies in western Canada and one of the top five family apartment rental companies. Currently, Ironclad is on track to complete 5,000 units in the next three years.
Will COVID-19 slow this ambitious growth?
"When the pandemic hit, the executive team was committed to keeping each construction site open, on target with our 5-year plan and to keep people employed," she says. "We followed through on that."
In fact, Clemens says the goal for the company was to anticipate safety needs proactively and implement increased measures in advance of formal mandates.
"In the early days of the pandemic, a large portion of my time was spent researching individual jurisdictions with two kids running around," Clemens joked. "The laws were changing rapidly. We knew employees were going home every night to their families and we wanted everyone to be safe."
That focus on its employees is one reason for Ironclad's success, contributing to its workplace award, Clemens says. To accommodate the needs of its team, a new headquarters in Manitoba will offer daycare for newborns to school-aged children of employees. Ironclad also has two corporate retreats and a food program that supplies meals for staff, even on job sites.
"At the start of my career I was obviously driven to achieve my goals," Clemens says. "After becoming a mother and a woman of power I've taken the responsibility to advocate for my fellow women, hoping they can be inspired by seeing someone in a top position."
Showcase your feature on your website with a custom "As Featured in Vanguard" badge that links directly to your article!
Copy and paste this script into your page coding (ideally right before the closing