Jessica Hodkinson – Panasonic Corporation of North America
Wired to drive in-house agility and efficiency at Panasonic
Agility, efficiency, greater use of technology and increased communications—how the past year has accelerated these trends. But it was in 2018 when Jessica Hodkinson made the business case for all that as she centralized legal operations at Panasonic Corp. of North America.
At the time, it just made sense to Hodkinson, a member of the Panasonic legal team since late 2013, who had recently been promoted to vice president, general counsel and secretary. Within Panasonic Corp. of North America, there are more than 30 business units. In the past, the Panasonic attorneys assigned to those units operated autonomously, with little teamwork and plenty of operational inefficiencies. Hodkinson reckoned that vertical integration would enable and encourage shared insight and expertise.
And there has been, with Hodkinson helping to streamline the North American legal operation of the Japanese-headquartered global technology company, laying the foundation for what she calls the three corporate C's of commitment, communication and collaboration.
Those C's have especially proven their worth, she says, since COVID-19 threatened to upset business as usual in early 2020. According to Hodkinson, the integration has enabled smarter decision-making making it easier to navigate the legal, regulatory and compliance landscape. More recently, while commending the legal staff for mastering the first three C's, Hodkinson added yet another C, this one for the courage necessary to persevere during the pandemic and beyond.
"We have certainly all felt the impact of the past year, which has infused an undeniable sense of urgency, requiring even more communication and collaboration among our teams," Hodkinson tells Vanguard in March, while working remotely from her New Jersey home. "Though diverse, all those 30-plus business units had been dealing with many of the same challenges."
To better pool the diverse talent and expertise of the legal professionals advising on these challenges across the different businesses, she saw the need to develop a new approach to problem-solving in order to address issues more quickly and efficiently.
The new approach—another of Hodkinson's initiatives—was launching the Panasonic Legal Centers of Excellence across the organization. She and other in-house legal leaders assembled subject matter experts in four critical areas—data privacy, labor and employment, commercial transactions, intellectual property—and welcomed employees wanting to enhance their skill sets.
The centers were established to enable professionals in the specialized areas to collaborate and provide legal counseling to the business units. There being much evidence of the effectiveness of the centers in developing future leaders, she says more may be forthcoming.
Built for success
Panasonic's labor and employment law experts were especially busy from the onset of the pandemic, Hodkinson says, lauding their input which helped the company manage a partially remote workforce and plan for a return strategy. As a nationwide operation with businesses in Canada and Mexico as well, that meant keeping tabs on volumes of rules and regulations evolving in many jurisdictions.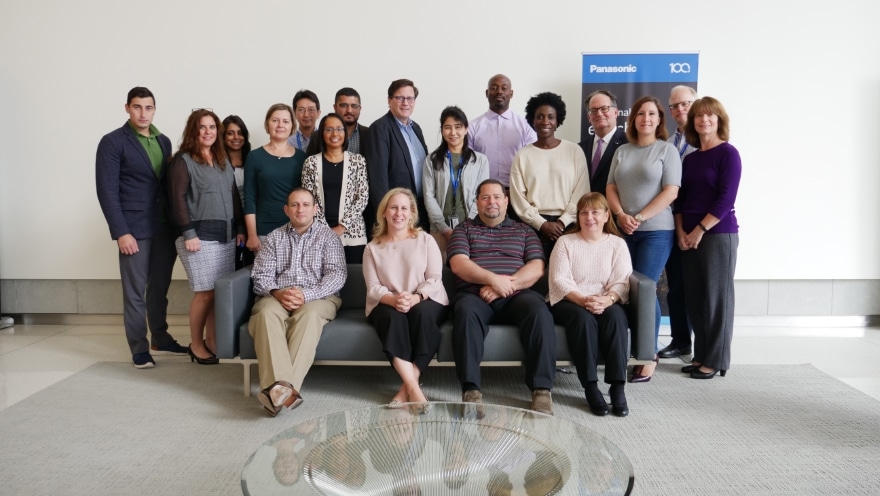 Which, even under the best of conditions, has been no small feat, she goes on to say. Panasonic, a company once known for its hardware, has evolved to include unique software, services, platforms and complete solutions across critical industries including smart mobility, sustainable energy, immersive entertainment, integrated supply chain and consumer lifestyle—while serving a multitude of businesses and governments.
It's here where those aforementioned four C's demonstrate their value, Hodkinson says, explaining how that first one—commitment—is practiced in pursuit of a common goal such as a technological upgrade. Such time- and resource-consuming tasks as nondisclosure agreements, contractual renewals, e-billing and compliance have been eased through digitalization and automation. How much easier that makes it to communicate and collaborate, she emphasizes.
Long committed to social good
A 1996 University of Buffalo graduate with a degree in communications, Hodkinson earned her JD three years later at Brooklyn Law School. Shortly after, she began her career as a litigation associate in New York. It was there she undertook a pro bono matter on behalf of a death row inmate in Alabama.
"That was probably my most important professional development experience, and it has informed me throughout my career," recalls Hodkinson, who attributes much of her passion for social justice work to the example set by her father, a Legal Aid lawyer. "First and foremost, I want to always be operating with integrity and contributing to society."
She spent several years as a litigation associate at prestigious New York City law firms and has held in-house positions with several large corporations. Given her talent and work ethic, Hodkinson says it wasn't long before she found her way to Panasonic, where she quickly climbed the ranks to her current position.
Aside from restructuring the legal organization at Panasonic, making an impact within the community and investing in talent have been other priorities for Hodkinson.
Panasonic's legal department partners with McGuireWoods, Nukk-Freeman & Cerra, and Volunteer Lawyers for Justice—where Hodkinson is on the board of trustees—in offering free quarterly legal clinics for military veterans, counseling them in such matters as housing, health care, criminal record expungement, disability benefits and preparation of wills.
In addition, reflecting Hodkinson's commitment to advancing equity in education and creating a talent development pipeline for youth, Panasonic's legal department works with the New Jersey Law Education and Empowerment Project, or NJ LEEP, a college access and readiness program in which high school students spend a week with legal and business partners to get a sense of what the profession entails.
"The last eight years have been really interesting and exciting, as I learn something new every day," says the married mother of two. "In a global company such as Panasonic, I have the proverbial seat at the table in helping the company navigate myriad challenges while also making a positive impact. There are always new learning opportunities and I'm excited about what the future holds."
Showcase your feature on your website with a custom "As Featured in Vanguard" badge that links directly to your article!
Copy and paste this script into your page coding (ideally right before the closing