Kurt Meyers – Equitable
Meyers seeks 'equitable' approach to managing legal affairs
Kurt Meyers developed his own strategies to manage white collar crime cases as a federal prosecutor. It was expected of him and he expected the same of the 50 people he eventually led as chief of his district's criminal division. 
Now more than 15 years later, he's deputy general counsel for Equitable, a Fortune 500 financial services company that offers retirement and wealth management advice, products and services. 
In addition to his department-wide responsibilities for a law department of about 170 people, Meyers is directly responsible for about 35 people in practice groups that include litigation, insurance products, employment, and legal operations. He says he encourages them to develop their own strategies just like he did as a prosecutor. 
"My primary job here is to help people be more successful, valuable and purposeful in their work," he says. "We hire smart, creative people who want to lead and I want to help them do it." 
Meyers says his leadership style and the overall leadership approach at Equitable is based on the "adaptive leadership" principles outlined by author L. David Marquet's Intent-Based Leadership. 
Marquet developed his views while serving on the USS Santa Fe. Among them, Maquet believes that leadership exists at all levels, and that giving people responsibility also helps them feel valued and gives them incentive to help an organization succeed. 
An award-winning approach
To embody this view, Meyers says he rarely tells attorneys what to do despite his experience as a litigator and trial lawyer. Instead, he says he offers guidance and asks questions, encouraging dialogue and accountability. 
"Ownership makes people healthier, happier and more productive and empowered to innovate," Meyers says. "Our lawyers and staff are the closest to the work. They know it best." 
The approach has gotten results. For instance, the legal department is a 2022 Corporate Counsel Best Legal Department finalist for Best Use of Technology because of enhancements to its Wolters Kluwer cloud-based Passport system.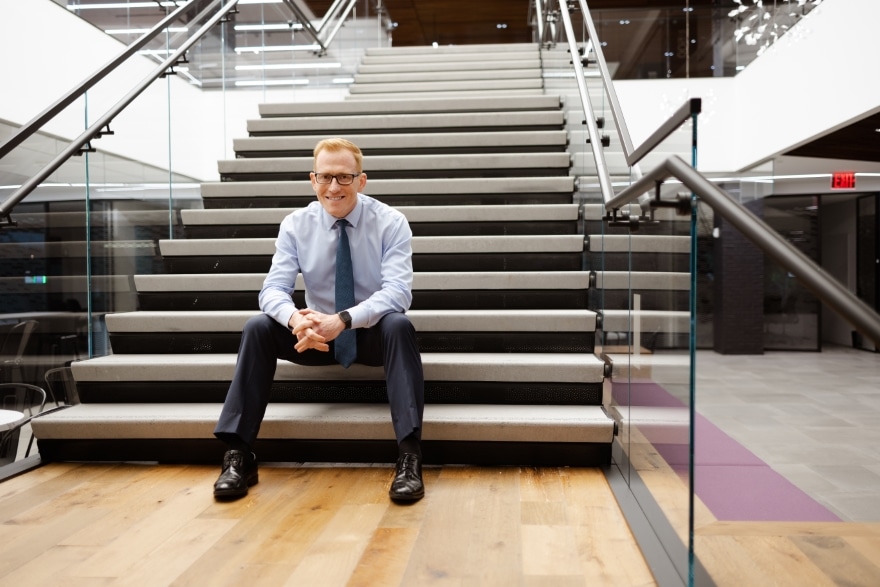 Meyers empowered the legal operations team who partnered with Wolters Kluwer to make the changes in September 2020. In addition to making payments easier and faster, Passport enables the use of artificial intelligence and mobile devices, and it has reduced outside counsel expenses and invoice review time, he says. The system also contains a "diversity module" to measure the policy Meyers and his team created to support and diversify the outside counsel Equitable uses. 
In developing this policy, Meyers focused on whether diverse lawyers were being renumerated for bringing in Equitable's work rather than looking at the overall diversity of law firms. Now when engaging with outside counsel, he requires at least one diverse counsel who'd get credit for the work to be interviewed. 
"It's a simple and effective approach. People tend to hire who they know," Meyers says. "Our policy forces exposure. We hire the lawyer who is best for the matter, but we ensure that we've considered a diverse field." 
The approach was recognized by The Buying Legal Council as DEI Winner in 2021.  
Diversifying the field
Meyers has also helped with Equitable's environmental, social and governance policies and is the executive sponsor for a law department diversity council. In this role, he also adheres to the adaptive leadership strategy and says he empowers the council to lead the process and policy making. 
For example, when Chief Legal Officer and Corporate Secretary José Ramón González tasked Meyers with writing a diversity strategy for the law department, Meyers empowered the diversity council and other department members, working with them to write the strategy and to determine what else should be done to promote DEI.
"This strategy was so much better than what I could have come up with on my own," he says. "Adaptive leadership really gives them the certainty and structure to recognize that their ideas and thoughts will be heard and valued." 
It's an unconventional approach born from an unusual background. A native of Ohio who came of age in Wisconsin and outside Philadelphia, Meyers says he was considering a career in academia. He earned his bachelor's degree in philosophy with a minor in theater from Franklin & Marshall College and then a master's in philosophy from the University of Arizona. 
Though he was on his way to a Ph.D., Meyers says he came to see academia as too insular, explaining "I was mainly getting good at communicating with other philosophers … I wanted a bigger impact." 
Courtroom experience
After earning his J.D. from Harvard Law School with honors, Meyers served as a law clerk for the United States District Court for the District of Massachusetts and then for the Kentucky Supreme Court. 
Meyers then worked as a litigation associate for the Washington, D.C., firm of WilmerHale (then Wilmer, Cutler & Pickering) before becoming an assistant U.S. attorney in 2005 with the U.S. Attorney's Office in Charlotte, North Carolina. 
In 2010, Meyers was named economic crimes deputy chief, leading 10 federal prosecutors who focused on crimes including securities and corporate fraud, public corruption, financial institution fraud, health care fraud, computer hacking and intellectual property crimes. 
In 2014, he became chief of the criminal division, leading more than 30 federal prosecutors and a staff of nearly 50 responsible for criminal investigations, litigation and settlements. 
Seeking new challenges, Meyers returned to private practice in 2016 as a partner in the Charlotte office of McGuireWoods. While there, he represented corporate and individual clients in civil and criminal cases and regulatory enforcement proceedings. 
Meyers joined Equitable as its head of litigation in 2019. A year later, he also became responsible for its insurance products and operations practice groups. He was named to his current position and appointed to the company's operating committee in 2021. 
"I want to have confidence in my own abilities, but also have humility," Meyers says. "I've always been blessed to work for organizations having the mantra of 'do the right thing.'" 
View this feature in the Vanguard Fall II 2022 Edition here.
Showcase your feature on your website with a custom "As Featured in Vanguard" badge that links directly to your article!
Copy and paste this script into your page coding (ideally right before the closing