Joe Rubbone – Vita Coco
It's [more than] just coconuts
Joe Rubbone has a saying. One he'd often heard from colleagues around the office, before adopting the maxim himself. A ready refrain for just about any stressor. Six syllables that say more than most legal soliloquys ever could.
"It's only coconuts."
Well, it is and it isn't. Vita Coco, the company for which Rubbone serves as general counsel, is a major purveyor of the tropical tree fruit and the leader in what has become a multi-billion-dollar beverage category.
Only, Rubbone would be the first to tell you that the core product is much more versatile than that—much like his own role.
"Coconut waters, oils, dairy-free milk alternatives—our line is expanding every year, and we want to continue to be at the forefront of advancement," Rubbone says. "Yet the more we evolve, the more diffuse the challenges become."
On an island
As the lone lawyer for Vita Coco, Rubbone's docket is equal parts dynamic and demanding. His day begins nigh the second he wakes up, checking emails from partners in Asia. By the time he gets to Vita Coco's Manhattan headquarters, European co-workers are sending follow-up queries. Then it's on to domestic matters, which can pinball from intellectual property protection to FDA compliance to governance to public relations.
Rubbone likens the pace to legal triage: Putting out fires left and right, where no two days are ever the same and clearing the inbox is a dream deferred to retirement.
It's a situation that's in many ways part and parcel of Vita Coco's gangbusters growth and attendant international exposure. According to Rubbone, there's a misconception that companies like his aren't nimble enough to deal with the endless collateral legal issues associated with brisk success.
"Versatility and adaptability are paramount to navigating the obstacles we face," Rubbone says. "We're not just protecting our business interests; we're safeguarding a brand and a core set of beliefs."
Not all of his duties are defensive, however. When the company landed American model and social media personality Chrissy Teigen, to star in its first nationally televised commercial, Rubbone papered the deal himself, resulting in one of Vita Coco's most successful ad campaigns to date.
He's also on constant M&A watch. Potential buyers and strategic partners have been lining up for years; PepsiCo was rumored to have made an offer to purchase the company in 2017. While Vita Coco has thus far remained independent, Rubbone says the company is always on the lookout for the right opportunity.
"We're moving forward, and we're doing so at a rapid rate," Rubbone exclaims, noting facilities and offices around the world. "Navigating all that comes with it can be challenging, but it's also incredibly rewarding."
More broadly, Rubbone has sought to foster an environment where ideas are welcome and discourse is heartily encouraged; particularly  when it comes to the company's ever-evolving marketing efforts. Citing William Ury and Roger Fisher's 1981 bestseller as a source of inspiration, Rubbone says the goal is always "getting to yes"—the ability to recognize the momentum behind an idea while employing due diligence in parsing the details (and potential hazards).
To that end, Rubbone tries to get involved as early as possible in any important decision, be it a new branding effort or international licensing agreement. By ironing out differences early on, the likelihood of a project running aground further along in the process, costing the company in both time and money, is diminished.
"We're constantly pushing the boundaries, and I do my best not to not get in the way of that, if at all possible," Rubbone explains. "The key is to remain cognizant of the line between brand optimization and unnecessary exposure."
Indeed, it's a balancing act the New Jersey native has, in many ways,  mastered.
Running down a dream
Growing up in Montville Township, an hour northwest of New York City, Rubbone dreamed of NFL and MLB stardom. Though the DI scholarship never quite materialized, he did suit up for both the football and baseball teams at Amherst College, where, as a cornerback on the gridiron, he excelled under the tutelage of long-time head coach E.J. Mills and even rubbed shoulders with recently hired Detroit Lions shot-caller Matt Patricia.
After receiving his J.D. from Seton Hall University in 2010, Rubbone took a job as a clerk for a small Manhattan law firm specializing in personal injury and medical malpractice. At the time, and given the state of the economy, the position seemed like a blessing.
But his drive to enter the world of sports never wavered. So, when NFL Films announced it was looking for someone to join its licensing team in Mount Laurel, New Jersey, Rubbone was beside himself.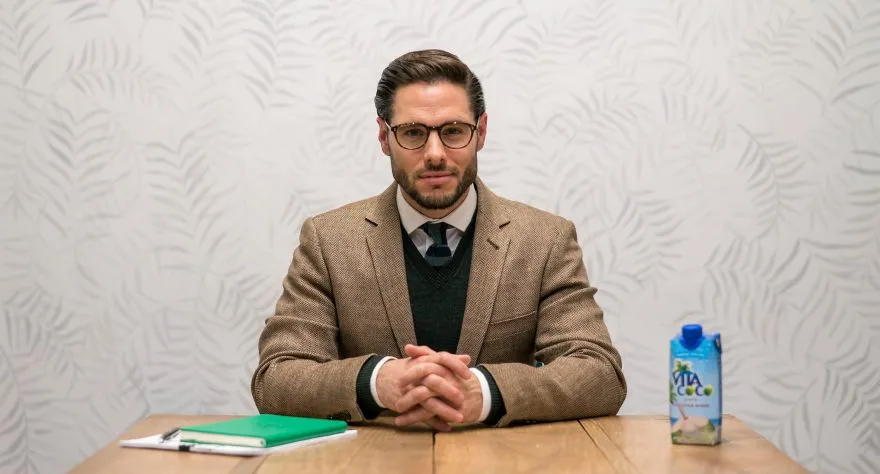 The catch: it was an internship—and an unpaid one at that. Undeterred by the pro bono tag and encouraged by the unwavering support of his family, Rubbone took a chance. Within a few months, he'd been promoted to contracts coordinator, a position he believed could put him on the fast track to the league's corporate offices in Manhattan.
Despite what he calls "an incredible learning experience," Rubbone realized that ladder was far more crowded than he first thought. Believing a different path might help him garner more experience, he joined Leftfield Pictures, a reality TV production company, in 2012.
Three years later, in an overture Rubbone describes as out of the blue, Vita Coco approached him about becoming its general counsel. While he was reticent about leaving the sports and entertainment sector, the chance to dive into a fuller plate and broaden his perspective was too sweet to pass up.
More importantly, Rubbone knew he was joining a company whose products were easy to get behind.
After all, it's only coconuts—sort of.
"When you're producing something that genuinely improves people's lives, it's fun coming to work every day," Rubbone says. "Vita Coco is full of trendsetters, and it's my job to facilitate their vision in a way that further advances the spirit of the company while positively impacting as many individuals as possible along the way."
Showcase your feature on your website with a custom "As Featured in Vanguard" badge that links directly to your article!
Copy and paste this script into your page coding (ideally right before the closing