Joseph Ferraro – International Securities Exchange
When Wall Street meets Silicon Valley
The boom in connectivity over the last 20 years has left a significant impact on economic systems across the globe — with securities trading no exception. Gone are the days of the printed ticker tape and the trading floor, as a mounting wave of high-tech applications and programs accelerate the speed of  trading, with transaction times now measured in microseconds.
"It all happens electronically," says Joseph Ferraro, senior vice president, deputy general counsel and assistant secretary for International Securities Exchange (ISE), a U.S.-based equity options exchange operator and now subsidiary of Nasdaq  Inc.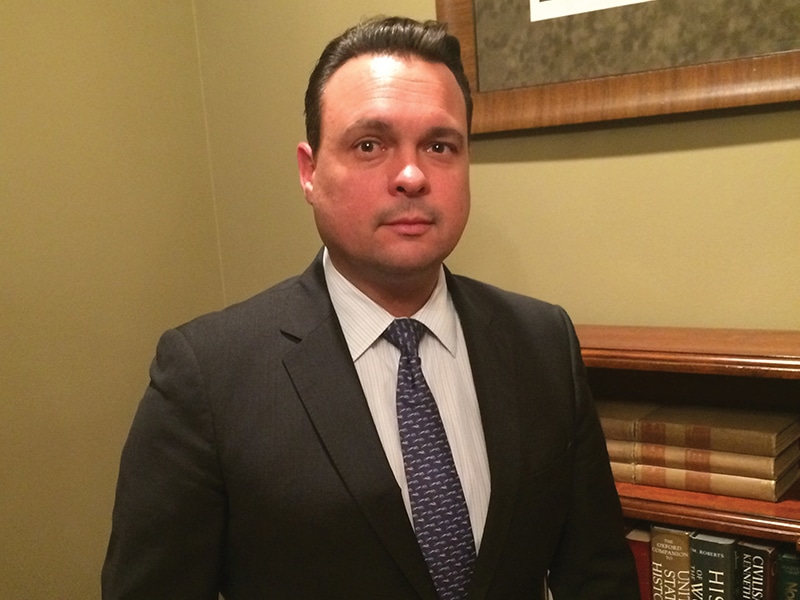 Ferraro manages the day-to-day operations of the ISE's legal department, overseeing a team of in-house lawyers and staff.  One of his primary responsibilities is to ensure that the exchange continues to maintain its unblemished track record of strict regulatory compliance in a highly competitive business environment. "Exchange business and technology leaders need legal advice and solutions that enable them to continuously innovate in order to compete. This requires smart lawyering and creative thinking, in order to achieve the desired outcome that meets the regulatory compliance standard," says Ferraro.  "And protecting the valuable intellectual property rights associated with ISE's proprietary technologies also takes a front and center seat."
Joining the team
Overseeing the operation of three electronic options exchanges — ISE, ISE Gemini and ISE Mercury — ISE has a 16-year history of innovation. The organization is widely recognized as the first fully-electronic U.S. options exchange that revolutionized the U.S. options industry. It continues to stand out in the pack by offering technological solutions that improve performance, reduce costs, and are customer-driven.
Ferraro joined the ISE team when the brand was in its fledgling stages, back in 2000. From startup to the company's current form, he has been in the trenches. Ferraro has been at the forefront of exchange acquisitions, mergers and divestitures, as well as a leader in the fields of exchange regulatory compliance, IP, market structure, and technology contract management in between.
"My main job is keeping us out of regulatory harm's way," Ferraro summarizes. "The big risk with designing and operating trading systems is that, since everything happens electronically, there is no room for error in the software.  The U.S. Securities and Exchange Commission (SEC) requires that you have transparent rules that describe in detail how the trading systems work. The SEC keeps a very close watch over this, requiring that exchanges submit any changes to their trading rules to the SEC for approval, and that all such rules match their trading systems."
To coordinate this alignment of operations and legalities, an exchange's legal team must work closely with technologists and business leaders — this relationship is crucial to an exchange's success. "We are basically the conduit between these two groups, making sure the right hand knows what the left hand is doing and that the trading rules we write match the system functionality," Ferraro notes. "If there is any deviation at any time, regulatory risk is created.  There is the potential for hefty SEC fines and penalties, as well as cease and desist orders.  It can be a costly (and potentially fatal for the business) mistake."
Going long in new markets
As a significant portion of ISE's portfolio is comprised of proprietary software, Ferraro implemented and executed an effective IP prosecution program that resulted in more than 40 issued patents in more than 10 countries, relating to various trading systems for financial products. The program was driven by a strong internal intellectual property incentive program, encouraging employees to form and share ideas for new platforms and products that could advance the organization. For Ferraro, this meant that intellectual property protection became an integral part of day-to-day operations.
Ferraro and his team spent a significant amount of time and resources pursuing adequate intellectual property protection for its products, many of which have gone from in-house to broader usage. He notes that there is no one-size-fits-all solution for every program and many of ISE's technologies benefit from both patenting and trade secret protection. Beyond that, appropriate contracts are another important aspect of ensuring the company's developments are financially and legally sound.
These protections have taken on greater value as the organization branches out with its products. A prime example is the Longitude technology, a proprietary program ISE initially acquired in 2006 for use in financial services that has since found a new market in a different numbers game: wagering.
Adaptation to overseas gaming
At its beginnings, Longitude operated in a way that was unique to trading in the market. "In a traditional market, you are matching up a seller with a buyer in order to make the trade happen," explains Ferraro. "Someone wants to sell, someone wants to buy.  Longitude, in contrast, uses pari-mutuel principles to operate the market. Accordingly, it is highly effective in illiquid, unbalanced markets, where, for example, there are only buyers and no sellers, or there is no underlying cash product in which to hedge.  Think of Longitude like this — all of the 'wagers' go into a single hat.  Then, just like in horse racing, based on the outcome of the event, the losing wagers fund the winning wagers.  The math and the computing power behind the calculations are incredibly complex, yet it produces a very simple, elegant solution.  There is a ton of IP behind this.  I'm even a named inventor of one of the patents."
"The math and the computing power behind the calculations are incredibly complex, yet it produces a very simple, elegant solution.  There is a ton of IP behind this.  I'm even a named inventor of one of the patents."
For several years, ISE utilized Longitude for exchange operations, but eventually realized its potential as not just an in-house tool, but a potential product. The team decided to take this technology, re-engineer it, and then market and sell it to operators of race tracks and sports betting operations around the world.  Longitude's first gaming customer was the Hong Kong Jockey Club, where it has since calculated over $US 5 billion in wagers thus far.
Going through changes
Ferraro has taken the lead in building Longitudes' global market, both from a business and a legal standpoint, most recently as its Chief Commercial Officer.  Meanwhile, leaders in the exchange space have taken note of his abilities. While Ferraro is proud of the milestones he has achieved with ISE and Longitude, he recently accepted a new role a Miami International Holdings, which operates MIAX, the upstart U.S. options exchange based in Princeton, New Jersey.
As the youngest U.S. options exchange, MIAX will benefit greatly from Ferraro's exchange expertise. MIAX recruited him for his legal and regulatory background, and to join its senior management team.  Ferraro cites the opportunity to help shape the organization's legal department and participate in developing the overall strategic direction of the company as his primary reasons for this professional move.
"I'm very excited to be joining them," says Ferraro, who took leave from ISE in the fall. I've been involved in the financial markets my entire professional career, and MIAX offers the potential to help build a new exchange group.  I'm very fortunate to have this opportunity."  He begins his tenure at MIAX in Q4 2016, and looks forward to building a strong legal foundation with his new team.
Showcase your feature on your website with a custom "As Featured in Vanguard" badge that links directly to your article!
Copy and paste this script into your page coding (ideally right before the closing