Kindel Elam – Mattress Firm
She won't lay down on the job
A bedding company bent on expansion is no place to rest easy, something Kindel Elam knew from the outset in 2012 when she became Mattress Firm's first and only general counsel.
As an in-house lawyer with the Houston affiliate of the Fulbright & Jaworski international law firm, Elam assisted with the company's previous acquisitions. She would be called upon to shepherd through transactions that would enhance Mattress Firm's status as a national heavyweight in the bedding business. The retailer has about 3,500 stores in every state except Wyoming.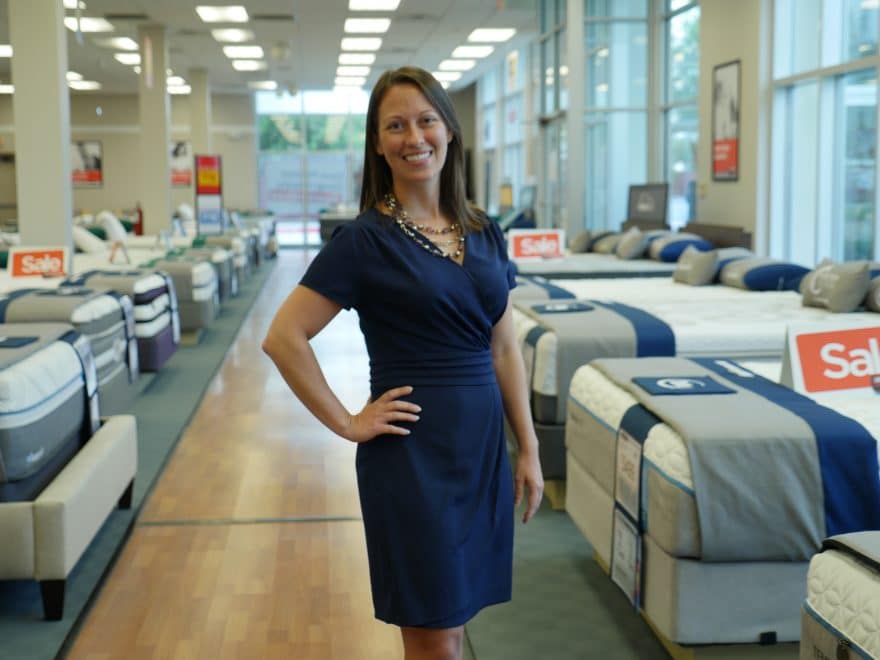 Last year she found herself at the opposite end of the transaction proceedings when a global holding company, Steinhoff International, absorbed Mattress Firm in a $3.8 billion deal that included net debt.
"We had done a number of acquisitions, but we were always the buyer; this time we were the target and taken private," Elam says. "It was a new experience."
Strange bedfellows at first
Based in South Africa, with operations throughout Europe, Africa, the United States and Australasia, Steinhoff International deals primarily in furniture and household goods.
Concerned about repercussions that might result from Britain's vote to leave the European Union, Steinhoff CEO, Markus Jooste, sought greater access to the U.S. market as a means of diversification.
Although Mattress Firm's shares had declined along with those of other retailers in 2015 and 2016, Steinhoff still saw promise, as the U.S. company easily remained the nation's leading specialty retailer of mattresses and accessories. Last summer, Steinhoff offered $64 a share, more than double the $29.74 closing price that day, creating the world's largest specialty mattress retailer.
Elam and another member of her small staff, working with outside counsel, handled the majority of the legal work on this side of the ocean, with much of the deal completed by mid-September.
"There were Securities and Exchange Commission filings that we hadn't done before," remembers Elam. Inevitably, the companies had to decide who was in charge of what.
And with Mattress Firm now under non-American ownership, its financials would no longer be recorded under GAAP standards or the generally accepted accounting principles adopted by U.S. regulators.
"We had to rethink our normal practices in going under the European standard and faced other challenges as a result of the acquisition, but since then, it's been business as usual," she says. "The culture at  Steinhoff is similar to our corporate culture. Their management is supportive of ours, and we appreciate being added to their team."
No napping
While Elam admits to sparse formal education in commerce, the University of Texas School of Law grad took to it readily in the work with Fulbright & Jaworski that prepped her for Mattress Firm. Though up for partnership, she found that working at a law firm limited her business outlook.
"In my role as an attorney in a firm, I'd see through the closing, but that was it," Elam says. "But I knew much continues to go on months and years after the transaction, and I wanted to learn more about the business side—and maybe sleep a little more."
A year on secondment with Mitsui & Co. in Tokyo, gave Elam greater insight into complex business matters such as finance, mergers and acquisitions, and public and private securities further whetted her desire to have more direct impact on corporate law.
Back in Houston, Mattress Firm was among her clients, and embarking on full-growth mode, necessitating an in-house legal counsel who could put a dent in the substantial outsourcing fees. Elam, who had guided the company through multiple acquisitions, seemed a natural fit.
"I didn't major in business [as a Vanderbilt undergrad] or take any accounting classes," Elam says. "The primary business experience I had to offer was garnered through my interactions with clients over the years, and the CEO did call me out on that in the interview saying, 'we're taking a chance on you,' and I said 'I understand.'"
Up and at it
Doing most of the legal work singlehandedly, Elam supported Mattress Firm in closing nine deals in 2014. The largest of these was acquiring top competitor, Sleep Train, a $425 million transaction.
With 1,600 stores under multiple names in 35 states, Mattress Firm was just gearing up for more when Elam came aboard five years ago.
Doing most of the legal work singlehandedly, Elam supported Mattress Firm in closing nine deals in 2014. The largest of these was acquiring top competitor, Sleep Train, a $425 million transaction that opened up access to three western states through more than 300 additional stores.
With the growing business forcing the need for a bigger legal department, Elam retained a pair of Sleep Train lawyers and two paralegals based in California. The bigger staff more than earned its keep in early 2016 when Mattress Firm absorbed a Northeast competitor, Sleepy's, at auction for $780 million.
With no more acquisitions pending, at least not in the immediate future, Elam gets to do more of what she thought she'd do when she became a corporate counsel. Things like smoothing out the wrinkles that each major transaction creates and addressing areas that may seem less glamorous but are essential in running a national company that employs about 11,000 people.
Consolidating all brands under the single banner of Mattress Firm, an undertaking that began late last summer, will aid the company in such operations as advertising, merchandising and sourcing, Elam says.
"The brand name change can make existing landlords a bit edgy because it feels like they don't know who they are dealing with as a company," she says. "So I'm fielding a number of calls trying to explain our corporate entity structure and why the sign on the building is changing."
Then there are the "what if" questions. While bedding will remain Mattress Firm's specialty, the company is constantly re-evaluating its strategic focus. In addition, lending a hand to the company's charitable pursuits, centered around improving the lives of foster children, is of great importance.
And while Mattress Firm can claim to be "nationwide," there's one little stickler. Actually, it's not that little: Wyoming, with 98,000 square miles, still stands alone as the only U.S. state without a Mattress Firm store.
"We'll figure out Wyoming someday," Elam says with a laugh.
Showcase your feature on your website with a custom "As Featured in Vanguard" badge that links directly to your article!
Copy and paste this script into your page coding (ideally right before the closing