John Scheib – Norfolk Southern
At young age, on track to legal expertise
On his first day at the Washington, D.C., office of the Covington & Burling international law firm, little did John Scheib know he was on track—literally—to eventually being a vice president of one of the nation's major railroad operations.
Having distinguished himself while clerking under a federal appeals judge and as a magna cum laude graduate at the Villanova University School of Law, with a few weeks of his final year spent in Bosnia, Scheib was offered two cases by his new employer: a defense of a tobacco giant or a matter involving a regulatory rate challenge for Union Pacific railroad.
"I couldn't even spell railroad when I got out of law school," Scheib jokes when remembering having to choose among the two challenging pursuits. "But I stepped into the railroad case, found I really enjoyed it, and never looked back."
Though not a train buff initially, the young Scheib, who majored in American government as an undergrad at the University of Virginia, found plenty about the railroads to keep him intrigued. The industry included and blended government, economics, history and law, not to mention the trains themselves.
"I couldn't even spell railroad when I got out of law school," Scheib jokes when remembering having to choose among the two challenging pursuits. "But I stepped into the railroad case, found I really enjoyed it, and never looked back."
And Scheib became so engrossed with railroad law that upon leaving Covington & Burling after three years, he served as counsel to the railroad subcommittee in the U.S. House of Representatives, giving him insight into how Congress worked, the nuances of laws and regulations, and how it affected numerous constituencies, and then as chief of staff and counsel to the U.S. Surface Transportation Board, which has broad economic oversight over the railroads—all of which prepared the then-34-year-old lawyer for his next destination a couple hundred miles southeast of the nation's capital in 2005.
All aboard for Norfolk Southern
Eleven productive years later, Scheib now is vice president of the legal division at Norfolk Southern, the eastern Virginia-headquartered railway that, on over 21,000 miles of track, operates in 22 states and the District of Columbia.
The now 45-year-old attorney, who graduated from Harvard Business School's General  Management Program in 2015,  oversees a staff of 28 attorneys in four areas—commerce, corporate, operations, litigation—as well as dozens of claims agents, paralegals and other staffers.
His mission can be summed up into one acronym: SMART, as in specific, measurable, attainable, realistic and time-bound. That means each legal division setting clear goals and outlining the strategy to the next step and beyond, measuring the impact of each incremental move, and remembering they're part of the team that makes up Norfolk Southern.
Cogs in a machine
"We are lawyers.  But we don't provide legal advice in a vacuum. We provide legal advice in this great company with the goal of helping it meet its mission. So we have to be business-like ourselves," Scheib says.
For that to happen, the in-house legal team has got to operate under sound business principles, says Scheib, noting that the lawyers in the commerce division developed extensive SMART goals around the theme of "providing quality legal advice timely" that were aimed at lawyers becoming more integrated with their internal customers.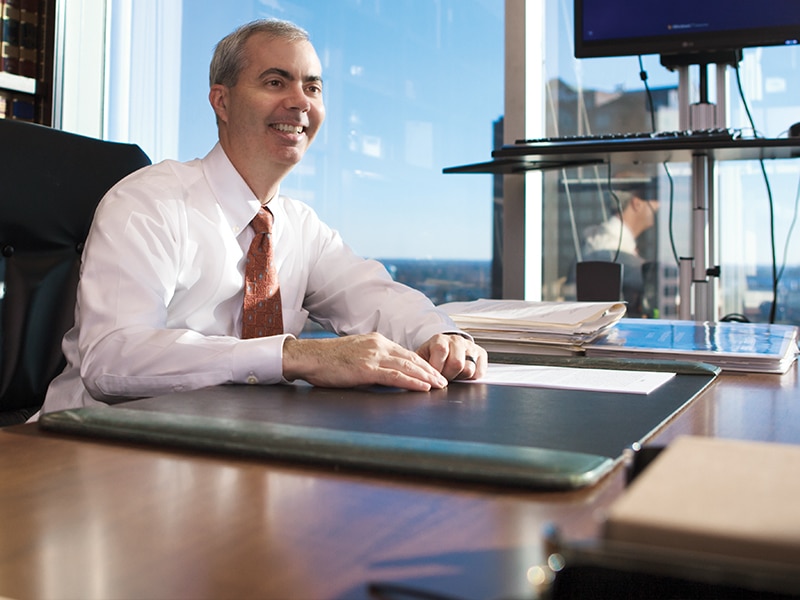 "The law department can't just be an assembly line dealing with legal issues brought to us," he says. "As lawyers, we're uniquely positioned to effect change in the organization."
Scheib says he's also diversified the pool of outside legal counsel on complicated commerce-related matters, and is putting more matters out for bid.
And the issues can be quite specific, as Norfolk Southern is one of seven Class 1 railroads operating in the U.S and is subject to extensive regulation at a variety of federal government agencies.
The regulations can be so complex that sometimes the regulators themselves need to be enlightened of the effect of their actions. Scheib says that can put a premium on creativity.
Educating the regulators
"We educate our regulators of the economic and operational issues," Scheib says. "We do it in a number of creative ways. For example, we bring in outside experts to help regulators understand railroad economics, and we develop videos so if we can't bring the regulators to the scene, we can bring the scene to them."
Scheib notes that Norfolk Southern's well-being is largely tied to the national economy, which makes it incumbent on him and the company's other higher-ups to constantly fine-tune a strategic vision to maximize shareholder value and to have the people in place to bring it to fruition.
Being customer-centric will keep the law department on track, he says, which encompasses many areas.
There's contracting work, litigation, safety regulation, labor and employment work and litigation under statutes unique to railroads, and with Norfolk Southern being a public company, detailed financial information must be regularly reported. Though incorporated in 1982, Norfolk Southern's lineage dates to long-defunct operations from the early 19th Century, and even more recent history can revive long-dormant issues.
"A lot of our real estate projects are related to deeds that are quite old and aren't always written in plain, simple English," he says. "But if you like history and have the patience to weed through old documents, railroads are for you."
The railroads have certainly been for Scheib, even though what brought him aboard so many years ago was partially chance and happenstance. Complexities notwithstanding, the end of the line doesn't appear to be anywhere near.
Showcase your feature on your website with a custom "As Featured in Vanguard" badge that links directly to your article!
Copy and paste this script into your page coding (ideally right before the closing