Julie Ortmeier – CARFAX Inc.
When hurricanes abound, be aware of a used car
It's always buyer beware in the used-car market, but it's been especially so since autumn 2017 when hundreds of thousands of vehicles were soaked by Texas and Florida floodwaters following Hurricanes Harvey, Irma and Maria. Many of them could wind up for sale all over the country.
Their appearances notwithstanding, it's what's under the hood that really matters. Water can seriously, even permanently, damage the electronics that in modern vehicles control everything from the gas pedal to the power steering, not to mention the so-called smart features that let a driver know when the oil or coolant level is low or when the tires need inflating.
Water damage can also be a long-term health hazard, as a pronounced soaking may cause bacteria to grow under the upholstery.
It's not illegal to sell such a vehicle as long as the seller is upfront. Which, of course, is the pitfall.
So what's a would-be buyer of used cars and light trucks to do?
"We've got the largest collection of vehicle history data ever assembled," says Julie Ortmeier, the personable and auto-savvy vice president, secretary and general counsel of CARFAX Inc. in the Washington, D.C. suburb of Centreville, Virginia. "Almost 20 billion vehicle-history records from well-over 100,000 sources. I wouldn't buy a used car without first looking at a CARFAX vehicle history report."
Long may she run
A commercial, web-based service that supplies vehicle-history reports and other solutions for shopping, owning and pricing used cars to individuals and businesses, the CARFAX database is perused heavily come sun or rain in Canadian and U.S. markets. Scrutinizing a used car is never out of season.
While CARFAX charges $39.99 for a single vehicle history report, its flood-damage database—carfax.com/flood—was made available for free after what the late-summer storms did to the Southeast and Gulf Coast. CARFAX can't guarantee a complete history of every used vehicle, but it can provide a wealth of information garnered from every U.S. and Canadian auto registry as well as from auctions, fire and police departments, service and collision repair facilities, rental agencies, fleet maintenance companies and other sources.
Was the car maintained regularly? Many service facilities find it to their advantage to share such data, Ortmeier says, explaining that the owner benefits as well.
"The service facilities know that transparency is a good thing," she explains. "If a service facility has never seen my car before, they won't know if I've been rotating my tires or getting regular oil changes. But if they subscribe to CARFAX, they can check my service history, and that helps them diagnose any new problems I might have."
If the service garage is reputable, then it's likely that its customers will be back, with all of their service records added to the CARFAX Report. Should the car be sold, the new owner will also benefit from seeing the service history of the car. Thus all parties win with CARFAX.
Additional information may also be available about the vehicle's title history, state emissions-inspection results, uses—private, taxi, rental, lease—accidents, odometer readings and more.
Counting the miles
It was the odometer issue that led a computer expert named Ewin Barnett III to found CARFAX in 1984. Too often had by unscrupulous dealers, the Missouri Automobile Dealers Association entrusted Barnett to put his skills to work on its behalf, and he developed a database starting with 10,000 vehicle records that were distributed by that then-cutting edge technology, the fax machine.
Within a decade, CARFAX had title information from most states, and in 1996 the company's website was available to consumers and businesses.
CARFAX thriving, Barnett sold it to R.L. Polk & Co. in 1999 and went on to found the marketing firm Adnorm LLC in Columbia, Missouri, where he's also CEO and chief information officer of Vinlogx LLC. Meanwhile CARFAX was acquired in 2013 by IHS, which merged with Markit in 2016, becoming IHS Markit.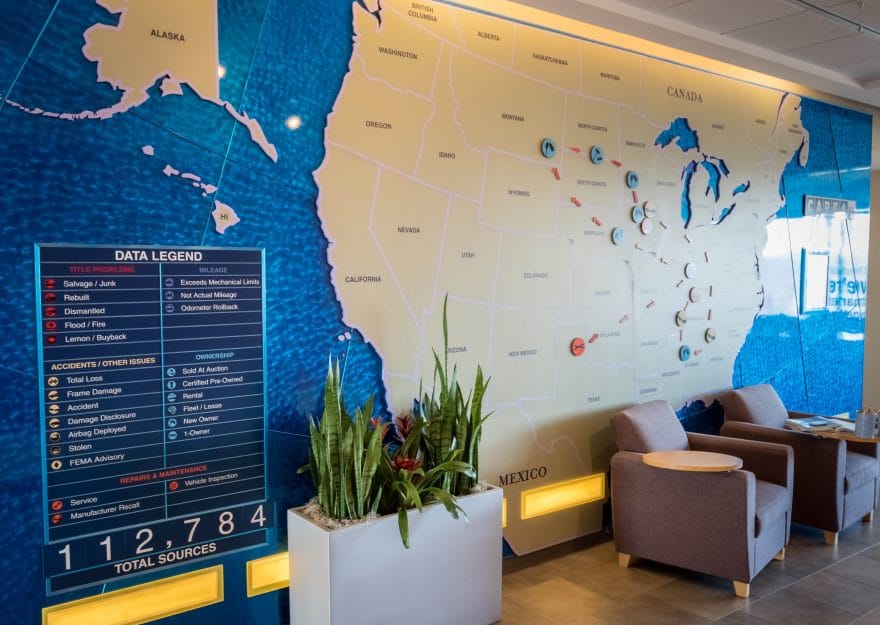 A 1998 Vanderbilt University law grad, Ortmeier came aboard in 2008 after garnering skills that would prove handy in a data-reliant company seeking to ensure that something is being bought and sold in good faith. As a new associate with McGuireWoods, her clients included internet startups that inspired her interest in hi-tech and all the potential it held for revolutionizing the business world.
"It was the start of the dotcom era, and there was so much work at that point, drafting website contracts and the new legal questions arising at the time, such as whether clicking a box on a website to agree to terms and conditions created a valid, legally binding contract without a wet signature," she says about her early legal career.  "I loved being on the forefront of what was going on. I had a lot of clients and recruiters telling me, 'go in-house and you can really make impact.'"
She took their advice, joining a Boston-area startup, Enermetrix.com Inc., in 2000. While the company didn't prove built to last, her one year there wasn't wasted. It gave her more tech skills to build upon for what lay ahead.
Next followed a seven-year stretch as counsel to the American Red Cross, where in addition to being its first intellectual property lawyer, she also managed the legal work of its for-profit biotech firm, Pathogen Removal and Diagnostic Technologies Inc.  She also rooted out some of the fraud occurring in the months after 9/11/2001. Some of it seemed relatively minor—say, someone selling T-shirts and not turning over part of the proceeds to the Red Cross—but there was still a principle at stake that mattered to Ortmeier and the agency that so values its reputation.
Impressed with her versatility, a recruiter encouraged her to put in for CARFAX, whose two-person legal team was due for expansion to accommodate the company's ever expanding North American footprint.
She now heads a team of seven that includes her associate Shaina Ward, two transaction lawyers, Joyita Basu and Vanessa Hoang, with another transaction position to be filled soon. Two staff lawyers report to her from Canada.
Just as CARFAX was drawn to Ortmeier's versatility, she expects the same from her team.
"When you go in-house in a relatively small department, you can't stick to just what you know," she says. "The other qualities we look for is the ability to be practical and understand the business needs. I often tell the others 'find a legal way to get to the desired business result.'"
Sometimes she has to resort to outside legal counsel, with the Washington affiliate of Kirkland & Ellis always reliable.
"I have worked with Julie for the better part of a decade on complex litigation ranging from false advertising matters to class-action actions to contract disputes," says Gregg LoCascio, a Kirkland & Ellis partner. "Julie is exceptionally business-minded and a quick study who always seems to cut right to the key issue. She encourages close collaboration—internally at CARFAX and with her outside counsel partners—to put together a highly effective team that brings home results."
And results, of course, are what CARFAX customers care about most, given that next to their home, their car could be their biggest purchase.
Showcase your feature on your website with a custom "As Featured in Vanguard" badge that links directly to your article!
Copy and paste this script into your page coding (ideally right before the closing