Karla Jones-Wilson – Foutch Brothers LLC
The GC helping to build a KC masterpiece
For years, every time Karla Jones-Wilson visited the 19,500-seat Kemper Arena, whether for a college basketball game or Disney On Ice with her kids, she couldn't help but think she was enjoying the Kansas City landmark for the last time. By 2015, the arena—like many built in the 1970s—had fallen on hard times, precipitated by the opening of the newer, glitzier Sprint Center in the heart of downtown.
In early 2017, Jones-Wilson's employer Foutch Brothers LLC, the renowned Kansas City commercial development firm, got word that its bid for the arena was accepted by city officials. The price tag: one dollar.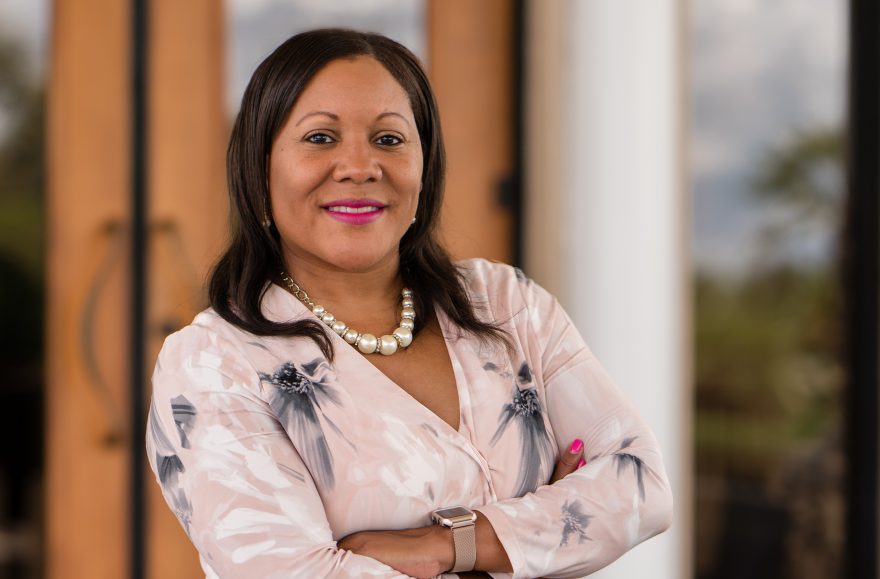 "There were a lot of people who wanted Kemper torn down," Jones-Wilson recalls. "But our company always felt like there was potential there."
Transforming Kemper into a Kansas City hub however, would require more than a rummage through the office couch cushions.
Strong stock
As the firm's general counsel, Jones-Wilson's responsibilities were immediate and wide-ranging. Beginning when the company expressed interest in the property, she helped lead efforts to obtain public financing incentives to aid with the historic rehabilitation of Kemper—just as she'd done on many other historic projects within the company's holdings.
According to Jones-Wilson, securing public financing incentives on historic properties—including tax abatements, exemptions and credits—requires "a lot of due diligence, persistence and advocacy."
Indeed, Jones-Wilson's efforts in pursuing public financing incentives for the arena, together with the other Foutch Brothers executive team members, resulted in the company receiving millions of dollars in local, state and federal tax incentives for the rehabilitation of the arena.
KC masterpiece
With the public financing incentives in place, the firm turned its attention to creating the world's first multi-level competitive sports arena. Now called HyVee Arena, it features basketball and volleyball courts, a fitness center and dozens of retail shops. According to Jones-Wilson, the 82,000-square-foot HyVee Arena is designed with the city's millennial population squarely in mind.
"When the community sees a building like this come back to life, it can help spark revitalization efforts in the surrounding area," Jones-Wilson explains.
Compared to the firm's past projects, which focused on large-scale historic mixed-use loft conversions with both commercial and residential tenants, HyVee Arena represents a step up in both size and scope. That increase has come with a much broader legal purview, from drafting documents for complex real estate transactions to drafting naming rights agreements, sponsorship agreements and commercial leasing agreements for the arena's numerous shops and eateries.
Through it all, Jones-Wilson appreciates working with a small handful of key outside counsel, guided by the twofold strategy of sector expertise on the one hand, and freeing her up to stay focused on her day-to-day responsibilities on the other.
The anticipated completion of HyVee Arena is scheduled for October 6, and represents a turning point for the 14-year-old Foutch Brothers.
"From a legal perspective, one of the things I appreciate most about working with a developer is that you're forced to be patient and not rush things," Jones-Wilsons says. "Nothing happens overnight, which affords you a lot more time to make sure you're doing everything the right way."
Leaving a mark
In a way, precision has always been her M.O. As a child growing up in Joliet, Illinois, a Chicago suburb, Jones-Wilson developed an interest in science and math early on. Aided by various academic scholarships—along with a track and field scholarship—Jones-Wilson attended Purdue University, earning a B.S. in industrial engineering in 1993.
She began her career as an engineer with Nestle's Friskies Petcare division, and over the next five years would help design and procure the installation of several pet food processing and packing lines, in addition to implementing a new, more efficient manufacturing performance process tracking system.
By 1998, following a pair of high-level stints—as a supply management engineer with Outboard Marine Corporation, a boat motor manufacturing company; and as a production scheduler with Rust-Oleum, respectively—Jones-Wilson had an epiphany.
"After serving multiple roles in the manufacturing sector for almost seven years, I felt like I was hitting a ceiling, and therefore my career interests changed to another long-time interest of mine—the legal profession," Jones-Wilson recalls. "As an attorney, I knew I would have more control over my career due to the numerous fields of concentration to choose from. A few of my engineering friends had gone to law school before me, and I knew if they could do it, so could I."
Four years later, Jones-Wilson had garnered a pair of degrees: a J.D. from the Washburn University School of Law in 2003, and an LL.M. in taxation from the University of Missouri-Kansas City the following year.
From 2004 to 2006, Jones-Wilson worked as an associate attorney at Kansas City's Hardwick Law Firm, where she got her first taste of the legal side of real estate development. Eager to parlay her experience in a company setting, she joined Foutch Brothers in 2007, becoming the firm's first general counsel.
Despite the looming economic recession, the company's small size and backlog of projects assured it would stay afloat. Now, more than 10 years later, Foutch Brothers has emerged as one of the region's most unique and innovative design-build companies.
For Jones-Wilson, the resulting workload—she oversees human resources matters in addition to handling the firm's legal dealings—hasn't always been easy. Then again, she quips, anything that's worth doing is worth doing right.
"I'm proud of the role we're playing in bringing historic buildings back to life," Jones-Wilson says. "There's always going to be room for new development, and we're certainly exploring that front. But we'll never lose sight of wanting to keep history intact."
Showcase your feature on your website with a custom "As Featured in Vanguard" badge that links directly to your article!
Copy and paste this script into your page coding (ideally right before the closing