Ken LeCroix – General Motors
Behind the wheel of safe, green driving
Quite the ambitious agenda Ken LeCroix is part of at General Motors: zero crashes, zero emissions, zero congestion. But as an executive attorney, part of a new and unique in-house team, he doesn't think this vision is pie in the automotive sky.
"Charging stations are sprouting nationwide," LeCroix reminds Vanguard in May.
Over time, changes to battery cell chemistry and other efficiencies should lower the cost of the electric vehicles GM is rolling out, such as the Chevrolet Bolt, Cadillac Lyriq and Hummer EV. While vehicle safety remains the focus, GM's emphasis on environmental, social and governance initiatives is timely enough, given intensifying political and investor pressure to divest of fossil fuel holdings.
And pursuing green initiatives in the auto industry is more than just good intent, he says. It's also good, even essential, business with some industry experts foreseeing 230 million-plus EVs sold worldwide by 2027. That's reason enough for GM, the biggest U.S. automaker, to commit to spending $35 billion and globally delivering 30 new EVs, both by the end of 2025.
"We aren't there yet, but you can see the focus, emphasis, time and energy that the company is placing towards an all-electric future," says LeCroix, who will soon celebrate his fifth anniversary with the GM legal team and, since December, in partnership with its Electric Vehicle Growth Operations and Global Product Development divisions.
As to how GM plans to phase out the internal combustion engine over the next couple of decades to achieve its carbon neutrality goal by 2040, the company acknowledges it's an expensive, long-term approach, one that includes collaborations with companies like Honda that would ordinarily be competitors.
The GM-Honda relationship, which began more than two decades ago, includes recent collaboration between the companies on fuel cells, EVs and the Cruise Origin shared autonomous vehicle.
With legal details to fine-tune across this relationship—including a fuel cell manufacturing joint venture—GM saw the need to embed lawyers in the process, one of them LeCroix, who joined the company in 2016 as counsel for strategic transactions.
A 'one team' approach
"We have very strong expertise across all practice groups in our legal department," he explains. "For a business attorney like myself, where I am becoming further engrained with the engineering teams to focus on finding business solutions, being surrounded by expert attorneys helps us offer the best legal and business advice."
The new role allows LeCroix extensive time for learning while helping an iconic automaker make a monumental shift. Most recently, he's helped the company advance EV infrastructure solutions for home, workplace and public charging while being mindful of the entire EV ecosystem and customer experience.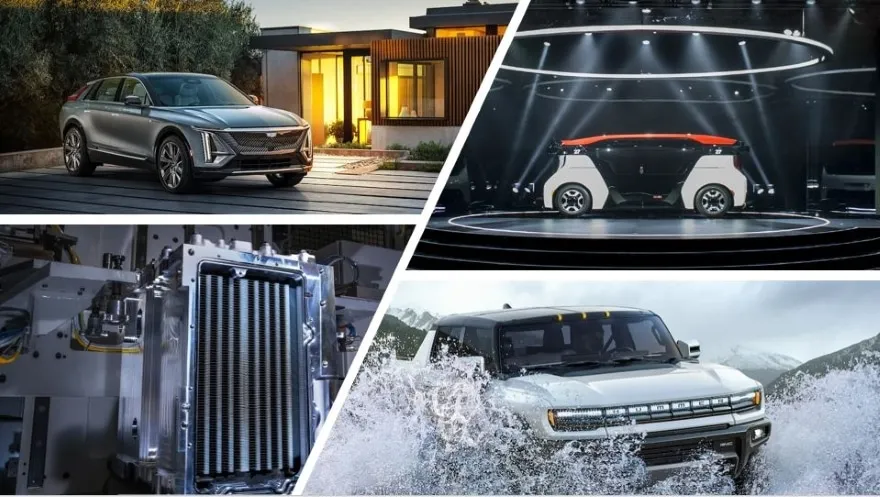 He has also helped advance the company's self-driving technology and finalize investments with outside partners, a recent one being a long-term collaboration with Microsoft investing in GM's autonomous vehicle subsidiary, Cruise. With billions bet on this AV subsidiary, including from SoftBank, Honda, Walmart and others, Cruise will shift from R&D to commercialization.
Then there's the GM-Honda fuel cell joint venture, which appears to be becoming more important after GM's recent string of announcements for the use of its hydrotec fuel cells in collaboration with large players in the commercial truck, aerospace and locomotive areas.
"We have created a structure and relationship that allows us to work very closely with Honda," he says. "Similarly, we have an environment in GM where we can work very collaboratively within the legal department, creating a 'one team' atmosphere that maximizes our impact."
Revved on passion
As if the workload wasn't intense enough, LeCroix also seeks opportunities to speak about professional growth, collaboration with attorneys, automotive trends and, not surprisingly, ESG topics.
In the last several months, he helped organize a two-day ESG in-house conference for the American Bar Association while finding time to speak on a panel during Asian American and Pacific Islander Heritage Month.
In addition to his duties as co-chair of the ABA's International Corporate Counsel Committee, he was appointed to the association's Commission on Racial and Ethnic Diversity in the Legal Profession. It's a role that LeCroix says complements his company's involvement in other laudable causes, such as partnering with Ventec Life Systems last year to produce 30,000 critical care ventilators, as well as millions of masks and personal protective equipment.
"We're certainly putting our money where our mouth is," he says.
The company's agenda fits into LeCroix's passionate nature, too. "Roll the DICE," he advises young lawyers. For LeCroix, D stands for drive and determination, I for insight and influence, C for curiosity and courage, and E for empathy and engagement.
"As you develop into a leader, you must be aware of other people's perspectives," he says. "Having that awareness and empathy allows you to better connect and engage."
Born in the United States, he grew up in Venezuela and Japan before returning and earning his B.A. at Vanderbilt University and his J.D. from the University of Cincinnati College of Law. He spent his final semester in Japan, part of it during the Fukushima earthquake.
Now a married father of three young children, with a fourth on the way, LeCroix and his family have settled into a 5-acre lot in suburban Detroit. He's been working remotely since the pandemic, combining the job with a rigid daily physical workout that includes time on his Bowflex Max trainer, a 4-mile run in 30 minutes, swimming and his feet pedaling consistently on a DeskCycle. That, and the demands of fatherhood, might have him burning 15,000 calories daily, but he never seems to lack energy.
"Bottom line is I like to win, and I like being able to do it the right way," LeCroix says, noting how the GM legal team won the 2019 Financial Times award for being North America's most innovative. "I believe in GM's ability to win in the race toward an all-electric future, but what makes me even more appreciative of GM is its key employee behavior of winning with integrity."
View this feature in the Vanguard Fall I 2021 Edition here.
Showcase your feature on your website with a custom "As Featured in Vanguard" badge that links directly to your article!
Copy and paste this script into your page coding (ideally right before the closing