Kristen N. Gizzi – ECCO III Enterprises Inc.
All in the family
For nearly 50 years, ECCO III Enterprises, a family owned business, has been a leading professional construction organization in the New York metropolitan area. As the company excavated, paved and poured concrete for infrastructure projects from overpasses to railroad stations, the Gizzi family simultaneously began to expand their real estate portfolio as ECCO Development LLC.
Today, ECCO III grows steadily under its third generation of leadership. But as general counsel Kristen N. Gizzi says, simply being part of the family isn't enough to be a valued part of the company.
"Working in a family business is very challenging, and there was definitely an adjustment in the beginning," Gizzi recalls. "It took a few years and much fortitude to prove myself as an asset and gain my colleagues' respect."
Part of the family
Founded in 1971 in Yonkers, New York, by Gizzi's great-uncle, Richard Gizzi Sr., ECCO III grew to include her uncle, Raymond Gizzi, and father, John F. Gizzi. Kristen is now part of the company's leadership team and was instrumental in founding its real estate development arm, ECCO Development, LLC, which she manages with her cousin, Richard Gizzi Jr.
ECCO Development is anchored by Litchfield Crossings, which is already the largest shopping center in New Milford, Connecticut, and still growing.
In 2019, clothing retailer TJ Maxx became the center's latest tenant. In 2020, Gizzi is enticing potential tenants by working with real estate brokers, negotiating leases and details of building construction, as well as supervising tenant fit outs for existing retail spaces.
Litchfield Crossings will also expand with two new buildings totaling about 20,000 square feet. Gizzi has overseen the entire process by coordinating the initial planning and permitting, working closely with the architects and staying in regular communication with the construction team.
"My goal is to create a community-based location where shoppers can get their banking done, meet a friend for a manicure, and peruse 'shoppers favorites,' such as TJ Maxx, Kohl's, HomeGoods and Big Lots," Gizzi says.
Part of the community
Full occupancy at the shopping center is always the goal, Gizzi says, and so is making Litchfield Crossings a full community partner in New Milford—something she's worked hard to do since the Gizzis acquired the property in 2013.
We really needed to start with changing the perception of the center," Gizzi says. "We needed to show the town we're a family-owned business and we do what we promise to do."
When she's not negotiating lease contracts, Gizzi supervises Litchfield Crossings' social media outreach on Facebook. She also oversaw the creation of its website and is now managing a revamp.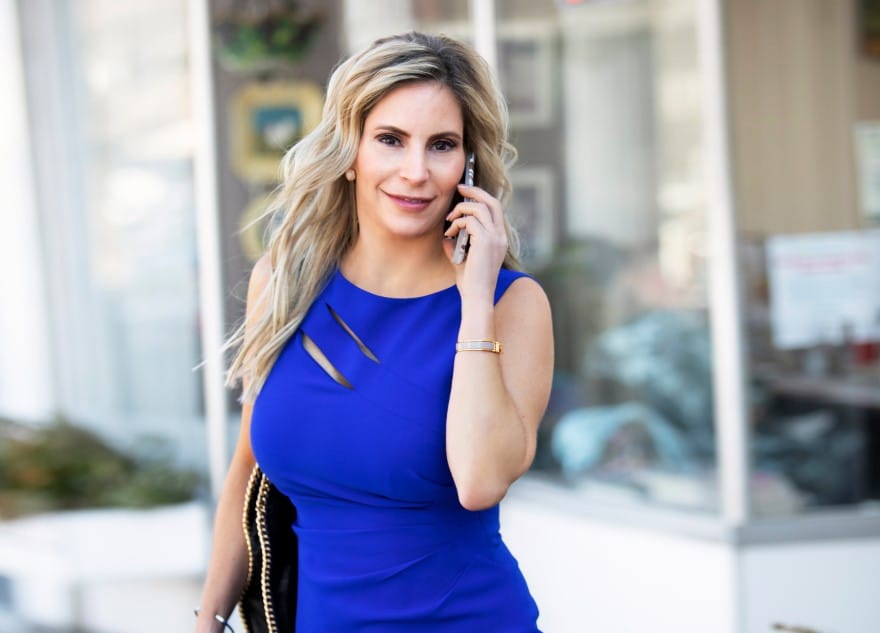 Gizzi has also made herself part of the community by sitting on the boards for the Corporation for New Milford Economic Development and the New Milford Chamber of Commerce. And each year, Litchfield Crossings hosts a fundraising event for a local nonprofit.
Litchfield Crossings isn't Gizzi's only focus. ECCO Development is busy pursuing leasing opportunities and performing tenant fit out construction work while always pursuing the acquisition of new properties.
For Gizzi, it all adds up to a whirlwind of paperwork and protocols—a purview made even more challenging by the legal work required by ECCO III Enterprises, such as contracts, subcontractor disputes and management responsibilities.
"When I started here, I came from a law firm where the mentality was very different," Gizzi says. "As general counsel, I've learned to be more business-minded. It's imperative that your focus remains on the end goal. Each deal should be handled on a case by case basis in order to achieve the desired result."
Ready to lead
Born in Yonkers, Gizzi grew up in nearby Westchester, New York, and actually began working at ECCO as a teenager. To avoid the appearance of special treatment, she was assigned the worst jobs—filing and cleaning toilets and job trailers.
"My family, in general, believes the Gizzi name doesn't entitle you to a job," she explains. "Instead you must bring value to the company and earn your position. My family's expectations are very high, and as a result my skill set has grown tremendously."
Gizzi never intended on working in the family business. Seeking her own path, she double majored in political science and government at the University of New Hampshire and then attended Brooklyn Law School, earning her J.D. in 1998.
I always wanted to become an attorney," she says. "It was my dream for as long as I can remember. I think my strong sense of right and wrong and my wish to advocate for those who were wronged motivated my desire to pursue the law."
Straight out of law school, Gizzi joined the Queens District Attorney's Office in New York as an assistant district attorney. She initially worked on misdemeanor criminal cases, then joined its Narcotics Investigation Bureau.
It was fast paced work, to say the least.
"It helped me develop skills that have proven to be tremendously useful, such as multi-tasking and adjusting my focus on a moment's notice," Gizzi says. "In the D.A.'s office, you could have 113 cases in front of you while talking to a witness for a case, and simultaneously get called upstairs for a hearing on another."
From there, she worked at a private law firm in White Plains, New York, before returning to ECCO in 2003. Coming in-house was made easier because of her confidence, but it also changed her focus.
The single mother of two teenage daughters, Gizzi lives in Katonah, New York. She's also the president of the board of directors for Hope's Door, a nonprofit working to end domestic violence and other forms of abuse.
She's proved she can handle the family business, and Gizzi says helping guide its growth for nearly 20 years has been hugely rewarding.
"I am proud of my family and all that they have accomplished and continue to accomplish," Gizzi says. "I am grateful to be able to contribute to these accomplishments and to continue the tradition of hard work, integrity and respect in which we conduct our business."
Showcase your feature on your website with a custom "As Featured in Vanguard" badge that links directly to your article!
Copy and paste this script into your page coding (ideally right before the closing