Word's out about triple teaming in PR's digital age
Three can indeed be company, even when the trio comprises companies that used to compete with one another in the high-stakes public relations world.  But they're adding up to one integrated entity under Chicago-based PR heavyweight Cision, with much credit due the lawyer well-versed in hi-tech and the corporate legal world.
Kristie Scott already had a BS in computer science and engineering from Bucknell when she opted for the University of Baltimore School of Law part-time. Scott joined Vocus, Inc. in 2004, becoming associate general counsel of the then-Maryland firm that provides SaaS software for PR, marketing and corporate communications.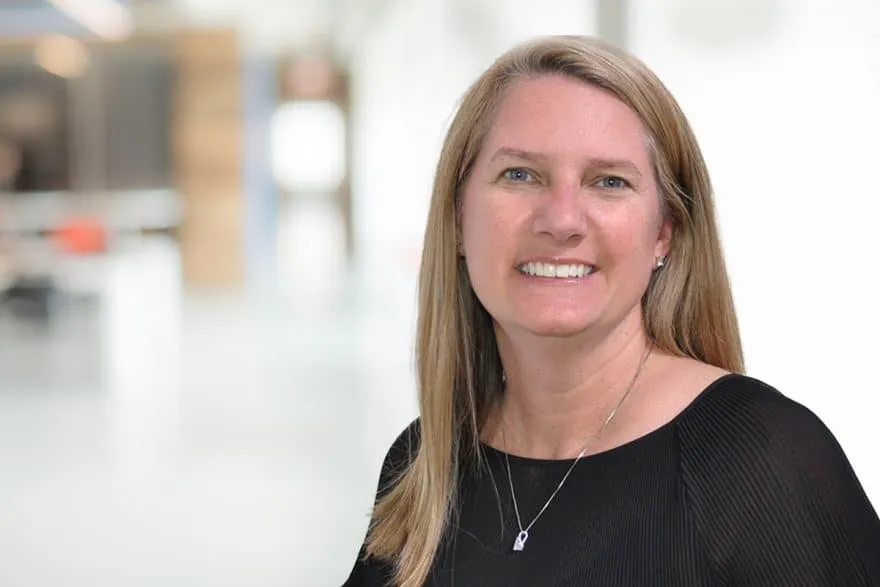 She helped take that company from private to public and then back to private in 2014 through a bid from equity partner GTCR. At the same time GTCR acquired Cision, Vocus' longtime competitor, and later Gorkana, a UK-based competitor. And in 2016 Vocus was absorbed by its affiliate Cision. Scott has remained counsel to those entities throughout these acquisitions and mergers.
Last summer, GTCR finalized its $841 million purchase of PR Newswire, bringing it into the Cision group of companies. The challenge of blending the various acquired companies has been part of Scott's ongoing daily duties. Various teams that saw themselves as adversaries must now be fine-tuned into one super unit that further enables Cision to become a leading global provider of cloud-based earned media solutions, and Scott says the process is well underway.
Rocking the PR boat
"It's an interesting time when competitors come together," Scott says. "You really have to get into the details of making a single team; how does the sales department reach out to clients, how are we going to brand when there are multiple well-known brands out there? But we've done a good job from the top down. Everyone's paddling the boat together."
And maybe rocking the industry boat in general.
The PR Newswire deal marked GTCR's fifth acquisition into the Cision group of companies in 24 months, bringing aboard a distribution powerhouse to go along with Cision's go-to database of journalists, bloggers and media influencers worldwide.
With Cision's  cutting-edge data and analytics technology comprising its Communications Cloud™ service, an all-in-one media intelligence platform, and PR Newswire's distribution capability, clients will be better able make the kinds of connections and data-driven decisions so necessary to thrive in a modern economy that is rendering previous promotional methods obsolete.
"As we continue to integrate, we give customers a fuller platform, a one-stop shop for all their PR needs," Scott says. "A lot of customers are now depending on different providers for each aspect of a project. Cision gives them the chance to consolidate so many of their PR communication efforts."
New media and message
While the message process is far more complicated than it was back in the 1950s—when PR Newswire got its start banging out press releases the hard way and using what then was the state-of-the-art teleprinter—some principles of getting out the word remain steadfast. Brands need to build consistent, meaningful and enduring relationships with influencers and buyers in order to amplify their marketplace influence. Cision's five steps for high-impact communications aren't complicated at the root level:
Listen to media across channels to uncover trending topics.
Target and build relationships with key influencers.
Create an effective earned media and content strategy.
Engage audiences across channels in a coordinated way.
Analyze the data that will guide strategy and demonstrate impact to the client.
Doing all the above with Cision's enhanced operation should prove far more effective.
Technology wins the race
Aside from its U.S. operation, Cision has offices in Canada, Europe, Latin America and Asia. That makes for a potentially unlimited client roster and—with technology changes evolving faster than intellectual property laws, rules and regulations—legal nuances for Scott to untangle country by country.
Oftentimes, that has meant partnering with organizations like the Newspaper Licensing Agency in the UK, the Copyright Clearance Center in the U.S. and other content providers (some of which are also competitors) to ensure that Cision's customers and employees can access and use the news they need while staying copyright compliant.
Still, covering all bases always seems to present a challenge.
"Even when laws are enacted, they don't always clear up the gray areas," Scott says. "Often we have to anticipate, maybe go the most conservative route and sometimes just do the best you can with no clear rules, and adjust as the rules get clearer."
Amid these vagaries, data privacy and protection are common-denominator concerns, but some countries—Germany among them—take it to such a high level, Scott says. In Germany, protection of intellectual property is enabled immediately with no registration necessary and copyright coverage outliving an author by 70 years. And while tracking cookies or emails has long been standard operating procedure for a company trying to identify and gather data about interactions with current customers and potential customers, Germany restricts that practice as well, where other countries may not.
"Monitoring all these rules can be overwhelming because they don't all line up," says Scott, adding that Cision relies on outside counsel in countries where it operates. "There's a lot of expertise needed to operate on this level. Good advice is absolutely crucial."
Wired since youth
Having a technical background is an asset for Scott, as her long-ago engineering and computer-science courses helped condition her to visualize the fine points of Cision's overall operation. Having a mother who worked in the technical divisions of several companies in the Washington-Baltimore area certainly didn't hurt.
"I'd go to work with my mother and watch her run punch cards into machines, and it made a big impact on me."
"I'd go to work with my mother and watch her run punch cards into machines, and it made a big impact on me," remembers Scott, amused at what seemed cutting-edge technology when her mother worked at Baltimore Aircoil. "And we were one of the only families to have a computer in our house when I was in elementary and middle school. My mom knew that's where the future was, so I had an early introduction."
"I knew I'd eventually go to law school, but I always had that affinity for computers and technology. I may not know all the specifics because things have changed since my programming days, but I have a solid foundation of how technology works. It helps me to understand issues and spot risks because I know the underlying pieces."
Even if those pieces are ever-moving.
Showcase your feature on your website with a custom "As Featured in Vanguard" badge that links directly to your article!
Copy and paste this script into your page coding (ideally right before the closing