Kyle Liudahl – Graco
IP lawyer protects patents and privacy for global manufacturer
Anyone who's lived through a bitterly cold winter or a summer heat wave knows the value of good home insulation.
In addition to conventional insulation, contractors use spray foam insulation guns to seal edges and prevent drafts. Headquartered in Minneapolis, Minnesota, Graco makes these and other fluid management products, which include everything from pumps used to fill peanut butter jars to the systems used to measure how much oil cars need to the devices that glue soles to shoes.
As these devices are designed and created, Kyle Liudahl helps draft patents and get them approved. Most recently, the company's associate general counsel and privacy officer has been working on this process with an improved version of the spray foam gun. Graco's updated device, which Liudahl says is easier to use, has over a dozen patents attached to it. Liudahl has helped get them approved and is working on the last one, which is for a component cartridge near the spray tip.
Getting patents approved isn't the end of the process, though. He also needs to look out for intellectual property infringement.
"As our spray technologies continue to evolve, so does the need to protect the tech advancements we've made," Liudahl says.
An overarching view
In addition to patent and intellectual property work, Liudahl handles all legal matters for two of Graco's manufacturing divisions and for the Central and South America region, while also overseeing the global privacy program.
As the first person to hold the privacy officer role at Graco, he created the privacy program, focusing it on the then-new General Data Protection Regulation and leaving room for other, emerging requirements. Also, because Graco operates all over the world, he developed the policies with an aim to be compliant with regional regulations.
Liudahl also talked with staff to better understand how they communicate and share data in their own regions and with global Graco staff. He says these conversations shaped the policies he made regarding data and information sharing. While he did much of this work on his own, he also worked with an outside consultant.
Prior to having a privacy program in place, procedures "were one-offs" and varied from project to project, Liudahl says. In addition to being inconsistent, this also opened the company up to avoidable risk.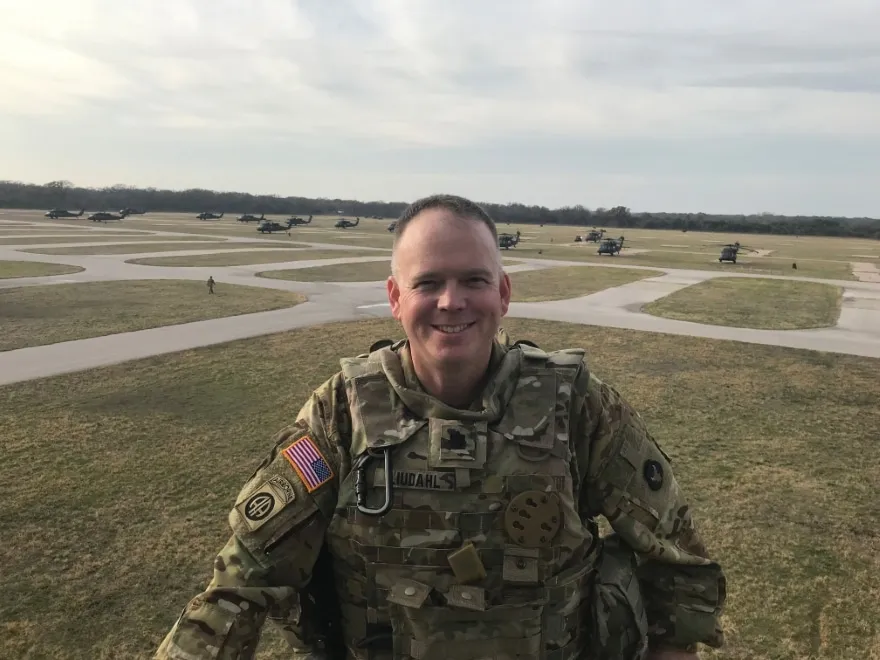 "Rather than addressing issues as they arise, this is a different approach with an overarching view," he says. "It creates standards and guidelines we can all look to, which ensures we're staying compliant."
Because data and information are stored and shared digitally, Liudahl works closely with the IT department on privacy matters as the legal liaison to the executive cybersecurity team. He also has outside counsel he works with on cybersecurity matters.
Dedicated career
Liudahl says building the privacy program has been fun, interesting and has helped him develop in his career. When he came to Graco in June 2017, he was primarily working on intellectual property issues, which are his expertise.
After earning his J.D. from the University of South Dakota, he got his Master of Law in intellectual property with an emphasis on patents from the George Washington University Law School. He also has his bachelor's degree in chemistry from South Dakota State University and his Master of Public Administration from USD.
Liudahl started his career as a patent examiner of electrical storage devices at the United States Patent and Trademark Office for three years. He then spent one year at the Stoneman Law Patent Group in Phoenix, Arizona. From there, he worked for over four and a half years at the Minneapolis office of the global firm Norton Rose Fulbright. As an intellectual property and technology attorney, he worked on patent litigation and prosecution related to automobile diagnostic devices and database and processor technologies.
As much as Liudahl has followed his interest in intellectual property, he's also stayed true to his mechanical inclination. He's spent the last 17 years in the Army National Guard as a helicopter pilot and is still in the active reserves as a lieutenant colonel and brigade executive officer. In 2020, he was a battalion task force commander serving in central Iraq during the Iranian ballistic missile strikes. This summer, he will complete a Master of Strategic Studies from the United States Army War College.
"I like working at Graco because the culture is very similar to the Army," Liudahl says. "There's an emphasis on fact-based decision making and working together to solve problems."
View this feature in the Vanguard Spring III 2022 Edition here.
Showcase your feature on your website with a custom "As Featured in Vanguard" badge that links directly to your article!
Copy and paste this script into your page coding (ideally right before the closing