Macie Hawkes – eXp Realty, LLC
Using digital tools to create 'growth without borders'
How does a real estate company grow to an eye-popping 65,000 agents across 17 countries in a little over a decade?
eXp Realty's Macie Hawkes says it pays to be well-versed in technology. Since she joined the company as its first general counsel in 2017, it's become one of the fastest growing real estate technology companies in the world, she says.
To support this growth, she's built a legal department that uses technology to stay organized and efficient. As the company continues expanding, Hawkes ensures her team is a valuable resource and partner.
"If you hit a roadblock, you have to find another approach," she says. "You have to be ready and willing to think outside the box and help find a way to make it work."
Legal tech advantage
Since Hawkes started at eXp, it's grown from 5,500 agents and 180 employees in the U.S. and Canada to 65,000 agents and 1,100 employees globally. Hawkes has built her legal team to 20 members and jokes the extra help is always needed because there's only one speed at eXp: "Mach speed."
Where a typical real estate brokerage might have anywhere from 20 to 100 agents and operate in one or two states, Hawkes says eXp's model is different because it's one brokerage with thousands of agents across the U.S., Canada and around the world.
"We're constantly adapting to maintain compliance across every jurisdiction while simultaneously fueling the company's rapid growth," she says.
Given the growth that eXp Realty has experienced, selecting and implementing the right technology for the legal department has been crucial to its success and has allowed the team to keep pace, Hawkes says.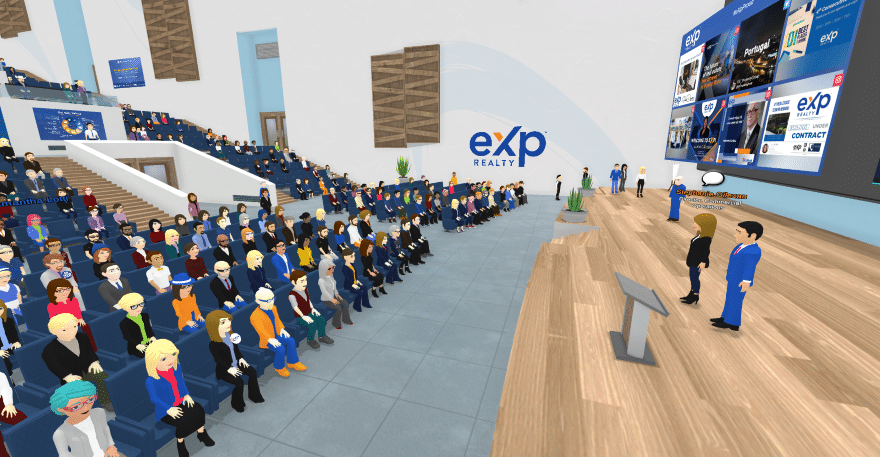 "If you think of the volume of work coming in like water spraying from a fire hydrant, you have to understand that simply throwing more bodies in front of it won't help," she says. "You have to direct and control the flow into an organized, automated process that keeps it moving forward."
Hawkes and her team implemented a Conga contract management system that, among other things, allows them to automatically generate routine legal documents for non-legal staff that can be used in a self-service manner.
They also use CounselLink, a management and e-billing system from LexisNexis, to manage litigation and invoicing from outside counsel. With this system, law firm invoices are electronically submitted and automatically compared against eXp's outside counsel billing guidelines. The system rejects disallowed charges and the submitting firm is notified of the reason for the rejection.
Data dork
Hawkes says an important and often overlooked advantage of good technology is the value found in the collected data. With the new technology, she and her team can analyze and learn from the data to help the company make improvements that reduce liability and save time and costs.
For example, analyzing the litigation data for patterns or recurrences in the claims can help her team determine where more training for staff or agents could be provided to help prevent similar claims in the future. As a self-proclaimed "data dork," she says, "there are countless ways to use data, but making sure you're capturing the right data is the key."
Hawkes has also had fun educating her legal and non-legal coworkers on how a good legal department can help the bottom line, as opposed to being a cost center.
"I'm helping our attorneys become more than just practicing lawyers. I'm developing them into successful business partners," she says.
Dueling degrees
With real estate entrepreneurs for parents, Hawkes, an Arizona native, seemed bound for real estate.
She started her career by working full time during the day and earning a degree in business administration by night. After graduating in 1999, she enlisted in the Army Reserve. In 2001, she was admitted to the University of the Pacific McGeorge School of Law, which she attended full time until being deployed to Kuwait in 2003. She returned the following year and earned her J.D. in 2005.
After graduation, Hawkes was hired as an associate attorney at the Cooper Castle Law Firm in its Arizona office, where she worked in foreclosures, evictions and bankruptcy. In 2009, she started Hawkes Law Firm, which she managed for seven years before joining Peoples Mortgage Company as its general counsel.
In 2017, Hawkes was asked to join eXp as its first general counsel.
"In this role, I've been given free rein to build and develop the legal department," she says. "I've enjoyed helping create a team that's been prepared to handle all challenges."
View this feature in the Vanguard Fall III 2021 Edition here.
Showcase your feature on your website with a custom "As Featured in Vanguard" badge that links directly to your article!
Copy and paste this script into your page coding (ideally right before the closing