Michael Futch – Granite Construction Inc.
GC made sure ethics were engineered into law practice
Michael Futch spent much of his legal career helping companies build highways, bridges and infrastructure across the U.S.
Though he accomplished everything he set out to do—both as an engineer and as an attorney—it's the bridges he built within his professions that stand the tallest.
During his time as vice president and general counsel at Granite Construction, Futch hired a number of minority-owned law firms to serve as outside counsel and helped establish a nonprofit association guiding ethical approaches in construction.
In 2010, Futch retired to the balmy climes of San Diego, far away from the steamy city of Monroe, Louisiana, where he grew up with parents and teachers who had high expectations for his future.
He was not alone; his high school basketball teammate and friend, James Harris, became the first African American quarterback to open an NFL season as a starter—and win a playoff game—before becoming a successful executive for several teams.
Meanwhile, Futch blazed his own trails, first in engineering and then in law, as he built a career in both disciplines.
"I always understood I was in a position where I was going to be carefully scrutinized," Futch recalls. "If you're an engineer and you're a minority, you're one of the very few. But during the time you're going through it, you're not thinking about it, you're just doing it."
Building structures and standards
The imprints of Futch's work are visible: He structured the bids and contracts for Granite Construction to build some of the complex infrastructure projects including the Queens Bored Tunnel which consisted of two miles of tunnel under New York City.
Before joining Granite in 1996, Futch was one of the legal resources for the public agencies and private contractors building the Los Angeles Metro Rail system.
What also endures from his work is the Construction Industry Ethics & Compliance Initiative, which Futch helped found in 2008 to proactively counter the unfair bad reputation his industry was getting—while also ensuring its members "are committed to the highest level of ethics and conduct and compliance with the law," according to the CIECI website.
"That's what I'm most proud of," Futch says. "We got a lot of enthusiasm from the start, especially from construction industry CEOs, and what began with about 10 companies now has close to 50."
In demand
It could easily have been a different story, but Futch's inner drive was honed at home—and in school.
"So much of it came back to our teachers in a predominantly Black high school who drove us and drove us," he recalls.
Though not bound for the same fields of glory as Harris, Futch was very much in demand after earning a bachelor's in civil engineering in 1970 from Southern University, a Historical Black College in Baton Rouge, Louisiana.
He was recruited by a number of companies but chose to join the Western Division Naval Facilities Engineering Command in San Bruno, California. After two months on the job, he was drafted into the U.S. Army.
He spent most of his two-year hitch at Fort Hood in Texas, and when his tour of duty was done, he returned to his position as a structural engineer for the Navy in San Bruno.
Not only was it a job in his field (and in a place Futch wanted to live); the Navy also awarded him a full scholarship so he could attend graduate school at the University of California at Berkeley.
"I was the only African American graduate engineering student in the master's program at Berkeley," Futch recalls. "It was a very talented class, but for me it was a lonely existence."
Futch earned his Master of Science in Civil Engineering in 1975 and stayed with the Navy for another year before the San Francisco office of international engineering firm Parsons Brinckerhoff recruited him to help design the facilities and tunnels for the Positron-Electron Project at the Stanford Linear Accelerator Center at Stanford University.
Futch's work brought him into contact with notable Stanford physicists including Burton Richter, a co-winner of the 1976 Nobel Prize in Physics. Yet the work didn't pique his interest in rocket science as much as it did construction law and how it could be combined with engineering.
"I figured, 'who was better to understand legal problems on a site than an engineer?'" Futch says.
Head east, young man
In 1978, he said goodbye to sunny California, moving to Ithaca, New York, and enrolling at Cornell Law School. While recalling how it started snowing at Thanksgiving and sometimes didn't stop until May, Futch says he got the best law education he could find.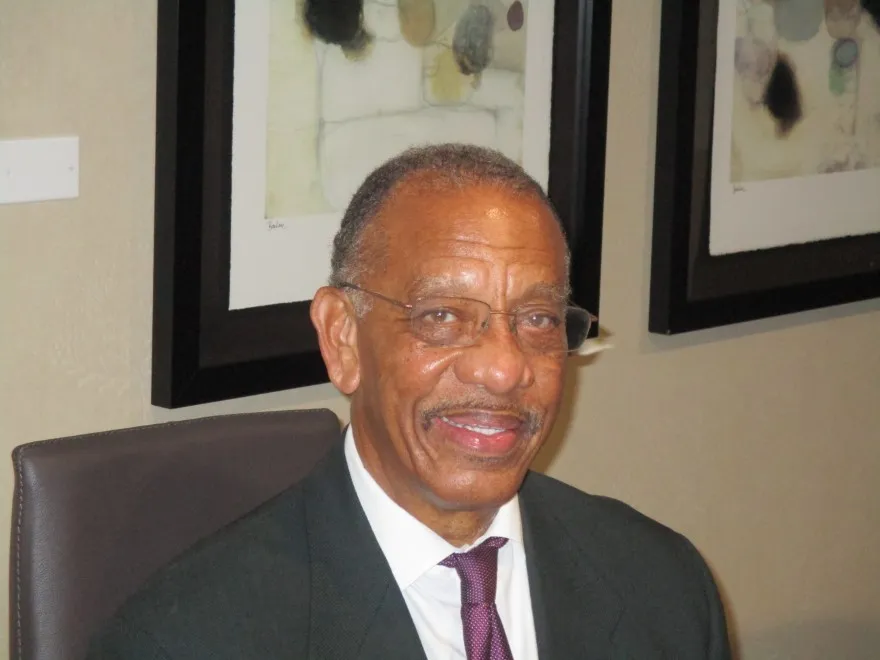 "But the thing about studying law is there's no perfect answer," he adds. "As a scientist you're looking for the precise answer; as an attorney, you're looking for the best answer."
Upon earning his J.D. in 1981, Futch was again in demand—and once more headed west, joining the Los Angeles firm of Cox, Castle & Nicholson to work with its clients in the construction industry.
By 1983, he'd shifted in-house in the industry as general counsel and secretary for Kasler Corp., one of the largest highway construction firms in California.
The recruiting never abated, though. In 1986, Futch became vice president and general counsel for Penhall Co., which specializes in concrete cutting, scanning and removal.
Build it right
Digging deeper into his law career, Futch returned to private practice in 1988 with Robinson & Pearman—one of the law firms handling the legal details of the L.A. Metro Rail construction.
When he joined Granite Construction as its vice president, general counsel, secretary and only in-house attorney, he strengthened the publicly held company's ethics and compliance programs and built a team of more than 14 legal professionals by the time he retired in 2010.
Futch had also become friends with Richard "Dick" Bednar, a Washington, D.C., attorney who coordinated the Defense Industry Initiative, a nonprofit "with the mission to promote and advance a culture of ethical conduct in every company that provides products and services through government contracting," according to its website.
Bednar helped Futch and the rest of CIECI's founding members replicate the approach for the construction industry so that companies not only adhered to ethical standards, their CIECI membership could serve as an advantage when seeking and performing government contracts.
CIECI still stands as Futch's most treasured achievement—one that will hopefully stand far longer than any building or bridge.
"I always wanted to build things; it was fascinating to put things together," he recalls. "But the law was the best education I could get for the real world because it governs so much of everyone's lives."
Showcase your feature on your website with a custom "As Featured in Vanguard" badge that links directly to your article!
Copy and paste this script into your page coding (ideally right before the closing