Montserrat Hermosillo – Cummins Mexico
Cummins Mexico legal leader is the engine for compliance
As an engine in the Mexican economy, Cummins annually exports $1.2 billion worth of goods while its annual domestic sales approach $400 million.
Cummins employs around 6,000 people who work at four manufacturing plants, as well as a technology center and a distribution center. There they make new and remanufactured parts for diesel engines, fuel systems, switches for automatic transfer for power generation plants, and engine filters.
Montserrat Hermosillo, the company's legal manager for Mexico and lead attorney for its Latin American supply chain, has faced some challenging times in the last couple of years. That includes working through the COVID-19 pandemic, supply chain obstacles and strict and sweeping reforms to the country's labor and employment laws.
Still, Hermosillo says she's always wanted her legal career to be challenging.
"I participate from when we buy raw materials until the finished product is placed at the clients' doorstep," Hermosillo says. "It's possible to make a career in the corporate world as a lawyer beyond litigation, and this work has been rewarding because my values ​​fit those of the company."
Outsourcing moves in-house
Hermosillo's latest project is ensuring Cummins complies with new labor and employment laws prohibiting companies from using outsourced labor. Exceptions are in instances where those companies need specialized services that aren't part of its general business. The reforms also eliminate tax deductions and credits corporations had been permitted for outsourced labor.
Enforcement of the reforms began in September 2021, and Hermosillo was tasked with compliance.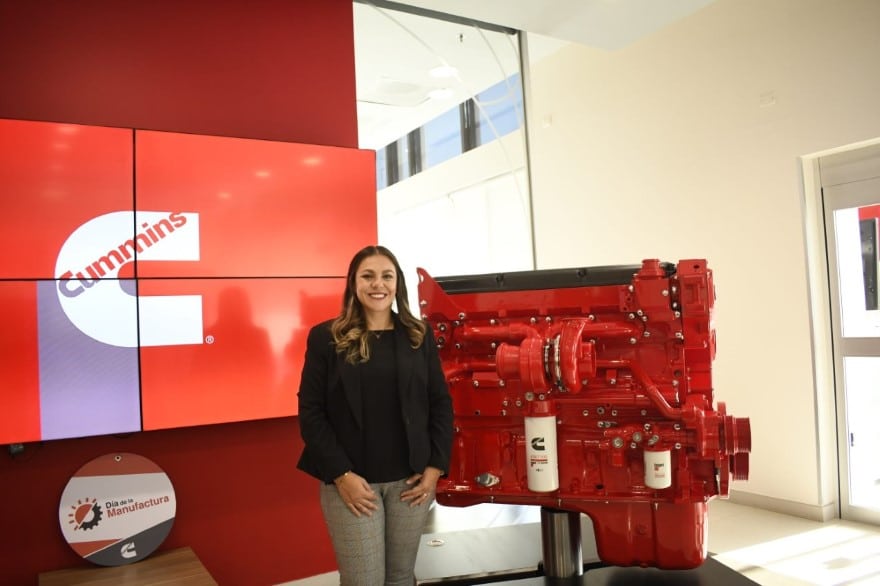 "This project has been challenging because it involved many strategy issues and we had to implement it quickly," she says. Part of the strategy is hiring workers who used to be outsourced to ensure they receive all the company's employee benefits and better pay.
However, much of the company's compliance efforts relate to its vendors and suppliers. Hermosillo revised standard agreements to require Cummins' vendors to follow its codes for ethics and conduct. The vendors and suppliers also have to certify they aren't using outsourced labor.
Staying supplied
While shoring up its labor practices, Hermosillo is also helping Cummins navigate global supply chain issues, revising master agreements for Latin American operations so Cummins' vendors and suppliers had more flexibility to deliver needed raw materials.
Since joining Cummins, Hermosillo has also supported the company-owned distributorships in Central America. She says its required her to work with outside counsel in Costa Rica, El Salvador, Guatemala, Honduras and Panama to ensure the distributorships comply with Cummins' policies and adhere to regulations in the countries they service.
The persistence of the COVID-19 pandemic affects her work, too. Hermosillo says the arrival of the coronavirus, which shut down operations for several weeks in spring 2020, required her to help create policies to protect manufacturing employees working in an essential industry. That included procuring transit permits for distributorship employees in Central American countries that were locked down and amending policies to compensate remote workers for things like setting up home workplaces.
Offices and plants have reopened, with temperature checks and mask requirements part of the workplace, as well as testing for anyone reporting symptoms.
"We don't know the future 100 percent and what the pandemic may bring, but I'm comfortable with how the legal department has helped the company adapt," Hermosillo says.
Finding balance
Born and raised in the city of San Luis de Potosi, north of Mexico City, Hermosillo says she aspired to become an attorney to help ensure every could benefit from equal opportunities under the law. She earned her bachelor's degree in law from Universidad Autónoma de San Luis Potosi in 2009 while also interning as a paralegal in to private firms.
After graduating and while studying for her master's in corporate law from Universidad Anahuac, Hermosillo also served as legal coordinator in San Luis Potosi for the National Institute of Migration. Here she counseled people staying and working in Mexico on documentation, visas and stay permits while also providing translation services.
Hermosillo says she'd always been interested in in-house work, but those opportunities were not abundant in her hometown. Earning her master's degree in 2012 opened the door to join 3M, though. She began as local legal counsel in 2011 and was promoted to a legal counsel role in 2015.
Her volunteer work is as important to her as her career. She's been part of Mater Filius  since 2015, helping the nonprofit supporting pregnant women with free lodging and meals as well as legal, labor, medical and mental health services. While on assignment in China for 3M, Hermosillo also volunteered with the Chengdu Urban River Association for a month on an environmental and legal project. At Cummins, she's a part of WEN, an employee group looking to create more career opportunities for women.
Away from work and volunteering, Hermosillo and her husband, David, are raising their daughter, and she adds she enjoys music and watching the sun rise to begin her day.
Hermosillo is enjoying a career where she's risen from a paralegal to legal manager at a multinational corporation. She says it takes drive—and clarity for women to succeed.
"I can make a difference in my community and its people," Hermosillo says. "If you want something you need to see that goal and work for it. Find balance is challenging but it's possible if you love what you do and if you have clear goals."
View this feature in the Vanguard Winter III 2022 Edition here.
Showcase your feature on your website with a custom "As Featured in Vanguard" badge that links directly to your article!
Copy and paste this script into your page coding (ideally right before the closing