Nancy Ardell – Northwest Community Healthcare
Pandemic prep, M&A make eventful year for hospital CLO
As the calendar turned from 2019 to 2020, Nancy Ardell's to-do list was growing quickly.
The new executive vice president and chief legal officer at Northwest Community Healthcare, Ardell was guiding the system through a merger that would assure its role as a community care provider, near Chicago, would continue and even flourish.
Piecing together the regulatory and fiduciary puzzle for the deal with nonprofit NorthShore University HealthSystem was a challenge with rewards.
"I enjoy getting to know people and building relationships," Ardell says. "The more we get to know and trust each other, the more we keep things moving in the right direction. It's an energizing process."
To paraphrase Robert Burns, those "best laid plans" for the merger did not go awry. However, 2020 sure got complicated as NCH became one of the first Chicago-area hospitals to treat patients with COVID-19.
"While it's been a stressful time for everyone, I look at it as a study in optimism," she says. "I'm continually impressed by how our staff supports one another. The level of concern for all is very heartening."
Joining forces
Located outside Chicago in Arlington Heights, Northwest Community Healthcare is an independent nonprofit system anchored by a 509-bed hospital. Founded in 1959, the system has expanded to include five intermediate care centers, 23 physician offices and nine outpatient imaging locations among its services.
Before Ardell joined NCH in December 2019, its board and executive team were already discussing how the system could best position itself to continue its long-standing commitment to the community.
"This was the best long-term plan for the organization," Ardell says of the merger. "Our cultures align. NorthShore's board and executive leadership are deeply committed to community-based care."
While Ardell kept NCH leadership apprised of developments and negotiated merger agreements, she was also working on the necessary approvals from the Illinois Health Facilities Board and the U.S. Federal Trade Commission.
NCH will be the sixth and largest hospital in the NorthShore system and its ambulatory care and physician offices will remain open, allowing it to continue to serve communities northwest of the Windy City, Ardell says.
Gaining FTC approval for hospital mergers is important in protecting the competitive landscape of the healthcare market. In addition, the state regulatory body requires a certificate of exemption to close the deal.
NCH and NorthShore expected to wrap up the merger by the end of 2020, and Ardell will then be concerned with how the systems come together.
"It's been a really interesting and rewarding process to take this transaction from start to finish, including board education, partner selection, deal negotiation, due diligence, regulatory approval and post-closing integration planning," she says.
Virtually accomplished
Ardell adds that the process has been all the more interesting because Zoom replaced boardrooms, for the most part, throughout the merger process.
The merger wasn't the only thing Ardell was Zooming about because what could better complement the legal challenges of a merger than those presented by a pandemic?
Because NCH admitted patients and activated its incident command center as the pandemic arrived in late February, it was also able to tap into resources and assistance from the U.S. Centers for Disease Control and Prevention almost immediately. Had the first patients been admitted even two weeks later, the direct CDC assistance might not have been available, she adds.
While equipping staff with personal protective equipment and modifying infection control procedures to reduce the chance of transmission, NCH and Ardell were also confronted with executive orders that curtailed hospital visits and halted elective procedures. At the peak of the first surge in the spring, NCH had as many as 109 COVID-19 patients.
Ardell notes that NCH avoided staff furloughs despite the ban on elective procedures, but she still had to work closely with HR as NCH matched staff with pandemic-related tasks they were suited for, while making certain to follow health guidelines that frequently changed.
NHC also set up a mobile testing facility and ramped up its telehealth practices.
To bring telehealth into wider use, Ardell worked with risk management and the medical group to develop the necessary patient consent forms, set the rules for consultations, and determine when virtual appointments were appropriate.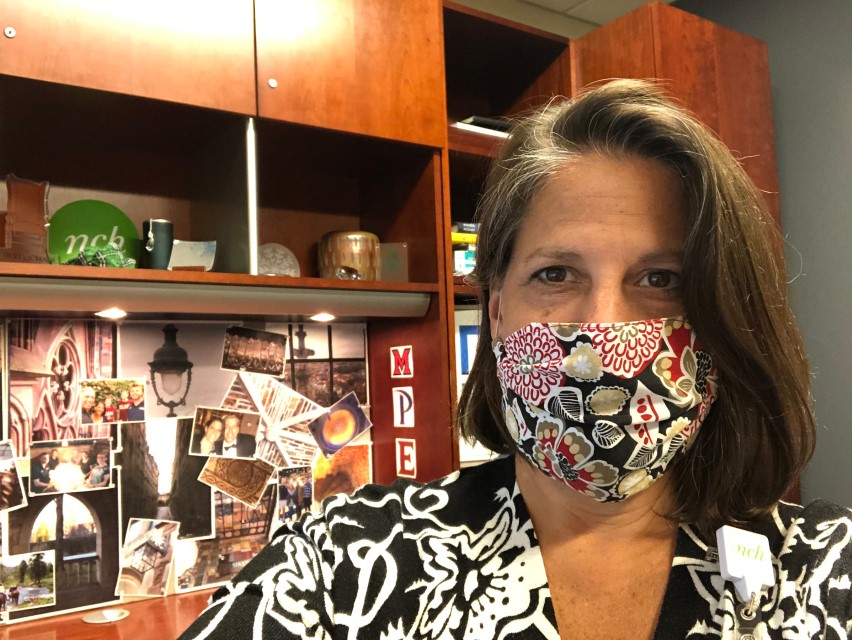 All of this made the daily 7 a.m. COVID-19 meetings, led by Chief Medical Officer Dr. Alan B. Loren, eventful through the spring. Ardell credits her team of 12 for answering and meeting the calls to support all areas of the organization as NCH worked through the plethora of safety concerns, staffing issues, PPE procurement and visitation issues.
By summer, the COVID-19 patient counts had decreased by about 100 to perhaps four or five each day, but the autumn surge has pushed counts up over 90.
Mom's footsteps, Ardell's path
Born and raised in the Chicago area, she credits her mother, who enrolled in law school when Ardell was a high school senior, as the inspiration for her law career.
Ardell earned her bachelor's degree in economics with a minor in French in 1989 from DePauw University in Greencastle, Indiana. Her studies also included a semester abroad at the University of Strasbourg in France and winter terms in Peru and Guatemala.
All the while, her mother was earning her JD and embarking on a legal career that would culminate with 18 years on the bench as a judge in Chicago.
After listening to her mother's enthusiasm and stories, Ardell enrolled at the Chicago-Kent College of Law in 1992. While studying, she was also progressing in a career at LaSalle National Bank/ABN AMRO Bank, going from a commercial loan officer to assistant vice president for loan review. Upon earning her JD in 1996, she became a bank attorney.
Ardell says she was hooked on the healthcare field after she became an associate general counsel in 2002 for the Rehabilitation Institute of Chicago (now known as the Shirley Ryan AbilityLab), long ranked the best rehabilitation hospital in the country by U.S. News & World Report.
In 2012, Ardell became managing counsel at Cadence Health, where she gained experience with her first hospital merger, and then joined Northwestern Memorial Healthcare in 2015 as senior associate general counsel.
After nearly six years with those health systems, she shifted into assisted living and memory care as executive vice president and general counsel for Enlivant in 2018, where she handled legal matters and risk management for 230 facilities in 26 states.
Meanwhile Ardell and her husband, Doug, are putting three children through college. Hailey, a junior at Miami of Ohio majors in film studies, creative writing and media. J.T. majors in integrated marketing and communications at Pepperdine. Their youngest, Grant, majors in business and finance at Elon.
The chance to join NHC could not be passed up in December 2019, she recalls.
"It was an exciting opportunity to get back into the nonprofit mission-based hospital setting that I am so passionate about," Ardell says. "My time at NCH has been invigorating. Experiencing so much together, during such a short period of time, enabled me to develop strong relationships with our team very quickly. I'm proud of all that we've accomplished together."
Showcase your feature on your website with a custom "As Featured in Vanguard" badge that links directly to your article!
Copy and paste this script into your page coding (ideally right before the closing