Timothy Burke – Radiology Partners
Just what the radiologist diagnosed for compliance oversight
If Timothy Burke is a rarity, he doesn't believe he should be. One needn't be a lawyer to oversee compliance in even such a complex industry as healthcare, he says. How much wider the talent pool will be once the rest of the regulated world realizes it.
His employer, Radiology Partners, must have realized it by late 2019, hiring Burke as vice president and chief compliance officer at its headquarters in El Segundo, California. The nation's largest physician-led and physician-owned radiology practice has entrusted Burke to oversee regulatory compliance, HIPAA and internal auditing across its portfolio of services to more than 3,200 hospitals and other healthcare facilities in 35 states.
Burke being business-minded, he fits the role and likely endears himself to the providers.
"Our most important assets are the radiologists," he tells Vanguard in February. "They're the physician's physician. So, we hone on what's most important to them and don't stop at just interpreting the law. We help the practice implement it in a way that supports our radiologists and the care they provide to our patients."
Let doctors be doctors
What's most important to radiologists, Burke goes on to say, is identifying and diagnosing medical conditions that include cancer and other diseases. Like doctors in general, radiologists don't like being sidetracked by compliance minutia, so Burke has customized programs for their needs.
Upon arriving at Radiology Partners, he made it a priority to cultivate and monitor organizational data and apply it toward compliance and overall program efficiency. While many of the core compliance, privacy and IT security concepts remain the focus of his training sessions, he includes vignettes about provider enrollment, scope of practice, state licensure and other areas. He aims to give the doctors streamlined, practical information.
"I know the black and white of healthcare law, and I also understand the operations role," he says. "What works and what doesn't when trying to implement internal controls from a regulatory perspective."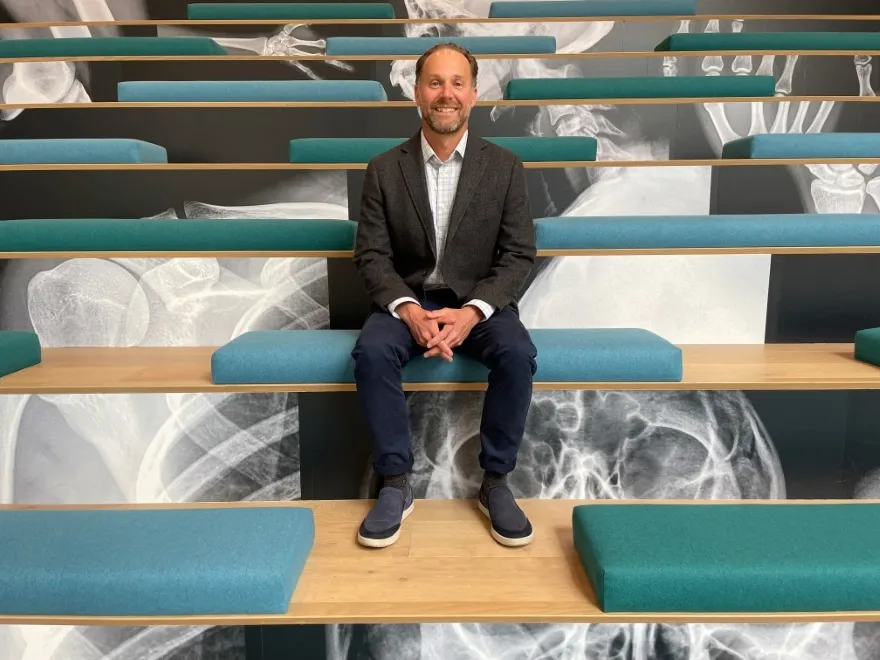 As head of a small compliance team, Burke helps the practice to focus on providing consistent, high-quality care to patients, and "to deliver enhanced value to the hospitals, clinics, imaging centers and the provider community it serves."
As he explains, "Good documentation and reliable data show we are compliant and effective," he says. "Through collecting and analyzing data, we can focus on areas for assessment or audit, not necessarily just because of potential compliance risk we must mitigate, but because of the opportunity for process improvement."
He's also created an incident response database that enables the team to better answer questions and address issues. By examining the data set, he can formulate a policy around a certain concern or expand an existing one.
"It's almost created a robust pipeline, if you will, of topics for me to continue to build the program," Burke says. "We can capture the questions and issues, how they were addressed, and what the outcomes were."
Going beyond legal
A mindset that transcends legalese can be much broader and business-friendly when it comes to data-driven compliance, Burke explains. The compliance role independent from other departments also enhances internal auditing that regulatory agencies appreciate.
Though he's glad he didn't, there was a time when Burke might have become a lawyer, his double major in poli-sci and history at UCLA typical preparation for law school. But during the late 1990s he got into management consulting at PricewaterhouseCoopers. When that opened the door to healthcare, Burke says he found his calling, choosing a master's in public health, also at UCLA, over a law degree.
He spent about six years at PwC before taking on a compliance role in 2004 at DaVita Inc., a Denver-based international provider of dialysis services. In 2012 when DaVita bought a multi-state physician practice focused on value-based care and population health, Burke became its chief compliance officer, building its program and then transitioning from his compliance leadership role to other executive positions.
Ultimately, he served as vice president of operations in Orange County, California, and credits those 15 years at DaVita for allowing him to see healthcare from every vantage point including, of course, compliance.
"If it doesn't make business or operations sense, it won't make compliance sense," he reminds with a chuckle. "You have to be able to implement it to be in compliance."
When his DaVita subsidiary was sold, Burke declined the offer to continue to be part of a large organization in favor of joining Radiology Partners and took the job when they reached out.
Unbeknownst to him or his new colleagues, that would mark the start of an interesting era, one that a few months later would bring COVID-19 into play and necessitate many employees working remotely. The practice having adjusted, Burke speaks excitedly about his growing to-do list.
Radiology Partners is innovating with the use of artificial intelligence, Burke says, as well as another subject for compliance. Cybersecurity, mergers and acquisitions, licensing and certification, human resource compliance, and environmental matters—those subjects and more also often fall into Burke's lap.
Better his than a radiologist's, he says. They have their own responsibilities which he supports them to fulfill.
"We're one practice, locally led by our physicians as opposed to being in a large health plan or health system," says the married father of three daughters and Southern California resident. "Keeping the doctor at the center of patient care is the best for healthcare."
View this feature in the Vanguard Spring III 2022 Edition here.
Showcase your feature on your website with a custom "As Featured in Vanguard" badge that links directly to your article!
Copy and paste this script into your page coding (ideally right before the closing