Kamili Moreland – AAA Northern California, Nevada and Utah
AAA lawyer has an affinity for HR and DEI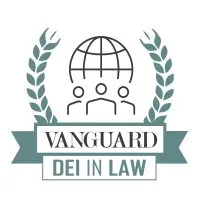 When Kamili Moreland was promoted to chief legal and people officer earlier this year, she was excited to work more deeply on diversity, equity and inclusion initiatives.
Working with affinity groups and developing policies was an expected part of the position at AAA Northern California, Nevada and Utah. What Moreland didn't expect, though, was getting to partner with a Civil Rights leader. Through the organization's affinity group for Black employees and allies, Ruby Bridges came in during Black History Month.
On November 14, 1960, six-year-old Bridges became the first Black student to desegregate an all-white school. Over the years, she's continued to advocate for acceptance and respect for all people, Moreland says. This has included working with AAA—the American Automobile Association, which has 23 motor clubs throughout the country—through the AAA School Safety Patrol Program.
In 2018, a group of students from South San Francisco established Ruby Bridges Walk to School Day at their school to honor the activist and leader. This year, AAA NCNU worked with these students to make the day a California state holiday.
"Over the last 100 years, the AAA School Safety Patrol program has inspired students to build safer, more inclusive communities," says Moreland, whose title also includes executive vice president. "We are proud to work with these student leaders as they make a positive difference in our communities."
Employee-led growth
Moreland says it's important for the affinity groups at AAA NCNU, also called business resource groups, to have more than just a social aspect. Since being promoted to her current position in January 2021—she was previously general counsel—she's helped enhance the organization's diversity, equity and inclusion program. The business resource groups have even become part of the organization's recruiting efforts.
"We want our business resource groups to tie more into the business so they can help us grow the services we offer members and help employees grow professionally," Moreland says.
The organization has nine affinity groups that connect employees to each other, their work and the communities AAA serves. As a woman of color, Moreland says she appreciates the organization's dedication to making the workplace better for everyone. All executives, for instance, take unconscious bias training. Earlier this year, AAA NCNU was named a top 100 workplace for its diversity, equity and inclusion initiatives by Mogul, a recruitment platform.
Beyond diversity, equity and inclusion efforts, she's trying to support employees in a more general sense, as well. She ensures professional development resources are available, as well as support through challenging times, such as the COVID-19 pandemic.
"We must support our employees who help our members when they need us most," she says. Moreland's proud that the organization didn't have to furlough or lay off any employees during the pandemic, a feat that she says was accomplished "by being compassionate with grit."
"I couldn't just be a lawyer during the height of this," she says. "What I did expanded beyond the scope of general counsel."
Made for HR
Moreland's experience in employment law also led to her being the right person to take on more human resources responsibilities.
She started her career as an associate at the San Francisco firm formerly called Carroll, Burdick and McDonough (now Squire, Patton and Boggs). For five years, she defended employers and individuals, which she did in her next job as well. She spent almost nine years as a partner at Seyfarth Shaw, also in San Francisco.
Moreland left private practice to go in house at AAA NCNU in 2011, when she was hired as vice president of legal and compliance. She was promoted to general counsel in 2018.
Her current role has been her favorite, though, because it allows her to have a stronger impact on the people she's always wanted to help: employees.
"I enjoy being part of the rigor of human resources," Moreland says. "I have an employment law background, so I understood it already from a legal perspective, but now I get to be involved in shaping the employee experience."
View this feature in the Vanguard Winter II 2022 Edition here.
Showcase your feature on your website with a custom "As Featured in Vanguard" badge that links directly to your article!
Copy and paste this script into your page coding (ideally right before the closing