R. Mark McCareins – Metals Service Center Institute
Trusting in the law
It started out as a favor for a colleague in academia. R. Mark McCareins certainly wasn't seeking out the opportunity to instruct a law course at one of the world's leading graduate business schools; he'd had one previous stint standing up in front of a class full of law students—and, well, let's say it wasn't the most enjoyable experience. But, as has been a hallmark of his career, he went for it.
Thirty years in, it's turned out to be one of the greatest decisions he's made. "It's made me a much better lawyer," he says. "It's opened my eyes up to things I otherwise wouldn't have been exposed to."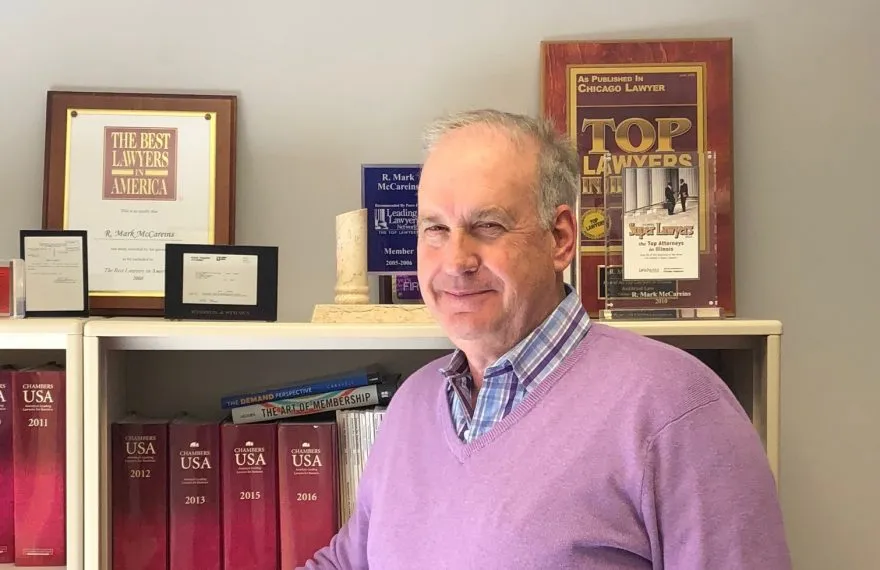 An Illinois native, McCareins juggles the dual roles of clinical professor and general counsel: He instructs at Northwestern University's Kellogg School of Management and heads the law department at the Metals Service Center Institute (MSCI).
"I'm challenged every day, professionally and intellectually," he says.
What, me retire?
Which is just the way he likes it. McCareins joined MSCI, a trade association representing North American metal purchasers, in 2014—the year he was intending to retire.
After 33 years with the Chicago law firm Winston and Strawn LLP, trying cases for mega corporations and racking up international accolades in the areas of antitrust, trade regulation and intellectual property, McCareins was ready to put away his briefcase. But then, he notes with a laugh, he came to the realization that, "my wife is going to want me to do something."
So he joined MSCI, a longtime Winston and Strawn client that recruited him to serve as its first general counsel. Although he enjoyed litigating and being in the courtroom, he notes, moving in-house has allowed him to stretch his legal and business knowledge and abilities.
Notably, the association has been heavily active around new steel and aluminum tariffs imposed by President Donald Trump as part of his campaign proposal to renegotiate U.S. trade deals. The industry has also been working on developing a regulatory framework to stimulate jobs and economic growth.
"There's no shortage of emerging issues in the metals industry," McCareins says. Nor is there any shortage of material to tackle at Kellogg. As a clinical professor, he teaches courses on antitrust and business law; he also directs the school's dual J.D. M.B.A. program, which currently has around 75 students.
"It's invigorating," he says of teaching. "I'm surrounded by unbelievably talented students. I learn as much from them as, hopefully, they do from me. It's a collegial and collaborative environment."
Since he joined Kellogg 30 years ago, the interest in law-related course offerings has "skyrocketed," he says. His goal is to provide a broad canvas of the legal issues that inevitably arise, to help prepare future leaders of startups and businesses. He's likewise involved with courses dealing with nonprofit law, organization and management.
Whether it's dealing with price fixing or crafting a contract, the goal is to sensitize students to the variety of legal issues they might face and provide them with options to address them.
"People engaged in business today cannot be blind to legal requirements and legal issues," he adds.
The inner workings
McCareins has long been intrigued by the inner workings of business—the how, the why, the should—even if that wasn't always from a legal perspective.
Illinois born and bred, his father was a prosecutor focusing on antitrust issues for the U.S. Department of Justice. Broadly, McCareins understood the ins and outs of his dad's job, but he initially had his sights set on organic chemistry, then American history. But inevitably, he found himself drawn back to the family path, following his father's emphasis on antitrust and economics.
He began interning at Winston and Strawn in 1980, drawn in by the fact that the firm is "not bashful" about allowing young lawyers to try cases.
In 1984, for example, he was involved in a case involving small herbicide distributor Spray-Rite Service Corporation and the major chemical manufacturer Monsanto Company. The case went all the way to the U.S. Supreme Court, eventually leading to a $10.5 million award for the smaller company. It was a landmark case, involving antitrust and fair trade, that is "still very viable and significant today," he says.
Comparatively, "at other firms you might be stuck in the library or writing motions for the first 5 to 10 years," he says. At Winston, "I was fortunate throughout my career to learn from some great lawyers who were also tremendous mentors; these same attorneys were eager to give me litigation opportunities that were not normally available to younger attorneys."
His experience and influence continued to expand vastly over the years, with clients including Tropicana Beverages, and litigation extending into more than 40 district and appellate courts. He has been prolific in his legal writing, as well, and was even ranked a leading antitrust and commercial litigation lawyer in his home state, the U.S. and the world by such publications as "The Legal 500" and "Super Lawyers."
"Whatever success I have had at Kellogg or MSCI, I could not have achieved without my background and training at Winston," McCareins says. "Winston presented a complex, commercial litigation  practice with very substantial clients. I never had to scratch my head and say 'was I really challenged?'"
Showcase your feature on your website with a custom "As Featured in Vanguard" badge that links directly to your article!
Copy and paste this script into your page coding (ideally right before the closing