Well-suited to a progressive corporate culture
Fitting in with corporate culture is a key to success anywhere, especially at a company that prides itself on outfitting over 5 million people a day with practical and attractive uniforms that suit their lines of work.
Maybe it's the dark pants and brightly colored polo shirts you see on the young people behind the counter at the sandwich shop. Or the very durable coveralls on those who service your car. Or the scrubs on the nurses who may be the first to greet you at the ER. Or the fire-resistant uniforms of those who toil in some of the highest-risk occupations.
A lot of thought goes into the manufacturing and selection of all that garb, which is likely to come from the Cincinnati-based Cintas Corp., the world's leading supplier of corporate identity uniforms. Just as a lot of thought went into the company's decision to hire 34-year-old Thomas Frooman as its first general counsel back in 2001.
He wears it well
"I got lucky, I was in the right place at the right time," Frooman humbly says. "These people gave me an opportunity when I was young that probably no one else would've ever done. I think I took their trust and ran with it."
To great success, Cintas might say of the Salmon P. Chase College of Law graduate who had cut his teeth in corporate law with the Cincinnati firm of Keating, Muething & Klekamp PLL between 1997 and 2001.
That business background proved good training, as this past March, Cintas finalized its $2.2 billion purchase of a large Minnesota-based competitor, G&K Services Inc., also noted for uniforms and other custom-embroidered logo clothing as well as restroom supplies and floor mats. A clothing stalwart in such industries as automotive, warehousing, transportation, airlines and health care, G&K's 170,000-strong customers should put Cintas' U.S. and Canadian client list over the 1 million mark and embellish the annual revenue to somewhere north of $6 billion.
"The acquisition increased the size of the company by 25 percent," says Frooman, who worked with outside counsel from the Cleveland headquarters of the Jones Day law firm to iron out the details in the yearlong process. "It allows us to create cost savings in the supply chain and to take advantage of the synergies that we can realize by combining overlapped operations. It also allows us to provide even more career opportunities for our employee-partners."
For Frooman it's just one of the most recent causes for on-the-job satisfaction, made especially sweet by his ever-increasing ability to positively impact Cintas' operations. While he enjoyed his role at the Keating firm, Frooman says his Cintas responsibilities are more fulfilling since he gets to wear more hats and doesn't have to concern himself with billable hours.
"When I interviewed, I made it clear I wasn't coming here just to be a lawyer; that's what I was in private practice," says Frooman, who now oversees a team of five lawyers and two paralegals. "Fortunately, they were looking at me to be a business partner who could spend as much time in that end as in the strictly legal realm. I've been so blessed because it's worked out so well."
Unity under fire
Not that there haven't been unpleasant episodes, one of which went on for eight years—"longer than most wars"—and threatened the very well-being of a company that's often lauded for progressive relations on the labor front.
Upon interviewing for the general counsel's position, Frooman was asked if there were any business areas in which he might not be well-versed, and he volunteered having little experience in labor law. Not to be concerned, he was assured; most of the Cintas work force wasn't unionized, the company had good outside counsel in that area, and there weren't many rumblings of discord among the rank and file.
Fast forward two years to 2003, and the unions UNITE HERE and the International Brotherhood of Teamsters initiated what Frooman deemed a "smear campaign" against Cintas and an attempt to strong-arm employees into unionizing.
Frooman says that while Cintas supports the right of employee-partners to choose whether or not to unionize, union activists were bent on bypassing protocol. Rather than having the employees decide whether to unionize via secret ballot, Frooman says the unions were badgering them to instead sign pro-union cards and leaning on those who were reluctant. He also says third-party surrogates attempted to do the unions' bidding before shareholders' meetings and regulatory boards.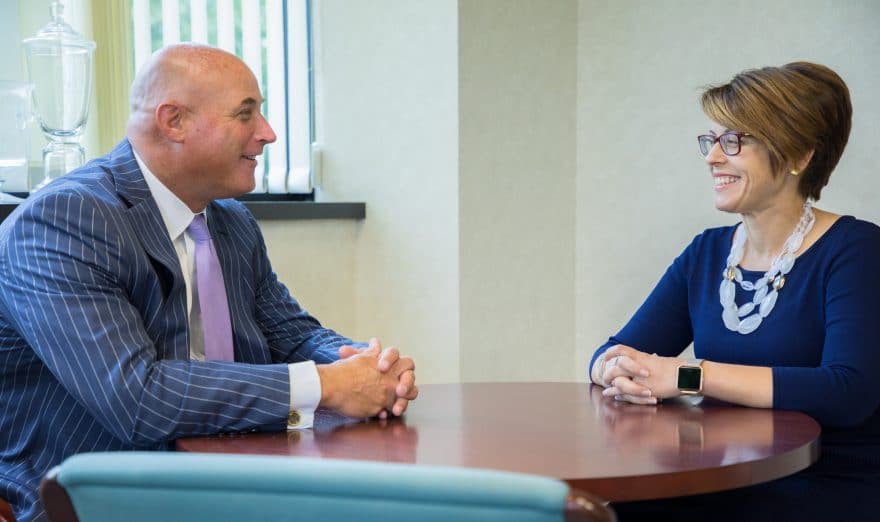 "They [UNITED HERE and Teamsters] weren't looking for a knockout blow, they would have settled for death by a thousand cuts," Frooman laments. "We fought it for eight years and when it ended, we had fewer unionized employees than before it began."
A federal court even upheld a ruling ordering UNITE to pay $2,500 to each employee it allegedly harassed. And the workplace that includes over 400 North American facilities—among them six manufacturing plants and eight distribution centers—is largely tranquil again.
"The morale is unbelievably good," says Frooman. "Our engagement scores are world-class; we scored a 91 a year and a half ago."
One thing for certain: Frooman's morale has never lagged. During a wide-ranging interview from his Cincinnati office, he even apologizes for "sounding like a broken record" about how comfortable he feels in the Cintas environment. And he's got plenty of advice for anyone entering the job market or pondering their next career move.
"Work is hard enough without adding in that you don't like what you do or the people you work with," he says, taking on a philosophical demeanor. "Before you start talking about money, make sure it's something you like to do. Make sure you're going to work for the right group of people because culture matters more than anything; it matters more than money or the challenges of the job."
Otherwise no job will suit you, no matter how nice the dress code.
Showcase your feature on your website with a custom "As Featured in Vanguard" badge that links directly to your article!
Copy and paste this script into your page coding (ideally right before the closing