Michael C. Canseco – Main Squeeze Juice Company
Dialing up a secret sauce
Quite the good call Michael C. Canseco and Thomas Nieto made in 2017 when the brothers-in-law were called upon to boost the fortunes of a cellphone repair franchise after completing a merger with their former franchisor just weeks before.
For the founder of Fix My Phone just happened to have a sister who had recently opened a plant-only juice and smoothie bar down the road in the unlikeliest of places, Lake Charles, Louisiana.
Not that the two gents were juice fanatics, but they still paid Main Squeeze what seemed an obligatory visit, partially because Canseco's wife, Julie, is a nutritionist-dietitian. Turns out they raved over the juice and smoothies at Main Squeeze, as well as the complex software that made Fix My Phone tick. That piqued Canseco's interest and led to Nieto's lightbulb moment to bring the best of both worlds together.
Long story short: They'd join the ownership of both Fix My Phone and Main Squeeze, split the software into its own company, buy out the original owners of the juice and software operations and launch the Main Squeeze Juice Company franchise with game-changing technology.
Main Squeeze Juice Company now thrives as a family affair, with over 10 franchise locations in Louisiana and Texas, and growing. Nieto serves as president and chief executive officer while Canseco, who's also an LSU law grad, is general counsel and chief financial officer. Canseco's wife is vice president of operations and in-house dietitian; his sister, Katherine Holstein, directs marketing; his father-in-law, Mike Nieto is in charge of construction; and his mother, Helen Eshleman is controller.
If they can make it there…
The original juice bar's success in Lake Charles is what attracted Canseco and Nieto.
"It's not exactly a health-food hub," Canseco says about the city known for its petrochemical companies and roustabout, blue collar workforce. "We figured if the juice could do well there, it could do well anywhere."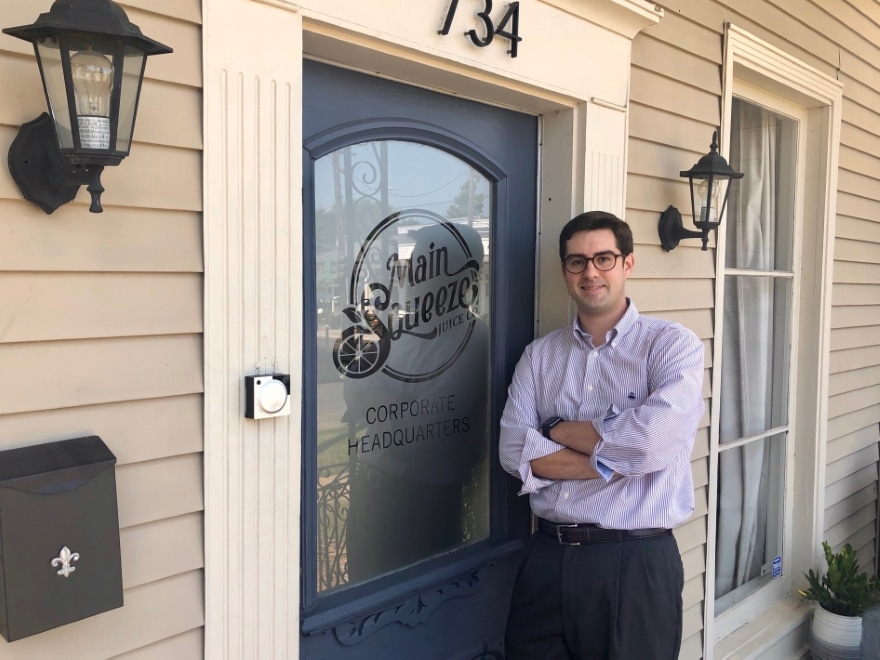 But, as Canseco goes onto explain, nowadays one would be hard-pressed to operate any kind of food business anywhere—especially an ambitious franchise operation—without precise controls of inventory, production and scheduling, cost reporting, customer data analytics, transaction and sales data, loyalty programs and whatever other variables that can mean the difference between profit and loss.
Main Squeeze has just that means in what Canseco and Nieto refer to as Root Systems, their proprietary point-of-sale software system, adapted from Fix My Phone software, and built specifically for the fast casual restaurant space, juice and smoothie bars in particular. Call it the high-tech potion in a secret sauce that's also made up of unprocessed, cold-pressed fruits and vegetables, which is key in furthering the company's mission of making healthy easier.
"Many in the food business are frustrated with their POS [Point of Sale] system," Canseco says. "We're not, thanks to this system, and we feel as if it's one of our competitive advantages because it allows operators to focus on what's most important: the customer experience."
How it came to be theirs, well it might have come from Fix My Phone, but it was the success Canseco and Nieto had with a previous cellphone repair franchise that had Fix My Phone dialing up the brothers-in-law in the first place.
Saints go marching in
Prior to their dealings with Fix My Phone, Canseco and Nieto already had specialized in growing a franchise business for repairing phones and other communications devices.
In & Out Smart Repair, a quickly growing franchise company based out of Hammond, Louisiana, had tapped into their business and legal expertise a few years earlier, and with Nieto as chief operating officer and Canseco advising on legal, the company would grow from 12 to 75 locations in less than three years. Two years ago Canseco would spearhead In & Out's merger with a bigger operation, CPR Cellphone Repair, creating the largest cell phone repair chain in the country with over 400 locations, and successfully putting himself and Nieto out of work in the process.
Only not for long. Newly married that summer and just back from his Hawaiian honeymoon, Canseco would consent to Nieto haranguing him into the three-hour drive to Lake Charles, and how that has turned out for the better.
At last count Main Squeeze had over 40 franchise agreements signed, 11 stores open, and one juice truck with many more anticipated—all that happening in less than two years. A couple of New Orleans Saints—each sporting rings from the 2010 Super Bowl—have even joined this winning team: Pro-Bowl Punter Thomas Morstead invested this past April while retired wide receiver Marques Colston invested last year and serves on the board of directors.
Growth is on the agenda, but it'll be a very calculated business development strategy, Canseco makes clear. The non-pasteurized nature of cold-pressed products preventing wholesale distribution, juice bars will likely remain some of the only outlets for this raw source of nutrition. And while other juice makers rely on heated pressers, each Main Squeeze location uses a pneumatic commercial cold-press juicer developed by a rocket scientist that preserves vitamins, minerals, enzymes and nutrients, leading to a higher quality product.
Aside from the juices that contain 2 to 4 pounds of produce per bottle, there are nutritionist-designed superfood smoothies with no ice, fillers or preservatives. Main Squeeze also stocks wellness shots and acai bowls made from wild-harvested acai from the Amazon rainforest.
"We'll never compromise our quality," Canseco assures. "If you ask what makes Main Squeeze special, it's our high-quality and nutritious products that help our guests make healthy easier."
Right at home in-house
A self-proclaimed business nerd who relishes his in-house role, the litigious aspects of legal life never much appealed to Canseco. "I'm more of a builder than a litigator," says the LSU undergrad who focused on finance, though saw a legal education as necessary for business growth. Franchising being 85 percent a legal process, he seems to have made the right move.
"The most important thing I learned in law school was how to figure out the answer," he says. "Law school taught me critical thinking—how to spot an issue, get in front of it and solve it before it becomes a problem, and that's something I do every day. Every company needs a good defense, and law school was instrumental in teaching me how to preemptively protect my clients so they can focus on growth."
He also wants to focus on a greater good, Canseco's legal education having included work for the Global Innovation Summit in San Jose, California, where "impact investing" that transcends just financial rewards was promoted. His beloved Cajun State suffering from coastal erosion and rising sea levels, Canseco emphasizes sound environmental practices at Main Squeeze and partakes in extra-curricular activities for solving any number of issues.
And maybe an opportunity for him to pick up another secret sauce. The first one, after all, stemmed from the most unlikely source. Five years later, how it's come to fruition.
Showcase your feature on your website with a custom "As Featured in Vanguard" badge that links directly to your article!
Copy and paste this script into your page coding (ideally right before the closing