Rishi Nangia – Sparkfund
Providing spark to his company's legal department
After he graduated with degrees in biology and psychology from George Washington University—and with a master's in public health focusing on epidemiology from Emory University—Rishi Nangia took the next logical step: he applied to medical schools. Except something happened before one of his medical school interviews.
"I didn't think I fit in with everyone else because while waiting for my interview, everyone in the room was reading the New England Journal of Medicine," Nangia says. "I was reading the Financial Times, Wall Street Journal."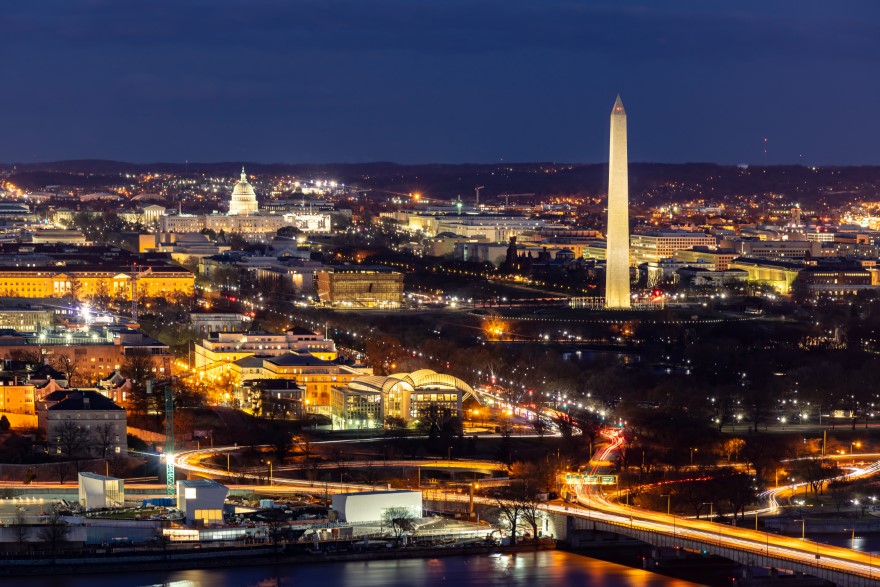 So instead of another eight to 10 years of high-intensity medical school and training, he took his love of business and the law and turned it into a successful career as an in-house attorney.
"I think having a science background gives me an advantage when thinking about problems," says Nangia, the vice president, legal for Sparkfund in Washington, D.C. "I have a unique way of approaching things."
Trying to better the world
That unique style—and his personality—have helped him at Sparkfund, an energy services, finance and technology company whose mission is to combat climate change through healthier buildings.
Nangia notes that while Sparkfund doesn't actually turn on any light bulbs, his role in the legal department is quite active and participatory. Every transaction the company completes—from contractors to customers—can't be finished without a legal contract in place, a process he oversees.
"I feel that in some way, I'm helping build the commercial product, because without our support, nothing would be delivered," he says.
Those products include the SparkOS platform, which helps brands in the energy services market deliver building infrastructure projects to their customers in a faster, lower cost and differentiated way, Nangia adds. The Sparkfund Technology Subscription lets businesses outsource their energy system management, including maintenance, monitoring and upgrades, for less than they're currently spending, he explains.
"There's always this mindset that you can't change people's habits, but Sparkfund thinks it can," Nangia says. "Having the right setup and preparation is key—at home and in the workplace."
The next generation of Sparkfund is coming, and includes some unique innovations related to HVAC systems, lighting, and resiliency measures including backup generation. Digital sensors will provide real-time data on how people use energy, when things could break down and when peak use occurs. With his technology background, Nangia says he's excited to be involved in this part of the business.
But there's work to do in the legal realm, too.
Making the legal department more efficient
Soon after coming to Sparkfund, Nangia was instrumental in building and structuring strategic partnership deals, like the renewal and expansion of one with a large energy company in the Southeast that led Sparkfund to 150 new customer opportunities.
Managing a young, small team has been challenging. To make the legal department run smoother, Nangia was behind an automation rollout, including updating and templating legal documents, instituting knowledge management and fostering a sense of empowerment among Sparkfund stakeholders.
Because of the group's size, manually handling the high volume of legal documents is cumbersome and can be overwhelming. So Nangia brought in some legal tech people who developed a system to make contracts and other documents more accessible throughout the company.
"Legal automation is a big tool, and we're building out processes and adding more self-service as fast as possible," he says. "Our department goal is to have legal questions and concerns answered in 24 hours. We want everyone in the company to know they can count on the legal team to provide sound opinions."
To make this happen, Nangia says he's held meetings to show people where to access documents and hosted some brown-bag lunches to talk about labor and employment issues.
"We're making the legal function more active," he says.
The traditional route in-house
After graduating from Northwestern University's Pritzker School of Law in 2002, Nangia sharpened his legal skills during three years at Arent Fox as an intellectual property associate. He spent the next five years at another large general practice firm, Winston & Strawn, when his first opportunity to move in-house came from Oracle Corporation in late 2010.
At tech giant Oracle, Nangia served as corporate counsel and represented the company in commercial transactions involving software, hardware, consulting and cloud solutions. He also negotiated contracts.
He then branched out and founded an internet and mobile daily fantasy sports gaming platform, something he helped run for three-and-a-half years while also serving as a senior counsel for IP at the Advisory Board Company. He left that role in November 2017 to take a general counsel position at Honeywell in Charlotte, North Carolina.
"Honeywell gave me an opportunity to bring all of my interests and strengths together in a leadership role," he says.
While at Honeywell—a major aerospace, building tech, performance materials, and tech, safety and productivity company—Nangia oversaw legal operations for three different business lines during his two-plus years. He left to become VP of legal at Sparkfund in January and moved back to the D.C. metro area.
Nangia says his experience working for big companies left him wondering about whether going to a startup made sense at that point in his career. While generally volatile with uncertain futures, he was excited by the mission of the company and by the energy typically found in startups.
"I met some incredibly intelligent and driven people who share a common vision of success," Nangia says. "Sparkfund has a promising future, and, as such, the number of legal issues will increase proportionately. The legal department is well-situated to rise to challenges and to be a critical pillar in the company's growth."
Showcase your feature on your website with a custom "As Featured in Vanguard" badge that links directly to your article!
Copy and paste this script into your page coding (ideally right before the closing