Rusty Hensley – Vispero
A one-man show, ready to go
When you're the only lawyer at a complex, midsize technology company and overseeing all legal operations, developing ways to stay organized not only helps internal and external stakeholders—but also yourself.
That's where having a background in technology and business processes can come in handy, says Rusty Hensley, general counsel for Vispero, a leader in assistive technology for the visually impaired. Since joining the Florida-based company in 2018, he's made changes that streamline business operations.
By automating tools to make contract processing more efficient, as well as implementing e-signature policies, Hensley's found a way to upgrade technologies. Now, all those tools are helping to manage the flow of contracts, an effort toward modernization that has paid dividends during the COVID-19 crisis. Staff and clients throughout the world can communicate freely, safely continuing business communications operations virtually.
"When it's just one person in a legal position, you're constantly looking to leverage technology to internally manage the workload," Hensley says. "This helps me open up my bandwidth."
What's in a name?
After Freedom Scientific and Optelec were acquired in 2015, the companies combined and became known as VFO. In 2018, the company rebranded and became Vispero—an amalgam of two Latin words: "visio," which means vision and "spero," meaning hope.
"It created a brand more reflective of the company's focus but built upon the foundation of the company's core brands," says Hensley, which also included Enhanced Vision and The Paciello Group.
In the years since, the company's led in technologies that assist blind and low vision customers in 99 countries. Clients include governments, schools, organizations, higher education institutions and a network of dealers around the globe.
In addition to a variety of hardware products such as braille displays, screen-reading magnification tools and wearable magnifiers, the company offers software products—including JAWS® (Job Access With Speech)—to allow blind or visually impaired users to access text-to-speech capabilities on their computer, and provides full-service accessibility consulting to companies around the world.
"It's a cool business," says Hensley. "It's fulfilling to be able to do what I do while supporting a worthwhile pursuit. Jobs like this are not always easy to find."
Change is coming
Hensley found his way to Vispero in 2018, after being recruited by the company's former chief financial officer with whom Hensley had worked in Louisville, Kentucky.
What he learned was that in years past, Vispero had melded legal responsibilities with CFO duties. By 2018, the company was finally ready to separate the tasks, developing a distinct legal branch for operations.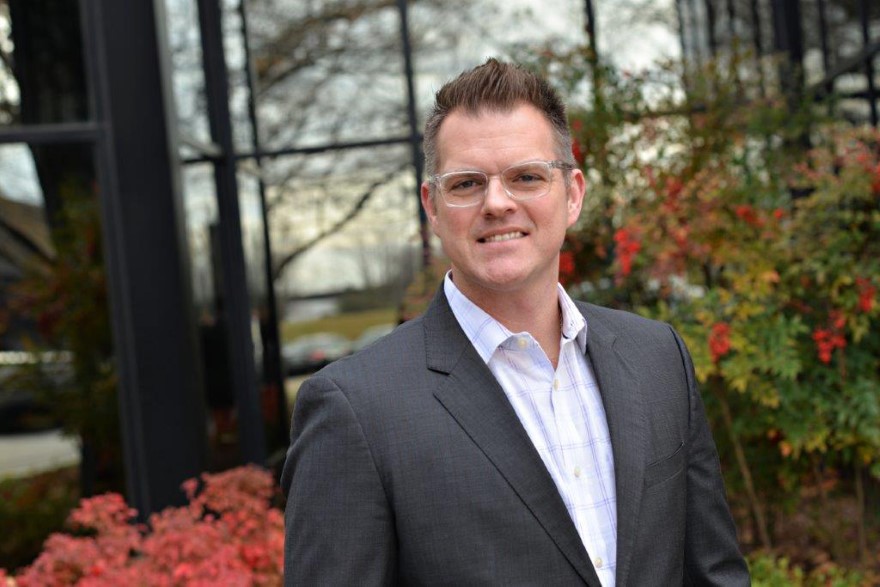 "When I arrived it felt like a typical company that had strung together lots of different companies gathered through acquisitions," he recalls. "There wasn't a lot of continuity, and no real appreciation for what a true general counsel could do."
That was about to change.
Hensley's priority was to modernize technological operations by automating contract processing; a move he says saved the company both time and money by allowing the review, approval and storage—in a single, searchable online database—of approximately 2,000 contracts from the previous 18 months. Another goal was to dispel the notion that legal help could be adversarial.
"I wanted everyone to know I was there to help them," Hensley says. "My approach and personality is different than what some expect of those in my profession. I wanted to let them know I was part of the team and not there to create obstacles."
Two years later, effective communication continues to be a focus for Hensley.
"It's important to be very transparent with open lines of communication. Expectations and ideas should flow internally to allow for smoother operations and no surprises," he notes.
Putting it all together
Considering the number of company acquisitions that have taken place, the process of integration is high on Hensley's radar. It's a practice that's second nature to him; weaving small legal departments into the wider company fabric—something he's done throughout his career.
That progression started when he earned a bachelor's degree in political science at Hanover College in Indiana in 1998, followed by a J.D. from the Louis D. Brandeis School of Law at the University of Louisville in 2001.
Immediately out of law school, Hensley started his career at the law firm of Stoll, Keenon and Park (now Stoll, Keenon Ogden) until 2004, after which he became senior corporate counsel at Trover Solutions before joining Heathland in 2009.
There, he became vice president of legal and government affairs, supporting healthcare information systems. In 2013, he was hired as senior corporate counsel and corporate secretary at CafePress, a publicly traded company offering print-on-demand services and an e-commerce platform.
While he enjoyed the job, Hensley left CafePress in 2015 to serve as vice president and general counsel for Appriss—a firm that provided state-of-the art technology and data-driven solutions to help federal, state and local agencies; insurance companies; healthcare providers; pharmacies; and retailers identify risk, prevent fraud and keep victims of crime safe and informed.
Tools in the toolkit
Every position had its challenges, Hensley says, but he gained something even better: experience and resiliency. That's certainly helped with the unpredictability of administering policy during a pandemic, made easier with a willing team that works together.
"It pays to have a varied toolbelt," Hensley says. "Given the business environment of today, establishing the best solutions can take hours to figure out. The key element of my role now is assessing and analyzing the situation, but in the end it's a balancing act, an art more than a science."
In the months to come, Hensley says he's eager to continue Vispero's legal transformation, creating more strategic tools to make the department an even stronger asset for the company.
It's that diversity of his day-to-day legal practice—mulling over operations and his engagement with people—that Hensley enjoys most of all. On the morning we spoke, he had worked on an HR issue, a patent licensing agreement and regulatory compliance issues.
Some attorneys might find that terrifying, but for Hensley, it's where his role becomes most exciting.
"I draw energy from those interactions, the relationship building and the camaraderie," he adds. "I try to be a good listener. I may not always be the smartest guy in the room, but I try to ask the right questions. If I can leave the room having given someone some useful advice and they happen to forget I'm an attorney, then I know I've done my job."
Showcase your feature on your website with a custom "As Featured in Vanguard" badge that links directly to your article!
Copy and paste this script into your page coding (ideally right before the closing